J'Quan Graddic
Laboratory Technician, The Stockroom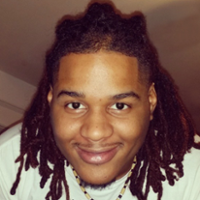 What is your current role in the biology department?
My current role in this department is as a Laboratory Tech.  Meaning any help (aside from scientific experiments) in the labs minor enough for the mechanics to bypass, we as stockroom employees tend to. I am also responsible for making fly food for a few of our labs. Just to add to the chaos, I am also the assistant for the awesome and well-respected Mary Bissell. From TGIF parties, to golf tourneys, to everyday problem solving, we proudly handle it all.  
What do you enjoy most about working here at the U of R?
I most enjoy the difference each day holds. I can honestly say that every day is special and unique. A lot of things are repetitive, but it is never exactly the same. I also enjoy all the delightful and caring people I come across on a daily basis who are never hesitant to smile and make conversation, which makes you feel more comfortable.
How would you describe our department and the people you work with?
I would have to say they are some of the most strong-minded and positive-thinking people I have met. Everyone here knows that things are very susceptible to going wrong, yet they still never hesitate to take risks, or do something they truly feel is right, which in the end makes us all better, smarter, and more knowledgeable.
How do you unwind when you're not in the office?
When I am not in the office, I spend my time doing a couple of things to unwind. I love video games and I dedicate a lot of time to playing many different games. I love spending time with my fiancée and family, whether it is a planned event or we are just enjoying the day. Also, I like to draw, go fishing, and I would like to start traveling.
Any other thoughts or comments?
I just want to thank everybody who takes time out to read this. Also a huge thank you to everybody who has gone out of their way to make me feel welcome these past few months. You guys make me feel like I definitely belong to this department and I will always be grateful for that. I would also like to say that with the help of a great manager and an awesome staff to surround me, this is by far my favorite job and hopefully the last one I get to share my greatness with. I hope you all have a blessed day and again, a big thank you to those who read this.