Department News
Jillian Ramos Wins First Prize and People's Choice in Three Minute Thesis Competition
The Department of Biology is pleased to congratulate graduate student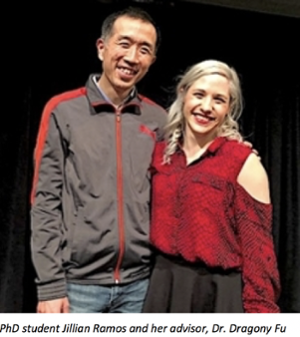 Jillian Ramos for winning first prize in the Three Minute Thesis competition on April 12, 2018.  She was also named the People's Choice winner.  Jillian will receive a $750 research travel award for first-prize and a $250 research travel award for the People's Choice.                                 

This event was sponsored by the School of Medicine & Dentistry Center for Professional Development, ASE Graduate Studies Office, the Graduate Student Society, and the Graduate Student Association.
Three Minute Thesis (3MT) is an academic competition that challenges PhD students and postdoctoral appointees to describe their research within three minutes to a general audience. Developed by The University of Queensland (UQ), the exercise cultivates students' academic, presentation, and research communication skills. The competition supports their capacity to effectively explain their research in three minutes, in a language appropriate to a non-specialist audience.
The competition is open to current PhD and Professional Doctorate (Research) candidates in their third year of study or greater, and postdoctoral researchers.