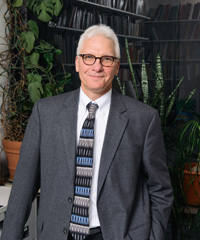 Richard M. Ryan
Professor Emeritus of Psychology
PhD, University of Rochester, 1981
---
Research Overview
Richard Ryan is a clinical faculty member. He is co-developer (with Edward Deci) of Self-Determination Theory (SDT), an internationally researched theory of human motivation, personality development, and well-being. Ryan has published over 250 research articles, chapters, and books on SDT, and given addresses in over 80 universities worldwide. He is a Fellow of several organizations, including the American Psychological Association, the American Educational Research Association, and the Society for Experimental Social Psychology. Ryan has been bestowed an Honorary Membership in the German Psychological Society and an Honorary Doctorate from the University of Thessaly, Greece. He has been a Visiting Scientist at the Max Planck Institute, as well as a Visiting Professor at the University of Bath, UK, and the National Institute of Education, Singapore. Ryan has received James McKeen Cattell and Leverhulme fellowships, as well as a number of other grants and awards. He is a licensed psychologist and consults with many types of organizations.
Ryan is currently working with various graduate students: Nicole Legate on research concerning ostracism and stigmatization; Patricia Schultz on mindfulness and health; Thuy-vy Nguyen on well-being and solitude; and Cody DeHaan on motivated decision making. He also researches the cross-cultural importance of human needs for autonomy and relatedness, the sources of within-person variability in vitality, and the characteristics and consequences of eudaimonia. He is also  involved in applied motivational research in the domains of health care, education, sport, work, psychotherapy and virtual environments.
Selected Publications
Recent Books
Rigby, C. S., & Ryan, R. M. (2011). Glued to Games: The attractions, promise and perils of video games and virtual worlds. New York: Praeger.
Chirkov, V. I., Ryan, R. M., & Sheldon, K. M. (Eds.), (2011). Human autonomy in cross-cultural context: Perspectives on the psychology of agency, freedom, and well-being. New York: Springer. doi: 10.1007/978-90-481-9667-8
Ryan, R. M. (Ed.), (2012). Oxford handbook of motivation. Oxford: Oxford University Press.
Selected Recent Articles
Ryan, R. M., Lynch, M. F., Vansteenkiste, M., & Deci, E. L. (2011). Motivation and autonomy in counseling, psychotherapy and behavior change: A look at theory and practice. Counseling Psychologist, 39, 193-260. doi:10.1177/0011000009359313
Bartholomew, K. J., Ntoumanis, N., Ryan, R. M., & Thogersen-Ntoumani, C. (2011). Psychological need thwarting in the sport context: Assessing the darker sides of athletic experience. Journal of Sport and Exercise Psychology, 33, 75-102.
Weinstein, N., Deci, E. L., & Ryan, R. M. (2011). Motivational determinants of integrating positive and negative past identities. Journal of Personality and Social Psychology, 100, 527-544. doi:10.1037/a0022150
Ryan, R. M., & Deci, E. L. (2011). A self-determination theory perspectivie on social, institutional, cultural, and economic supports for autonomy and their importance for well-being. In V. I. Chirkov, R. M. Ryan, & K. M. Sheldon (Eds.), Human autonomy in cross-cultural context: Perspectives on the psychology of agency, freedom, and well-being (pp. 45-64). New York: Springer. doi:10.1007/978-90-9667-8_3
Ryan, R. M., & Deci, E. L. (2011). Multiple Identies within a Single Self: A Self-Determination Theory Perspective on Internalization within Contexts and Cultures. In M. R. Leary, & J. P. Tangney (Eds.), Handbook of Self & Identity (pp. 253-274). New York: The Guilford Press.
Legate, N., Ryan, R. M., & Weinstein, N. (2012). Is coming out always a "good thing"? Exploring the relations of autonomy support, outness and wellness for lesbian, gay and bisexual individuals. Social Psychological and Personality Science, 3, 145-152. doi:10.1077/1948550611411929
Weinstein, N., Ryan, W. S., DeHaan, C. R., Przybylski, A. K., Legate, N., & Ryan, R. M. (2012). Parental autonomy support and discrepancies between implicit and explicit sexual identities: Dynamics of self-acceptance and defense. Journal of Personality and Social Psychology, 102, 815-832. doi:10.1037/a0026854
Ryan, R. M., Curren, R. R., & Deci, E. L. (2013). What humans need: Flourishing in Aristotelian philosophy and Self-Determination Theory. In A. A. Waterman (Ed.), The best within us: Positive psychology perspectives on eudaimonic functioning (pp. 57-75). Washington, DC: American Psychological Association.
Legate, N., DeHaan, C. R., Weinstein, N., & Ryan, R. M. (2013). Hurting you hurts me too: The psychological costs of complying with ostracism. Psychological Science. doi:10.1177/0956797612457951
Vansteenkiste, M., & Ryan, R. M. (2013). On psychological growth and vilnerability: Basic psychological need satisfaction and need frustration as a unifying principle. Journal of Psychotherapy Integration. doi:10.1037/a0032359