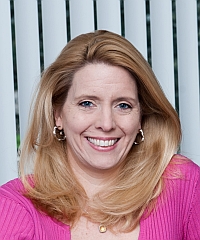 Loisa Bennetto
Chair
Associate Professor of Psychology, Brain & Cognitive Sciences, and Neuroscience
PhD, University of Denver, 1999
354 Meliora Hall
(585) 275-8712
Fax: (585) 273-1100
loisa.bennetto@rochester.edu
Office Hours: By appointment
---
Research Overview
Professor Bennetto is currently accepting applications for graduate students for the 2020-21 academic year.
Professor Bennetto's research interests focus on the neurocognitive bases of autism and other developmental disorders. Her recent work examines the role of multisensory processing in social-communication difficulties and in everyday behaviors, including restricted food preferences.
My program of research is broadly directed at examining the neurocognitive bases of developmental disabilities, with the ultimate goal of understanding how atypical neurocognitive development relates to deficits in social-communication difficulties as well as everyday difficulties with adaptive functioning. My lab focuses primarily on understanding autism spectrum disorders, but we have also been working to understand other developmental disorders such as Down syndrome, as well as normal developmental processes.
Our recent work examines the role of multisensory processing in several domains, including social communication and feeding. Some of our current projects in the domain of social communication in autism examine audiovisual speech perception, hearing-in-noise perception (including both speech-in-noise and music-in-noise), speech-and-gesture production and comprehension, and the role of atypical sensorimotor function in facial expressiveness. Our research on feeding investigates the role of multisensory processing in the development of restrictive food preferences (picky eating) in children with autism. We are interested in understanding the relative roles of sensory functions (including taste and olfaction), behavioral factors (e.g., restricted behavior style, neophobia), and family preferences on eating behaviors.
For more information, please visit the Bennetto Lab page.
Courses Offered (subject to change)
CSP 570:  Clinical Assessment I: Psychometrics
PSY/CSP 384 and 385:  Practicum in Developmental Disabilities
PSY/CSP 351 and 352:  Research in Developmental Neuropsychology
Selected Publications
Bennetto, L., Keith, J. M., Allen, P. D., & Luebke, A. E. (2017). Children with autism spectrum disorder have reduced otoacoustic emissions at 1 kHz mid-frequency region. Autism Research, 10, 337-345.
Schauder, K.1, Park, W.1, Tadin, D.2, & Bennetto, L.2 (2017). Larger receptive field size as a mechanism underlying atypical motion perception in autism spectrum disorder. Clinical Psychological Science. 1co-first author, 2co-senior author.
Silverman, L. B., Eigsti, I-M., & Bennetto, L. (2017). I tawt I taw a puddy tat: Gestures in Canary Row narrations by high-functioning youth with autism spectrum disorder. Autism Research.
Smith, E. G., Zhang, S., & Bennetto, L. (2017). Temporal synchrony and audiovisual integration of speech and object stimuli in autism research in autism. Research in Autism Spectrum Disorders.
Soskey, L., Allen, P., & Bennetto, L. (2017). Auditory spatial attention to speech and complex non-speech sounds in children with autism spectrum disorder. Autism Research.
Schauder, K. B., & Bennetto, L. (2016). Towards an interdisciplinary understanding of sensory dysfunction in autism spectrum disorder: An integration of the neural and symptom literatures. Frontiers in Neuroscience, 10.
Keith, J. M., Bennetto, L., & Rogge, R. D. (2015). The relationship between contact and attitudes: Reducing prejudice toward individuals with intellectual and developmental disabilities. Research in Developmental Disabilities, 47, 14-26.
Silverman, L. B., Bennetto, L., Campana, E., & Tanenhaus, M. K. (2010). Speech-and-gesture integration in high functioning autism. Cognition, 115, 380-393.
Diehl, J.J., Bennetto, L., Watson, D., Gunlogson, C., & McDonough, J. (2008). Resolving ambiguity: A psycholinguistic approach to understanding prosody processing in high-functioning autism. Brain and Language, 106, 144-152.
Bennetto, L., Kuschner, E. S., & Hyman, S. L. (2007). Olfaction and taste processing in autism. Biological Psychiatry, 62, 1015-1021.
Smith, E. G., & Bennetto, L. (2007). Audiovisual speech integration and lipreading in autism. Journal of Child Psychology and Psychiatry, 48, 813-821.