Music Ensembles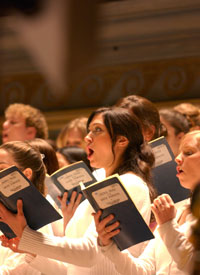 The Department of Music's twelve faculty-directed ensembles are regularly scheduled 1-credit classes, open by audition to all students on the River Campus.
Those interested in participating in small chamber-music groups can meet with the Director of Orchestral Activities and register for the 1-credit course MUR 155 Chamber Ensembles. A description of each ensemble can be found in our music ensemble descriptions PDF.
There are student-directed groups abound on campus, as well. Several a cappella groups are informally supported by the music department, although participation in them does not earn collegiate credit. There are many more vocal and instrumental groups operating independently, some having been in existence for several years, others forming rather spontaneously from a number of students with a common interest.
Instrumental:
Vocal:
Auditioning
Auditions are held in the fall of each year. Unless otherwise indicated (*) click on the links below to select and register for a specific audition time.
Fall 2018
Aug. 28, 9 a.m. – 5 p.m. and Aug. 29, 9 a.m. – 5 p.m., in Strong Auditorium
 Aug. 25 (Saturday), 26 (Sunday) and 28 (Tuesday), 12 – 6 p.m., in Dewey 1-337
Aug. 28, 9 - 11 a.m.; Aug. 29, 30 and 31, 1:30 - 3:30 p.m.; Sept. 4, 2:30 - 3:30 p.m., in O'Brien Hall
Aug. 26 (Sunday), 4 – 6 p.m. and Aug. 27, 4 – 6 p.m., in Dewey 1-305
*Jazz Combos: TBA; check the bulletin board in Dewey Hall
*West African Drumming Ensemble: Contact Kerfala Bangoura at kerfala.bangoura@gmail.com
*Percussion Ensemble: TBA; contact Brant Blackard at brantblackard@gmail.com
*Rock Repertory Ensemble: TBA; contact Dr. John Covach at john.covach@rochester.edu
*Gospel Choir: Simply show up at the first rehearsal in Lattimore 201 on September 4 at 5 p.m.