Music Ensembles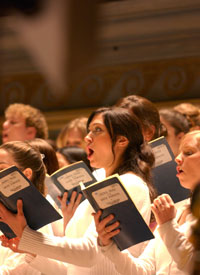 The Arthur Satz Department of Music's thirteen faculty-directed ensembles are regularly scheduled 1-credit classes, open by audition [see below] to all students on the River Campus.
Those interested in participating in small chamber-music groups may take the 1-credit course, MUSC 155 Chamber Ensembles. An audition is required, as well as permission from the Director of Orchestral Activities.
A description of each ensemble can be found in our music ensemble descriptions PDF.
There are student-directed groups abound on campus, as well. Several a cappella groups are informally supported by the music department, although participation in them does not earn collegiate credit. There are many more vocal and instrumental groups operating independently, some having been in existence for several years, others forming rather spontaneously from a number of students with a common interest.
Instrumental:
Vocal:
---
Auditioning for Chamber Ensembles, Spring 2022
*Video of playing sample due by January 18th at 5:00 PM (no in-person or live auditions).

  


Enrollment Requirements for Chamber Music Ensembles:

Spring 2022 Chamber Music Info Form

by 5:00 PM on January 18th, 2022. Each student (new or returning) wishing to participate in a chamber music ensemble must fill out an individual form. In the online form, students who did not participate in chamber music ensembles in fall 2021 must include a link to a video of a solo playing sample. 

Submit the

Playing sample video requirements:

 

Three to five (3-5) minutes of a solo piece representative of your playing.

One (1) major scale and one (1) minor scale. The scales should be at least two octaves; they may be in any key of your choice.

Upload one video containing all audition repertoire to YouTube as an "unlisted" video (Information for uploading to YouTube and privacy settings ("unlisted") may be found on YouTube and on the web).