Nadine Grimm joins Linguistics Faculty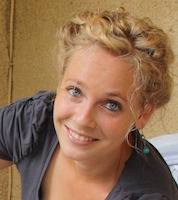 We are thrilled to announce that Nadine Grimm will be joining us as a senior lecturer in Linguistics.
In addition to contributing to our linguistics curriculum and research, she will be heading up Linguistics' new MA program in Language Documentation and Description. Nadine's research is in language documentation and description, fieldwork, phonology, morphology, African languages (in particular Bantu languages), language contact, languages of hunting and gathering societies, numeral systems, and language of perception. Nadine's training is in African Linguistics at Humboldt University Berlin in their Institute for Asian and African Studies. Her dissertation work focuses on documenting the Gyeli language, spoken by Bagyeli hunter-gatherers in Cameroon, where she has spent time doing primary language documentation. Come and check out the posters of some of her field work experience on the fifth floor of Lattimore Hall!