Overview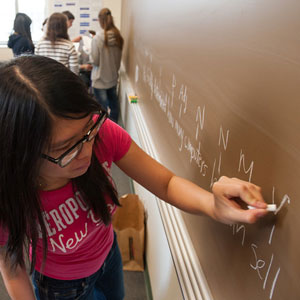 Though people are immersed in language every day, they are often unaware of its great structural complexity and beauty. The Department of Linguistics at the University of Rochester is advancing our understanding of this remarkable human ability on several important fronts.
Research
Our faculty members make significant contributions in experimental syntax, experimental semantics, sociolinguistics, language documentation, and neuroscience.
While based in a core discipline of theoretical linguistics, we have close interdisciplinary relationships with experimental psycholinguists in brain and cognitive sciences, computational linguists in computer science, as well as with scholars in philosophy and American Sign Language.
Center for Language Sciences
The Department of Linguistics is a core member of the Center for Language Sciences (CLS), an interdepartmental research entity. Collaboration takes place in the form of joint research, shared facilities, coursework, and colloquia.
Academics
Our linguistics faculty offers a wide coverage of subfields. Our internal colloquia series is open to students and provides an opportunity for faculty to share their research. As a result, students benefit from a dynamic atmosphere of dialogue and collaboration.
Our department offers a BA and a minor in linguistics through a multifaceted undergraduate program. We also offer a MA in linguistics, MA in language documentation and description, MS in computational linguistics, and an PhD program.
Students are encouraged to participate in an exciting range of research projects, starting as undergraduates.