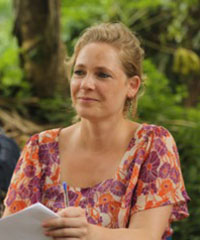 Nadine Grimm
she/her/hers
Assistant Professor of Linguistics
Director of Language Documentation and Description Program
Co-Director of Grammar and Variation Lab
On leave for the 23-24 academic year
PhD, Humboldt University Berlin, 2015
509 Lattimore Hall
nadine.grimm@rochester.edu
Office Hours: Thursday 1:30 p.m. to 2:30 p.m. and by appointment
---
Biography
Biography
Professor Nadine Grimm joined the Department of Linguistics in October 2014.
Interests: Descriptive linguistics, Language documentation and description, African languages, Fieldwork, Typology, Language contact and change
PhD in African Linguistics [magna cum laude]. 2015. Humboldt University Berlin, Germany, Department of Asian and African Studies. Dissertation: A Grammar of Gyeli. Advisors: Prof. Tom Güldemann and Prof. Maarten Mous
MA in African Studies, German Linguistics, and French. April 2006 - February 2010. Humboldt University Berlin, Germany, Department of Asian and African Studies. Thesis: The Numeral System of Ikaan.
BA in General Linguistics and French. October 2002 - March 2006. University of Bielefeld, Germany.
Projects and Grants:
NSF BCS-1535846: Causality Across Language. August 2015 - current. Role: Collaborator, PI: Prof. Jürgen Bohnemeyer, SUNY Buffalo.
Volkswagen Foundation "DoBeS" (Documentation of Endangered Languages) Project on Bakola/Bagyeli (Cameroon). Research Grant. April 2010 - August 2014.
Hans Rausing Foundation: Endangered Languages Project on Ikaan (Nigeria).
Fieldwork Grant. January - March 2008.
Fellow of the German National Academic Foundation (Studienstiftung des Deutschen Volkes). February 2007 - December 2009.
Research Overview
Research Interests
Grammatical tone
Language documentation and description
Typology
African languages, particularly Bantu
Courses Offered (subject to change)
LING 387:  Topics in Linguistic Research
LING 389:  Senior Seminar
LING 104:  Language and Culture
LING 270/470:  Two Suitcases and a Microphone
LING  271/471:  Field Methods in Linguistic Description 1
LING 272/472 :  Field Methods in Linguistic Description 2
Selected Publications
Grimm, Nadine. A Grammar of Gyeli. In preparation. Dissertation defense version from 2015.
Grimm, Nadine. Implosives in Bantu A80? The case of Gyeli. In press. Proceedings of the 47th Annual Conference of African Linguistics.
Grimm, Nadine. (2014) Color categories in language contact: "Pygmy" hunter-gatherers and Bantu farmers. Proceedings of the Berkeley Linguistics Society 38, 31-45. Berkeley Linguistic Society. Berkeley, CA.
Borchardt, Nadine. (2012) Agreement in Ikaan compound numerals. In: Brenzinger, Matthias & Anne-Maria Fehn (Ed.). Proceedings of the 6th WOCAL World Congress of African Linguistics. Köln: Rüdiger Köppe.
Borchardt, Nadine. (2011) The numeral system of Ikaan, a Benue-Congo language of Nigeria. Asien- und Afrikastudien der Humboldt-Unversität zu Berlin. Wiesbaden: Harrassowitz.