Liszt and Virtuosity - An International Symposium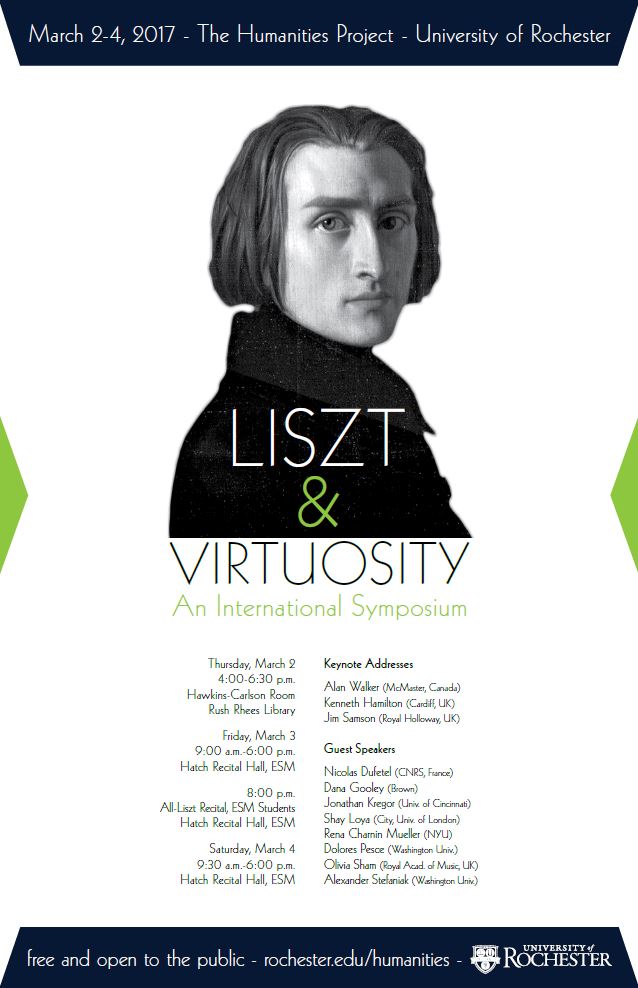 ---
Click here for the complete event program
Click here for the recital program
This conference, to be held March 2-4, 2017, brings together scholars and scholar-performers for a three-day event focusing on the Hungarian-born pianist and composer Franz Liszt (1811-1886) and the theme of virtuosity. Generally considered to be the greatest pianist who ever lived, Liszt redefined virtuosity in ways that are still felt today. In landmark compositions such as his Paganini etudes (1838/1851), Transcendental Etudes (1837/1852), and opera fantasies of the 1840s (on Don Juan, Norma, and Robert the Devil), Liszt pushed the boundaries of what was technically possible on the piano at the very moment when the instrument was evolving into its modern form. He created new sonorities and dazzling effects with virtuoso passages that, while considered by many musicians and critics at the time to be contrary to good taste (as well as nearly unplayable), would become staples of virtuoso piano writing in the Romantic concertos that are most often played today (those of Grieg, Saint-Saëns, Tchaikovsky, and Rachmaninoff). In short, virtuosity becomes in Liszt's hands a highly complex and musically potent phenomenon that is irreducible to the simple showmanship that has often unjustly marred Liszt's reputation as a composer. This conference thus interrogates the multifaceted legacy of Lisztian virtuosity at the intersection of musicology, music theory, music analysis, reception history, biography, performance studies, and cultural history. 
The conference program will feature ten of the world's most prominent Liszt scholars, including Alan Walker, author of the landmark three-volume biography of Liszt, as well as an all-Liszt concert by Eastman School of Music piano students. 
---
Keynote Speakers:

Alan Walker is professor emeritus at McMaster University and is the world's best-known Liszt scholar, having published the monumental three-volume biography on the Hungarian-born composer (all on Knopf and Cornell University Press): Liszt: v. 1. The Virtuoso Years, 1811-1847 (1983); Liszt: v. 2. The Weimar Years, 1848-1861 (1989); Liszt: v. 3. The Final Years, 1861-1886 (1996/1997). The first volume won the James Tait Black Memorial Prize in biography for 1983 and best book on music from the Yorkshire Post Newspapers in 1984. The three-book series was given the Royal Philharmonic Society Book Award in 1998. More recently he has published The Death of Franz Liszt: Based on the Unpublished Diary of his Pupil Lina Schmalhausen (Ed., Cornell UP, 2002), Reflections on Liszt (Cornell UP, 2005), and Hans von Bülow: A Life and Times (Oxford UP, 2009).
---

Kenneth Hamilton is Head of the School of Music, Dean (International) for the College of Arts, Humanities, and Social Sciences at Cardiff University, a concert pianist, writer, and broadcaster. His research, performances and recordings center on 19th- and 20th-century music and its associated performance-practice, with special emphasis on the works of Liszt, Chopin, Alkan, Wagner, and Busoni. He is the editor of The Cambridge Companion to Liszt (Cambridge UP, 2005) and has authored two important monographs: Liszt: Sonata in B Minor (Cambridge UP, 1996), and, most recently, After the Golden Age: Romantic Pianism and Modern Performance (Oxford UP, 2008). He has also published numerous articles on Liszt, including: "Nach persönlichen Erinnerungen: Liszt's Overlooked Legacy to his Students" (2014); "The Embarrassment of Influence: Liszt, Paris and Posterity" (2013); "The sufferings and greatness of Franz Liszt" (2012); and "Wagner and Liszt: Elective Affinities" (2009). His numerous international engagements include a recreation of Liszt's 1847 concerts in Constantinople for the Istanbul International Festival and performances of works by Chopin on historical and modern pianos at the Cité de la Musique, Paris. His solo CDs, both on the Prima Facie/ASC label, include Liszt: Totentanz for Piano and Orchestra with Mark Eager conducting the Cardiff University Orchestra (2014), and, most recently, Back to Bach (forthcoming, a collection of Bach transcriptions and tributes by Liszt, Rachmaninov and Busoni), and Kenneth Hamilton Plays The Music of Ronald Stevenson, Volume 1 (2016).
---

Jim Samson is Professor of Music (emeritus) at Royal Holloway, University of London, and is one of the world's preeminent scholars of 19th-century music. His scholarship includes eight single-authored books, and nine edited or co-edited books. His monograph, Virtuosity and the Musical Work: The Transcendental Studies of Liszt (Cambridge UP, 2003), was awarded the Royal Philharmonic Book Prize in 2004. He is the editor of the massive Cambridge History of Nineteenth-Century Music (Cambridge UP, 2002) and has also published widely on the music of Chopin, on analytical and aesthetic topics in 19th- and 20th-century music, and on the social histories of music in east central and southeastern Europe. His books have been translated into German, Polish, Spanish, Korean and Japanese. His edition of the Chopin Ballades (Peters Edition) was named "2009 Edition of the Year" in the International Piano Awards.
---
Guest Speakers:

Nicolas Dufetel has been a researcher at the CNRS, Paris since 2015. After studying history and musicology, he devoted his doctoral thesis to the religious music of Franz Liszt (François-Rabelais University, Tours, 2008). His research concerns mainly Liszt, but also Wagner, Chopin, European identity, Franco-German relations and, more generally, the "long" nineteenth century on questions of aesthetics, analysis, epistemology, cultural history, philology, and religious music. He is the co-editor, with Malou Haine, Dana Gooley and Jonathan Kregor, of Liszt et la France: Musique, Culture et société dans l'Europe du XIXe siècle (Vrin, 2012), and, with Malou Haine and Cécile Reynaud, of Les élèves de Liszt: Figures connues et inconnues (Quaderni dell'Istituto Liszt, 2011). His essays on Liszt include  "Franz Liszt et la 'propagande wagnérienne': Le projet de deux livres en français sur l'histoire de l'opéra et sur Wagner (1849-1859)" (2010); "La musique religieuse de Liszt à l'épreuve de la palingénésie de Ballanche: réforme ou régénération?" (2009); "Franz Liszt, franciscain 'du berceau jusqu'à la tombe'" (2009); "'Italia und Germania': les séjours italiens de Liszt (1837-1839 et 1861-1886)" (2008); and "Franz Liszt: Eleven Autograph Letters (1828-1886) at the Beinecke Library" (2007).
---

Dana Gooley is Associate Professor of Music, Brown University, where he teaches in the areas of music history, improvisation, opera, historiography, jazz, and European cultural history. He is the author of The Virtuoso Liszt (Cambridge UP, 2004) and the editor, with Christopher Gibbs, of Franz Liszt and His World (Princeton UP, 2006). His numerous articles on Liszt include: "Liszt, Improvisation and the Idea of Italy" (2014); "Franz Liszt, Popular Theater, and the Performance of Universality" (2011); "Stormy Weather: Liszt and the Noisiness of Pianistic Mediation" (2010); and "From the Top: Liszt's Aristocratic Airs" (2010). He also has a strong interest in bridging performance studies and music history, which has led to new projects on the history of conventions of musical performance, such as his current monograph under contract with Oxford University Press: Musical Improvisation in the Nineteenth Century: Between Practice and Idea.
---

Jonathan Kregor is Professor of Music at the University of Cincinnati (College-Conservatory of Music), where he specializes in nineteenth-century music. His research interests include aesthetics, Franz Liszt, musical reproductions, music and memory, virtuosity and gender, and art songs. He is the author of Liszt as Transcriber (Cambridge UP, 2010), which won the Alan Walker Book Award from the American Liszt Society. His most recent book is Program Music (Cambridge UP, 2015), which includes several chapters on Liszt. He is also the editor of volumes of C.P.E. Bach's keyboard music (Packard Humanities Institute) and Clara Schumann's unpublished arrangements for solo piano (A-R Editions). He became editor of the Journal of the American Liszt Society in 2012. He has also published numerous articles on Liszt, including: "Liszt's Faust Complexes" (forthcoming); "Evolving Infidelity in Liszt's 'Einzug der Gäste auf Wartburg'" (forthcoming); "Forging 'Paganinis of the Piano' in the 1830s" (2014); "Liszt's Late Songs, With and Without Words" (2011); and "Liszt's Wagner" (2011).
---

Shay Loya teaches musicology and music analysis at the City University London. His research interests include Liszt, Hungarian-Gypsy music, analyzing musical transculturation, and other critical, analytical, and aesthetic issues in music of the long nineteenth century. His main publications include Liszt's Transcultural Modernism and the Hungarian-Gypsy Tradition (University of Rochester Press, 2011), which won the Alan Walker Book Award (2014), and, more recently, "Recomposing National Identity: Four Transcultural Readings of Liszt's Marche hongroise d'après Schubert" (2016); "The Mystery of the Seventeenth Hungarian Rhapsody" (2015); and "Liszt's Legacy and the Paradoxes of Hungarian Musical Modernism" (2014). "He is currently working on a book project entitled Liszt's Late Styles. He is also a board member of the journal Music Analysis.
---

Rena Charnin Mueller is an emeritus professor of Historical Musicology at New York University. She is the recipient of the Liszt Medal given by the American Liszt Society in 2011, and is the former editor of the Journal of the American Liszt Society. Her recent presentations include a Keynote Address at the Liszt Bicentennial Conference in Budapest (2011). Her most recent publications include: "Fréderic Chopin, Carl Czerny, Henri Herz, Franz Liszt, Johann Peter Pixis, Sigismond Thalberg, Hexameron" (CD review publ. online April 2016); "Twenty-Five Years of Liszt Research," with Paul Bertagnolli (2012); "Qui était Arma Senkrah" (2011); "Liszt's Indebtedness to Czerny" (2009); "From the Biographer's Workshop: Lina Ramann's Questionnaires to Liszt" (2006), and the chapter on the Liszt Lieder for the Cambridge Companion to the Lied (2004). She has also edited Liszt's Ballades and the Trois Etudes de Concert for Henle, and, with Mária Eckhardt, she is preparing a complete Thematic Catalogue of Liszt's music. 
---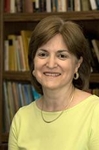 Dolores Pesce is Avis Blewett Professor of Music in Arts & Sciences at Washington University in St Louis. Her most recent book is Liszt's Final Decade (University of Rochester Press, 2014). Essays on Liszt include: "Liszt's Années de Pélerinage, Book 3:  A 'Hungarian' Cycle?" (1990); "Liszt's Sacred Choral Music" in The Cambridge Companion to Liszt (2005); and "Expressive Resonance in Liszt's Piano Music" in Nineteenth-Century Piano Music, ed. Larry Todd (1990/2004). She is also the author of The Affinities and Medieval Transposition (Indiana UP, 1987) and the editor of Hearing the Motet: Essays on the Motet of the Middle Ages and Renaissance (Oxford  UP, 1997).
---

Olivia Sham received her Ph.D. from the Royal Academy of Music in 2014 with a dissertation on "Performing the Unperformable: Notions of Virtuosity in Liszt's Solo Piano Music." A concert pianist, she is currently an Honorary Research Fellow at the Royal Academy of Music. Her debut album, Liszt: The Art of Remembering, was released in 2015 by Avie Records. She was the principal organizer of "The Historical Pianist: A Conference-Festival" (April 22-24, 2016), an event that celebrated the idea of historical pianos, pianists and performance practices, and the creative role they can play in piano performance today. She has also won numerous prizes and awards, including keyboard winner of the Symphony Australia Young Performer of the Year (2003), the John Allison Piano Scholarship (2006), and prizewinner in the Australian National Piano Award (2006).
---
Alexander Stefaniak received his Ph.D. in 2012 from the Eastman School of Music and is currently Assistant Professor of Musicology at Washington University at St. Louis. His research centers on instrumental virtuosity, Romantic aesthetics, music criticism, and the Schumann circle. He is the author of Schumann's Virtuosity: Composition, Criticism, and Performance in Nineteenth-Century Germany (Indiana UP, 2016). An article on virtuosity and the sublime will soon appear in the Journal of Musicology. He has also presented his work at national meetings of the American Musicological Society (most recently in 2014), at the International Liszt Congress, and at the North American Conference on Nineteenth-Century Music.