Projects and Events | 2015-2016
Learn more about the projects that were selected this year and the exciting line-up of speakers, films, symposia, courses, conferences, panels and exhibitions.
---
Fall 2015
---

Ngoma!
"Ngoma" brings alive the vibrant drumming, singing, and dance traditions of Zimbabwe through a series of workshop, performance, and lecture events.
---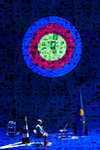 The Sundance Kid is Beautiful with Christopher Knowles
This project brings The Sundance Kid is Beautiful with Christopher Knowles to Rochester for a weeklong residency at the Todd Theatre to develop a solo performance by the multidisciplinary artist Christopher Knowles.
---
Italian Baroque Organ
---
Spring 2016
---
Bend: A live performance by Kimi Maeda
If memory forms our personal identity and shared memory forms our cultural and even racial identity, what does it mean when memories are lost? Bend explores this question by examining the lives of two men interned in a Japanese American Relocation Camp during World War II: the artist's father, an Asian art historian who is currently suffering from dementia, and the subject of his research, Isamu Noguchi, a half-Japanese-half-American sculptor.
---
Bending: UNESCO House and the Architecture of Mediocracy
Despite being collaboratively designed by eight of the most famous modern architects of the mid-20th Century, the UNESCO House complex in Paris became known as a "cliché" as soon as it was built in 1958. 
---

Experiencing Devotion in Medieval and Renaissance Europe: Sights, Sounds, Objects
This interdisciplinary conference at the UR's Memorial Art Gallery will bring together internationally prominent scholars, performers, and museum experts to capture the sensory experience of religious devotion and practices in the later Middle Ages and Renaissance through a series of papers, roundtables, and musical performances.
---
Artist Talk with Njogu Touray
Njogu Touray is one of most well-known and respected artists in The Gambia. His work has been exhibited internationally in art galleries throughout the United States, Europe, Senegal, and The Gambia. Touray will travel to the University of Rochester  to talk about his creative practice and community engagement projects.
---

"New Media Linguistics"
Social media has opened up a once solitary creative pursuit—personal language invention—to other inventors, but David J. Peterson has made it his profession. In addition to creating "Dothraki" and "High Valyrian" for the popular TV series Game of Thrones®, he has designed languages for Defiance, The Shannara Chronicles, The 100, and Emerald City. In his lecture, "New Media Linguistics: Developing Languages for Game of Thrones," Peterson will provide a rare glimpse into the fascinating process of language creation for fictional purposes, and will review the cultural, historical, linguistic, and aesthetic aspects that are involved in it.
---
"Paleography and codicology as tools for historical research and digital humanistic studies: The case of Hebrew medieval manuscripts" 
Recent years have witnessed an unprecedented interest in medieval manuscripts in various fields of academic humanistic studies. The online accessibility of the major manuscript collections extant in libraries and archives, particularly in Europe, has made manuscripts readily available for scholarly investigation. This, in turn, has led to the creation of manuscript digitized databases mining large sets of materials and to the development of software programs dedicated to their preservation, description and study. This access to information has given new impetus to the return to primary sources in historical research and to textual studies. It has also fostered a growing awareness of the need to understand the material and conceptual aspects involved in manuscript production and circulation from the perspective of the digital humanistic praxis.
---
"Older Scots Literature and Culture"
The University of Rochester, in cooperation with the University of St. Andrews, Scotland, will sponsor a two-day conference (9-10 May 2016) on Older Scots Literature and Culture. Seventeen scholars, from the UK, EU, Canada and the US, will present cutting-edge research in a series of plenary panels.