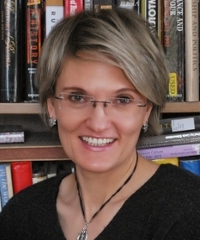 Tanya Bakhmetyeva
Professor of Instruction, History
Associate Professor and Associate Academic Director of the Susan B. Anthony Institute for Gender, Sexuality, and Women's Studies
PhD, University of Rochester, 2006
535 Lattimore Hall
(585) 273-5187
tatyana.bakhmetyeva@rochester.edu
Office Hours: By appointment
---
Research Overview
Interests: Russia; Soviet Union; Gender;  Masculinity; Nature; Science (glaciology)
I am a Modern European gender historian. Since the publication of my book, Mother of the Church: Sofia Svechina, the Salon, and the Politics of Catholicism in Nineteenth-Century Russia and France (Northern Illinois University Press, 2016; winner of 2018 Harry Koenig Book Award, American Catholic Historical Association), I have shifted my interest to such topics as ecofeminism, masculinity, gender and environment, and gender and science. I am currently completing a book, How Khrushchev and Brezhnev Went Hunting with Fidel Castro: Political Masculinity and Nature Diplomacy in the Soviet Union (under review)and launching a new project, Heroic Science: Gender, Colonialism, and Glaciology in Russia and the Soviet Union. This book is part of my work on a larger Pamir Project (a flagship initiative by the Swiss Polar Institute, Sion, Switzerland). This interdisciplinary project "revolves around the state, unexplained variability, and trajectory of the Pamir cryosphere. It scrutinizes glaciers, snow, and permafrost and links their changes to history, hazards, microbes, and water resources. The goal of the project is to gather data ranging from ice to microbes to human memory, collect new measurements to study climate change impacts on the cryosphere and the downstream implications, including hydrology, geohazards, microbial ecosystems, humans, and the history of cryospheric research and generate milestone knowledge for hazards, ecosystems, and water resources management in the region." https://pamir-project.ch/research/history-of-glacier-science/ 
Together with Professor Stewart Weaver, I contribute to the History of Glacier Science cluster as an international collaborator.  
As one of the recipients of 2016 University of Rochester Research Award, I also work on an oral history research project in Ladakh, India, where our team conducts a study on the local community's relationships with glaciers. 
Graduate Research Fields
I am not accepting new graduate student advisees for our MA and PhD programs.
Courses Offered (subject to change)
GSW 105:  Sex and Power
GSW 200/W:  History of Feminism/Colloquium in Gender, Sexuality, and Women's Studies
HIST 200:  The Politics of Sport: Race, Gender, and National Identity in Athletic Competition
HIST 100:  The Case of Sherlock Holmes: Race, Gender, and Crime in the British Empire
HIST 256:  Politics of Nature: Race, Gender, and the Environment
Selected Publication Covers
"Diplomacy in the Woods: Nature, Hunting, Masculinity, and Soviet Diplomacy under N.S. Khrushchev," 

Diplomatica: a Journal of Diplomacy and Society 

(accepted, Fall 2022) 

"Oral Environmental History and Community-Based Participatory Research: Studying Climate Change in Ladakh, India," Oral History Review 49. No 1 (2022): 56 - 76 (with Stewart Weaver and Daniel Rinn)  

"The Politics of Trees: the Logging of 

Białowieża Forest and the Debate on Polish National Identity," in E. Johann, J. Jusmin, J. Woitsch, eds., European Forests – Our Cultural Heritage (Prague: Nová Tiskárna Pelhřimov & Institute of Ethnology of the Czech Academy of Sciences, 2021): 121 - 136.  
"Ecofeminism, Maternalism, and the Carnivalesque: The Spatial Politics of Women's Environmental Movement in Poland," Feminist Formations 33, no. 2 (2021): 79 - 105. 
"Ecofeminism as Intersectional Pedagogy and Practice," in Mapping Gendered Ecologies: Engaging with and Beyond Ecowomanism and Ecofeminism, eds. Melchor Hall and Gwyn Kwirk (New York: Lexington Books, 2021): 107 - 124. 
"Forests in Revolutionary France: Conservation, Community, and Conflict, 1669 – 1848," book review, Environmental History (summer 2019) 

Mother of the Church: Sophia Svechina, the Salon, and the Politics of Catholicism in Nineteenth Century Russia and France  

(University of Northern Illinois Press, 2016)
Winner of 2018 Harry Koenig Book Award, American Catholic Historical Association 

"How Women Got the Vote,"

 

Reviews in American History

 

44, no. 2 (2016): 291 - 298.

 

Including Students in Academic Conversations:  Principles and Strategies for Teaching Theme-Based Writing Courses across the Disciplines

 (with Deborah Rossen-Knill) (Hampton Press, 2011) 

"Education in the United States" in American society: Essays on history and culture (St. Petersburg: University of St. Petersburg, 2008) 

"Russian Catholicism and the Collapse of the Ideals of the Enlightenment,"

 Nauka, Religiia i Obstchetvo: Sbornik Statei 

36 (2006): 84 – 99.  

"Russian Catholicism in the First Quarter of 19th Century: New Look," Religiovedenie (Study of Religion) 4 (2005): 30 – 41.