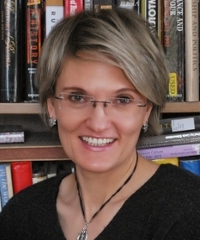 Tanya Bakhmetyeva
Associate Professor of Instruction, History
Associate Professor and Associate Academic Director of the Susan B. Anthony Institute for Gender, Sexuality, and Women's Studies
PhD, University of Rochester, 2006
535 Lattimore Hall
(585) 273-5187
tatyana.bakhmetyeva@rochester.edu
Office Hours: T 10:00 am - 12:00pm, and by appointment
---
Field
European History
Research Overview
I am trained as a Modern Russian historian with a particular interest in women's and religion history, but since the publication of my recent book, Mother of the Church: Sofia Svechina, the Salon, and the Politics of Catholicism in Nineteenth-Century Russia and France (Northern Illinois University Press, 2016), I have broadened my research to Eastern Europe, especially Poland, Lithuania, and Belorussia, adding to my longstanding interest in gender and religion such topics as masculinity, gender and environment, ecofeminism, and gender and national identity. I am currently working on two book projects. The first one, tentatively titled, "My Spirit Burns in Active Love": Sister Faustina Kowałska, the Divine Mercy Devotion, Gender, and National Identities in Poland and Lithuania, uses the popular Catholic devotion of Divine Mercy in Poland and Lithuania as a prism through which I investigate questions of national identity and gender. The second, Seeing the Nation for the Trees: Białowieza Forest, Ecological Masculinity, Motherhood, and the Debate on Polish National Identity, focuses on the past and present of Białowieza, the last surviving primeval forest in Europe. The rich history of the forest makes Białowieza a site where competing visions of Polish national and gender identity come together in a complex interplay of symbols, stories, and images, turning the forest into a highly contested ground that various groups use to negotiate Poland's place and role in the EU and test their power to shape the country's identity. 
Courses Offered (subject to change)
GSW 105:  Sex and Power
GSW 200/W:  History of Feminism/Colloquium in Gender, Sexuality, and Women's Studies
HIST 200:  The Politics of Sport: Race, Gender, and National Identity in Athletic Competition
HIST 100:  The Case of Sherlock Holmes: Race, Gender, and Crime in the British Empire
HIST 256:  Politics of Nature: Race, Gender, and the Environment
Select Publication Covers
Selected Publications
Mother of the Church: Sophia Svechina, the Salon, and the Politics of Catholicism in Nineteenth-Century Russia and France (University of Northern Illinois Press, forthcoming, Spring 2016)
Including Students in Academic Conversations: Principles and Strategies for Teaching Theme-Based Writing Courses across the Disciplines (with Deborah Rossen-Knill) (Hampton Press, 2011)
"Education in the United States" in American society: Essays on history and culture (St. Petersburg: University of St. Petersburg, 2008)

"Russian Catholicism and the Collapse of the Ideals of the Enlightenment"

 

in

 Nauka, Religiia i Obstchetvo: Sbornik Statei 

vol. 36 (2006): 84 – 99.

"Russian Catholicism in the First Quarter of 19

th

 Century: New Look" in 

Religiovedenie (Study of Religion) 

4

 

(2005): 30 – 41.