Matthew Lenoe wins NEH fellowship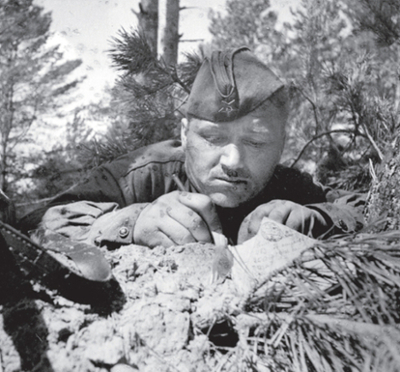 Matthew Lenoe, an associate professor of history, has won a prestigious $60,000 fellowship from the National Endowment for the Humanities (NEH) to complete his book, tentatively titled Emotions, Experience and the End of the World: The Red Army, 1941–1942. Lenoe writes in his fellowship application that "on June 22, 1941, Axis armies invaded the Soviet Union, embarking on a war of extermination that would last four years and cost around 30 million lives." He continues, "in spite of a series of devastating defeats in the first fifteen months of war, the defending Red Army survived and, together with other members of the Allied coalition, went on to victory in May 1945."
His book project delves into the daily experiences and emotions of ordinary Red Army soldiers during that crucial year, seeking the survival strategies, emotional refuges, and human relationships that sustained them. The project is particularly timely, given Russia's ongoing invasion of Ukraine and, among other things, raises questions about the sources of military cohesion in any army. Lenoe argues that cohesion is rooted in soldiers' most intimate feelings and interpersonal ties and finds that a particular leader may not be of paramount importance to the average soldier.
"It wasn't that they were anti-Stalin or pro-Stalin. He just didn't matter for the front fighters," says Lenoe. "Above all, they were defending their homes and families." As an expert on Russian and Soviet history, Stalinist culture and politics, and the history of mass media, Lenoe was able to debunk forcefully Russian President Vladimir Putin's historically inaccurate claims in a March 2023 Q&A, a story that has been read by about 58,000 people to date.
The author of Closer to the Masses: Stalinist Culture, Social Revolution and Soviet Newspapers (Harvard University Press, 2004) and The Kirov Murder and Soviet History (Yale University Press, 2010), Lenoe researches daily life under authoritarian regimes and the worldwide history of propaganda and surveillance.
"Matt's fellowship adds to the NEHs previously awarded to our history faculty and helps maintain the stellar record of research for which the department is known," says Ruben Flores, an associate professor of history and chair of the department.
---
Contact Author
Sandra Knispel
(585) 276-3693
sknispel@ur.rochester.edu