Commencement 2022
Congratulations 2022 Graduates!
Commencement Weekend took place May 13-15, 2022. Congratulations to our graduate and undergraduate degree recipients!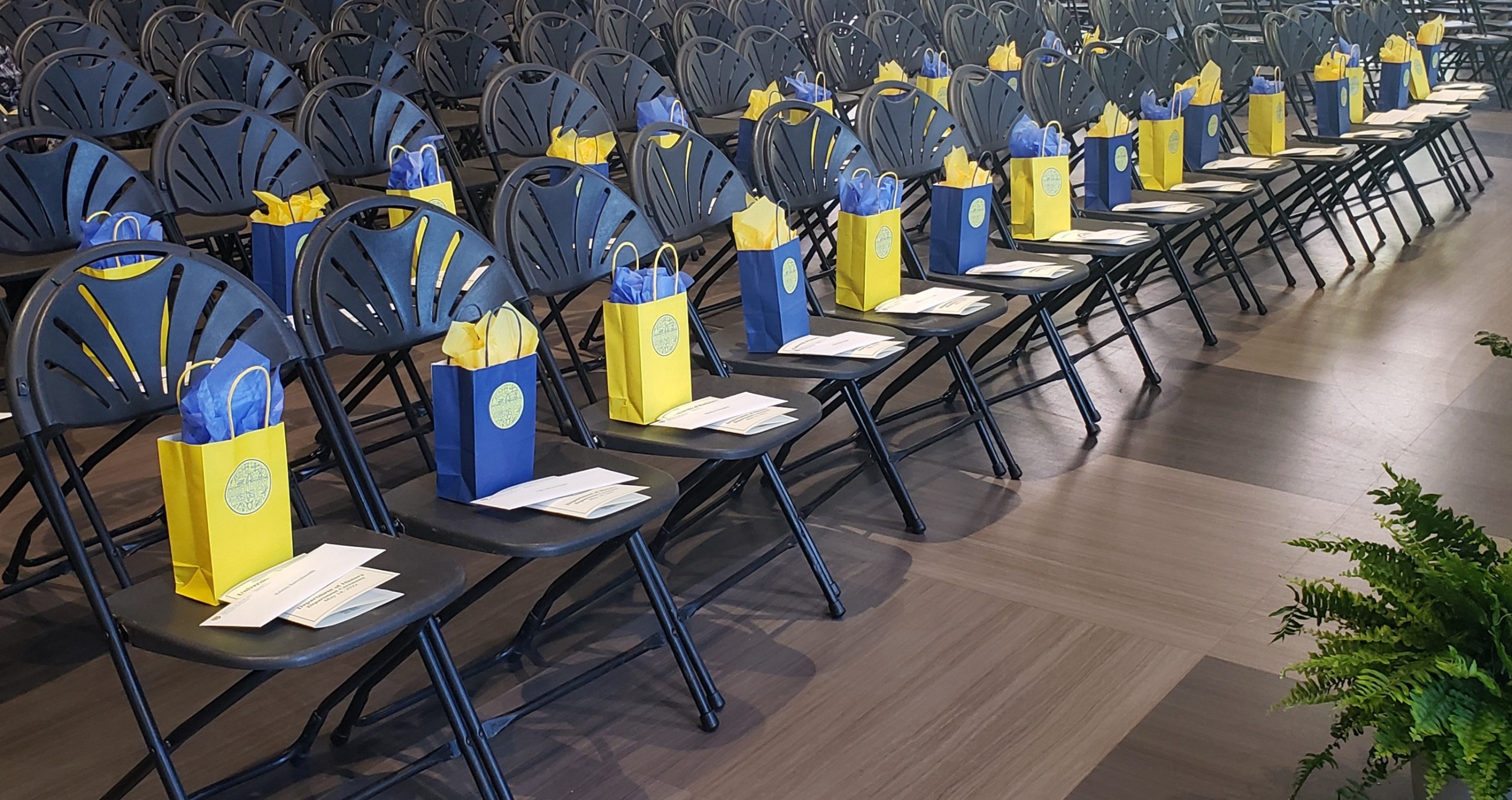 Senior gifts ready for the ceremony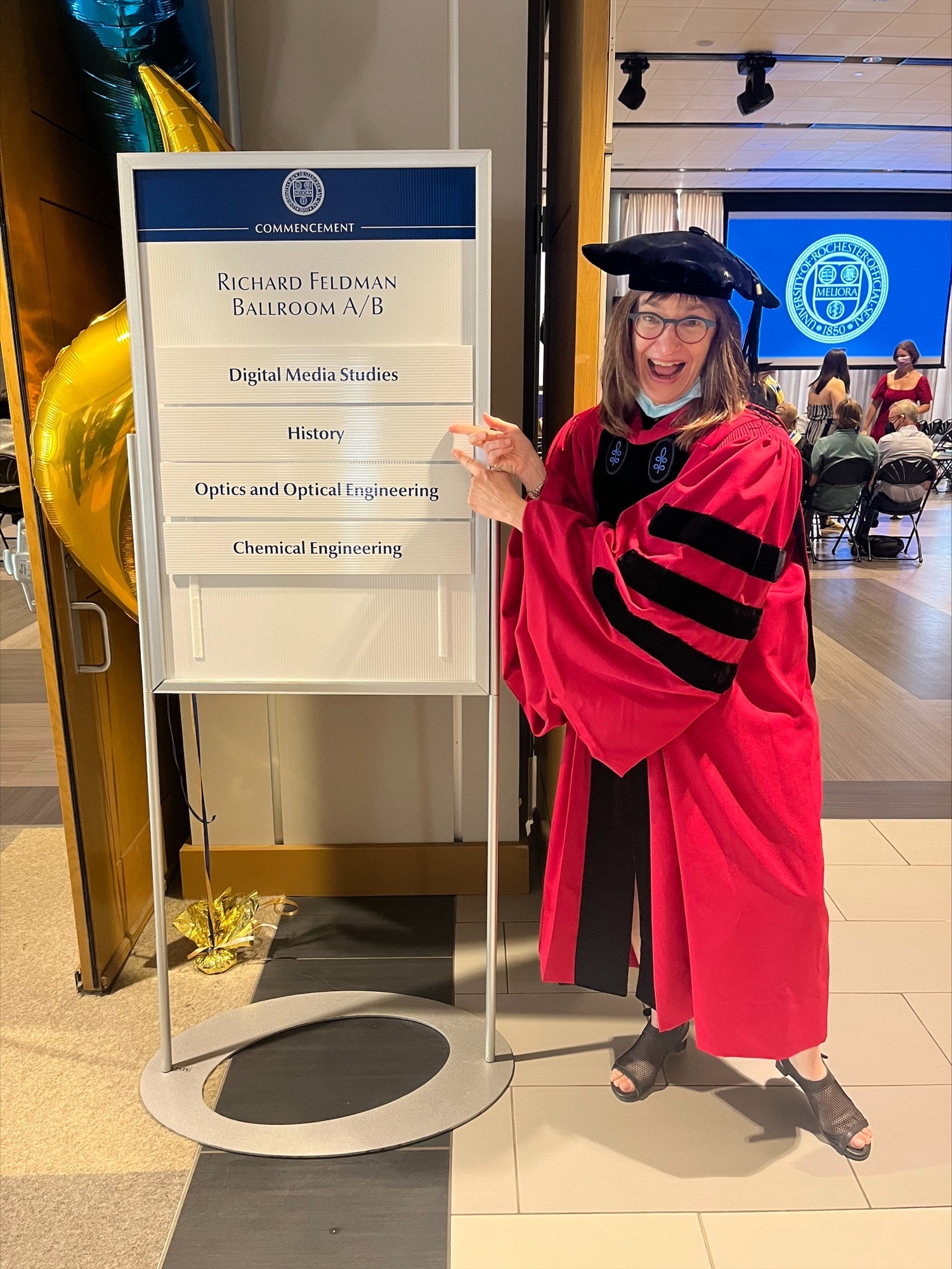 Professor Laura Smoller, Department Chair, gets ready to celebrate history graduates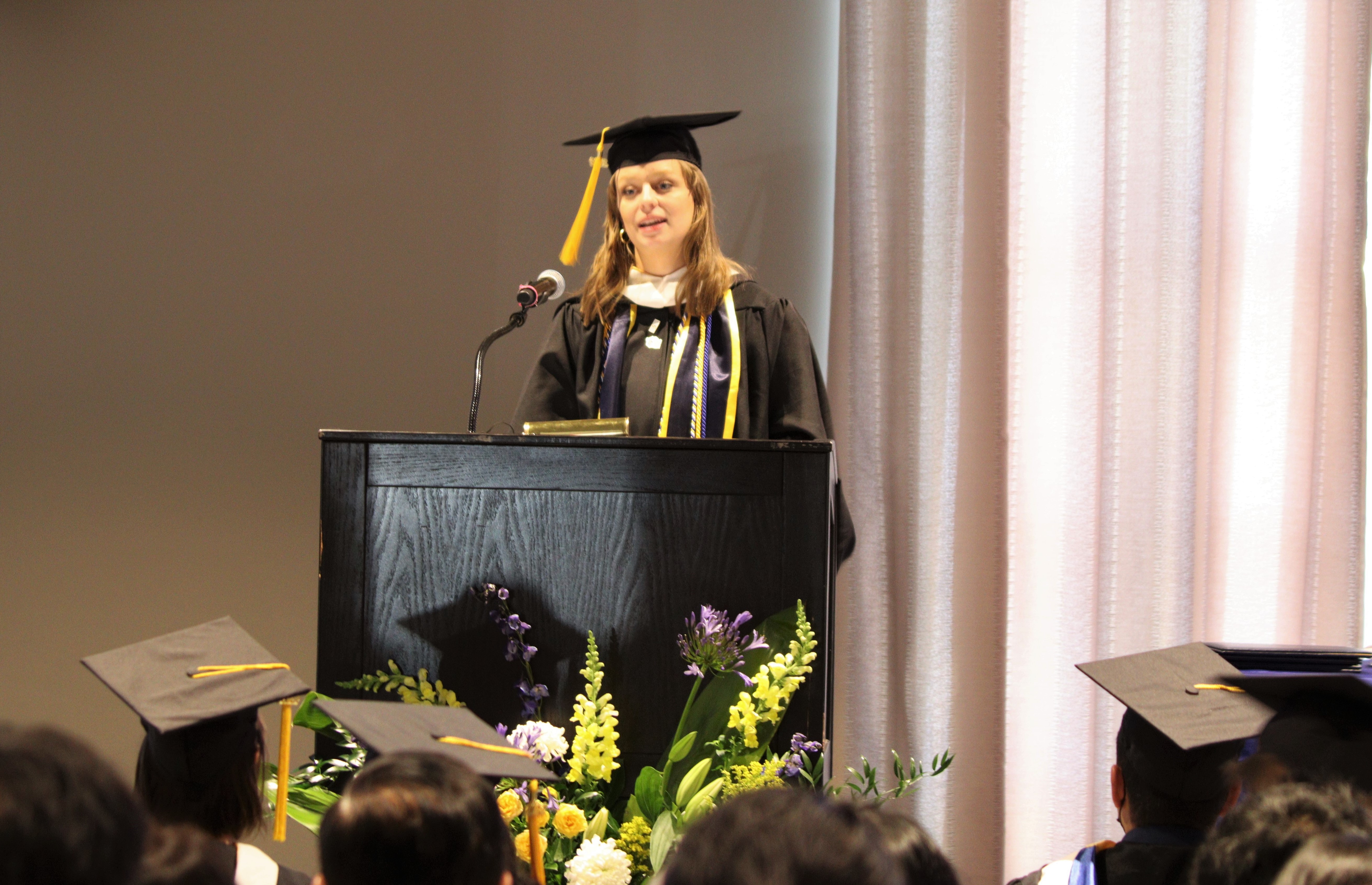 Commencement speaker Lillian Hutton addresses the class of 2022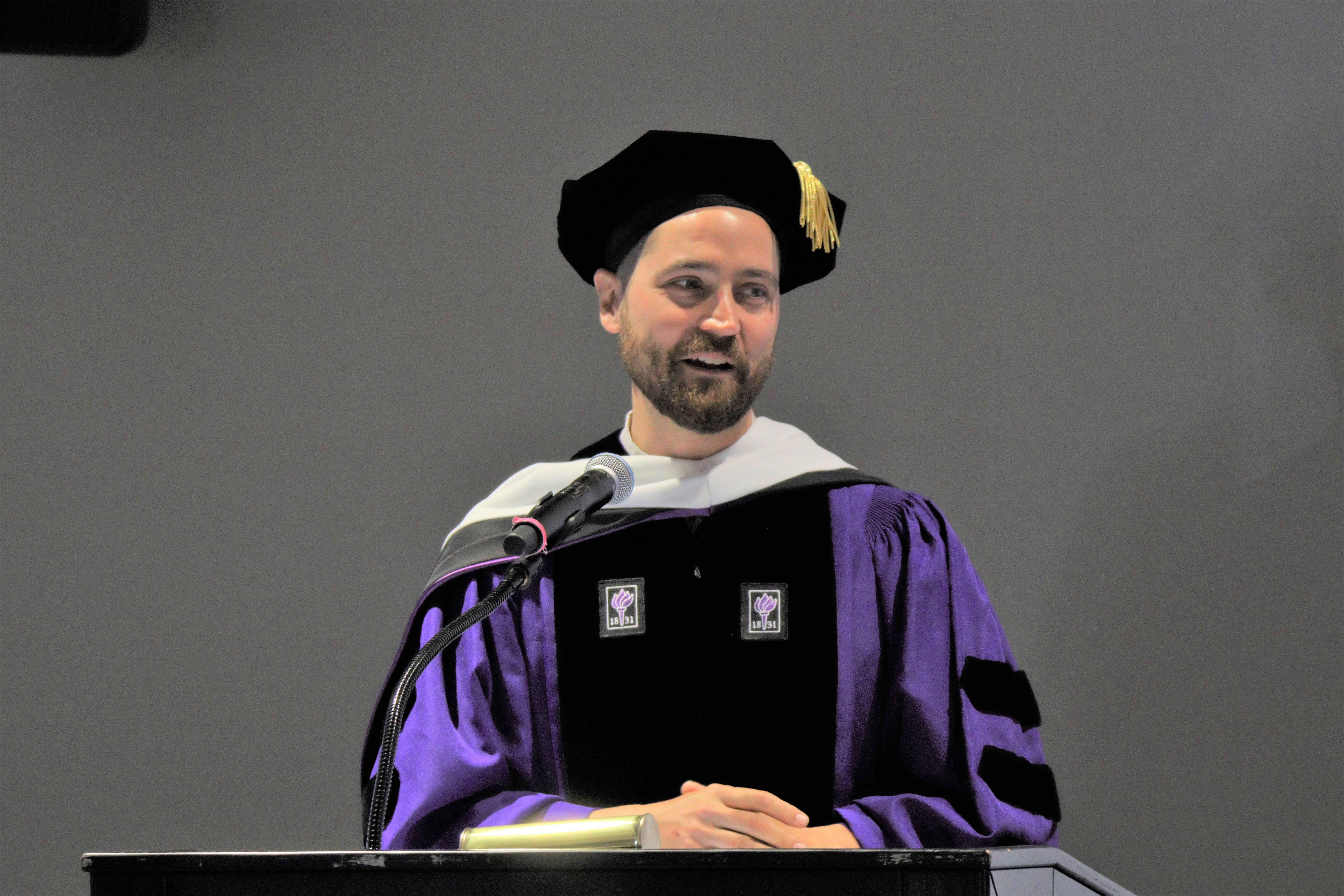 Professor Thomas Fleischman, Director of Undergraduate Studies, gives his commencement remarks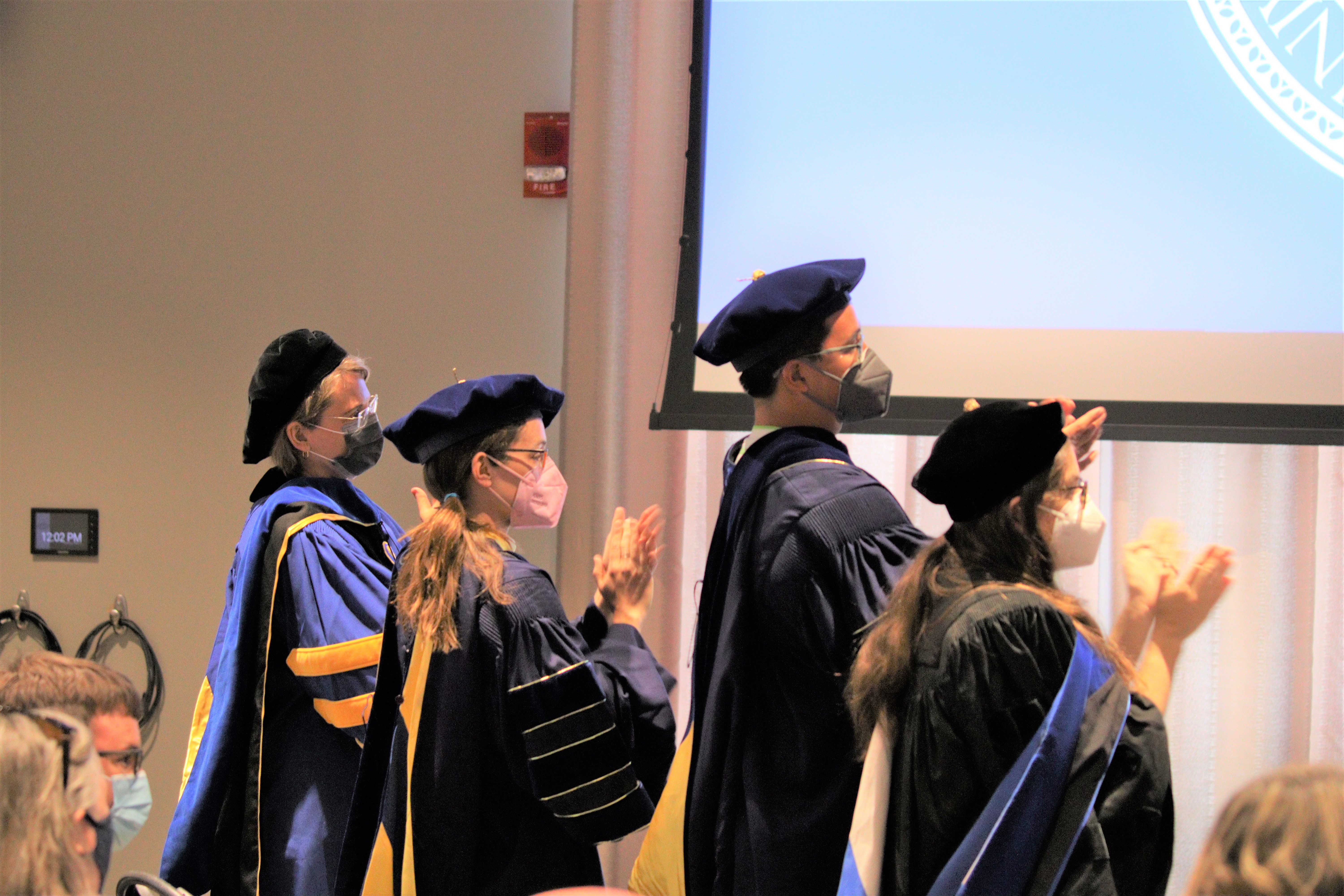 Professors Tanya Bakhmetyeva, Molly Ball, Pablo Sierra Silva, and Mical Raz applaud during the ceremony
---
Congratulations to our 2022 Graduates!
The Department of History Commencement Ceremony was recorded and is available to view online.
Class of 2022 History Majors:
Kristen Barczykowski 
Talia Braverman 
Matthew Burgess 
John Ross Carroll 
Philip Schnabel Cavallo 
Zhaofei Chen 
Samuel Charles Cherin 
Sebastian Cordero Velastegui 
Lillian Hutton 
Claire Janezic 
Lily Katz 
Andrew Lazarus 
Lauren Marie Lopez 
Kathleen Love 
Ruixin Ma 
Madalayne Martin-Olenski 
Rebecca Madison McCall 
Grant Tyler Meyerson 
Marija Miklavcic 
Dayna Mooneegan 
Elias Neuman-Donihue 
Christopher Wenzhuo Pan 
Chloé Lucia Salone 
Samuel D. Smith 
Niharika Thakur
Matthew Wheeler 
Hannah Yeager 
Houyuan Yin 
Jiayu Zhang 
Class of 2022 History Minors: 
Addison Arcuri 
Daler Beisenbayev
Joseph Butler 
Benjamin Cohen 
Muhammed El-Sayed 
Jarod Forer 
Lucia Fuentes Noriega 
Olivia Gay 
Jaeden Hufnagle 
Tatsuaki Kiyohara 
Jonathan Micallef 
Kaitlyn Morgan 
Atalanta Ritter 
Jose Rubio
Austen Walker
---
Undergraduate Prizes and Awards in History
Wilson Coates Senior Honors Essay Award in History
To the senior student who has written the best senior essay in the department this year.
Philip Schnabel Cavallo, "Football, Italian Immigrants, and Argentinidad: Luis Monti, Raimundo Orsi, and Guillermo Stábile as Agents of Nationalism"
N.B. Ellison Prize
To the members of the senior class concentrating in history who have done the best work in the department.
Niharika Thakur and Hannah Yeager
History Seminar Prize
To the History major who has written the best HIST 300W level Seminar Paper.
Chloe Campbell, "Life in the Death Strip: Examining the History of Germany's 'Green Belt' and the Paradox of Militarized Conservation"
Eugene H. Webb Prize
To the undergraduate student who has done the best work in a course dealing with the Black experience in America.
Ronnie Faris
Herbert Lawrence Sadinsky Memorial Prize
To the best undergraduate history paper on an aspect of World War II.
Andrew Lazarus, "Overcoming Incompetence: The Red Army's Internal Problems and the Path to Final Victory"
Hugh Mackenzie Memorial Prize
To the first-year women who have shown the highest achievement and interest in a history course, and to the first-year women who have shown the greatest improvement in a history course.
Daria Krylova, Madalyn Minnick, Emily Shenkus, and Raquel Williams 
Christopher Lasch Fellows in History
Each year, the department invites a select group of senior History majors to become Christopher Lasch Fellows. Lasch Fellows enroll in the demanding graduate level course Problems in Historical Analysis during the fall semester of their senior year.
Marija Miklavcic, Niharika Thakur, and Hannah Yeager
Phi Beta Kappa
Daler Beisenbayev, Philip Schnabel Cavallo, Sebastian Cordero Velastegui, Jarod Forer, Samuel D. Smith, Niharika Thakur, Austen Walker, and Hannah Yeager
Phi Alpha Theta
Matthew Burgess, Megan E. Emery, Grant Tyler Meyerson, Molly M. Raichle, Niharika Thakur, and Jiayu Zhang 
Take Five Scholars
Sebastian Cordero Velastegui, Lillian Hutton, and Claire Janezic
Congratulations to our Honors Program participants!
The Honors Colloquium, which was held on April 29th, 2022, was the culmination of this year's Honors program and proof of the innovative historical research being carried out by our students.
Honors Students and Papers
Philip Schnabel Cavallo: "Football, Italian Immigrants, and Argentinidad: Luis Monti, Raimundo Orsi, and Guillermo Stábile as Agents of Nationalism" 
This research analyzes three Argentine footballers and their impact on the national identity of male Italian immigrants in Argentina in the 1920s and early 30s. Luis Monti, Raimundo Orsi, and Guillermo Stábile were of Italian descent and played for three of the most popular clubs in Argentina at the time, San Lorenzo de Almagro, Independiente, and Huracán, respectively. Local newspapers promoted the trio as Argentine icons because of their success domestically and internationally, including the 1928 Olympics and 1930 World Cup. Italian immigrants connected to the trio's immigrant ancestry and perceived them as Argentine symbols. Articles from the newspapers La Nación and La Prensa, and report and balance sheets for the Argentine leagues in the 1920s and 30s serve as the main sources for this project. The research adds a new dimension to English language scholarship on football in Latin America and contributes new analysis of individual players as agents of nationalism through football.
Niharika Thakur: "Sustaining Dissent: Role and Impact of Student Protesters during Indira Gandhi's Emergency, 1975-1977"
The Emergency was a 21-month period when Indira Gandhi, the Prime Minister of India, declared a national emergency and ruled by decree from 1975-1977. This period is characterized by the suspension of elections and civil liberties, censorship of the press, and mass arrests of political opponents, and is considered the closest India has teetered towards a dictatorship since gaining independence. My research seeks to shed light on the role and impact of student protesters in sustaining dissent against the Emergency. I accomplish this through a combination of secondary and primary sources, centering around the Shah Commission papers and oral history interviews with student protesters in Mumbai. I broadly categorize students' resistance activities as covert and overt methods of resistance. The covert methods of resistance include smuggling opposition leaders and passing messages between jailed leaders and other party members. The overt methods are centered around satyagraha, which were protests carried out by students in universities and other public areas. I argue that these resistance activities had two main impacts: the first is that students' relative anonymity allowed them to secretly maintain the political machinery of the opposition parties while their leaders were imprisoned, thus assisting in the formation of Janata Party which defeated Indira Gandhi in the 1977 elections after the Emergency ended. The second impact is that through evoking imagery of Indian freedom fighters when doing satyagraha, students gained a lot of personal legitimacy that enabled them to convince their community members, especially those who were ambivalent towards Indira Gandhi's actions, to oppose the Emergency. The experience of the Emergency cemented students as political actors with the ability to influence change in India, and gave birth to a new generation of political leaders. 
Hannah Yeager: "Constructions of Political Legitimacy in Post-Soviet Russia and Belarus: The Personality Cult and Alternative Forms of Authority-Making under Putin and Lukashenko"
After the dissolution of the Soviet Union, Russia and Belarus, like other post-Soviet republics, had to redefine themselves. Alexander Lukashenko was elected as Belarusian President in 1994, and Vladimir Putin was made acting President of Russia on December 31, 1999. I decided to conduct a comparative study on the political legitimation techniques of each of these leaders, particularly with regard to the notion of the personality cult. I was especially interested in comparing Belarus and Russia, given their cultural, historical, socio-political and linguistic proximities to each other. Expanding upon existing scholarship and contributing  an  original comparative analysis of Lukashenko and Putin, I argue that in contrast to Putin's established cult of personality, Lukashenko relies on alternative forms of authority-making, including: reliance on the Soviet and Great Patriotic War legacy (an aspect that David Marples originally identified and which I expand upon by  accounting for the continued use of this aspect since Marples wrote in 2014), ruthless state control and an absence of a public personality or fandom, and inciting fear about alleged "external enemies." I use a combination of primary and secondary literature in this work. My primary sources include: images and posters, speeches, newspaper articles, videos, and websites. Ultimately, this project can serve as a jumping off point for future research on Putin and his contemporaries' sources of political legitimacy in the post-Soviet sphere. Finally, this project highlights the importance of accounting for how history is used by different leaders to fulfill different ends,  as well as how issues of national identity are central to research on personality cults and other forms of authority-making at large.
The Honors Colloquium / Phi Alpha Theta Ceremony was recorded and is available to view here. 
Graduate Degrees
MA Awarded:
Elizabeth Carr
Hannah Chhibber
Katelyn Getchel
PhD Awarded:
Michelle Furlano: "Historical Activism: Commemorating Frederick Douglass and Susan B. Anthony in Rochester, N.Y., 1929-1955"
Carrie Knight: "Letters to Herself: Women and Individuality in Nineteenth-Century America"
Jacob Tucker Million: "Worthy Lords and Honorable Violence: Chivalry and Kingship in Angevin Naples, 1226-1362"
James Rankine: "Shaving Blackbeard: Reappraising Pirates and Piracy in the Early Modern Atlantic, 1660-1760" 

Recipient of the University's Outstanding Dissertation Award in recognition of the truly outstanding dissertation and exceptional research completed as a graduate student.
Graduate Prizes and Awards in History 
Harkins Prize
A prize in memory of William F. Harkins Jr. to a graduate student who has written the best seminar paper.
Beom Mo Koo
Donald Marks "Dexter Perkins" Prize
To perpetuate the name of Dexter Perkins and to encourage and assist a worthy student in their cultural and intellectual development.
Rhianna Gordon
Meyers Graduate Teaching Prize
To a graduate student who has excelled in teaching.
Sarabeth Rambold
David Bruce Parker Memorial Prize
To the graduate student who best represents the dedication and courage which characterized David's participation in the graduate program.
Ania Michas
Lina and A. William Salomone Prize
To the graduate student who has done outstanding work in Modern European history.
Beom Mo Koo
Willson Havelock Coates Book Award
To the graduate student having among other qualifications, a conspicuous gift for historical imagination and the capacity for sustained and accurate research (in British history, European intellectual history, or philosophy of history).
Sheila Foster
Aida DiPace Donald Fellowship
To support graduate fellowships in American History.
Kevin Sapere
University Commencement
For more information on commencement, please visit the University of Rochester Commencement page.