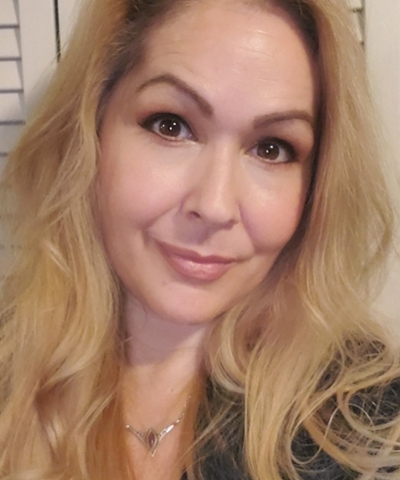 Shellie Clark
PhD, 2022
Advisor: Thomas Slaughter
Major Fields: 19th Century Women's and Family History

---
Research Interests
Nineteenth-century American history, women's history, and history of the family
Dissertation
Frances Seward: Nineteenth-Century Politics in the Private Sphere
Education
University of Rochester, PhD program, History
University of Rochester, Master's Degree, History 2018
SUNY Brockport, Master's Degree, History 2015
SUNY Brockport, BS, History, Summa Cum Laude 2013
Monroe Community College, Liberal Arts, AS 2000
Selected Publications
Teaching
Graduate Assistant/ Teaching Assistant: University of Rochester, Introduction to U.S. Public Health Policy, Dr. Mical Raz, Fall 2019
Adjunct Professor, Eastman School of Music, Freshman Writing Seminar: Art and the Culture Wars, 2015
SUNY Brockport, Early American History, Dr. Jose Torre, Spring 2014; Early American History, Dr. John Daly, Fall 2014
Honors
University of Rochester Donald Marks "Dexter Perkins Prize" Fellowship

2019 Harkins Prize for Best Seminar Paper

2019 SUNY Brockport- Melinda Kleehammer Prize

W. Wayne Dedman Award for Outstanding Graduate Student, Spring 2015

Brockport Student Government Conference Grant, American Historical Association Annual Meeting, Spring 2015

Robert and Sally Bermudes Travel Award, Spring 2015

Provost's Office NCUR Fellowship Spring 2014

George S. Queen Award, Spring 2014, More than a Pretty Picture: The Function of Art During the Plague Years

Melinda Kleehammer Prize, Spring 2013, The Sexual Revolution of the Roaring Twenties: Practice or Perception?

Spring 2012, The Price of Patriarchy: What the System Cost the Women of the South in the Civil War
Bio
Before coming to Rochester I worked

25 years as a Dental Technician, fabricating dental restorations (crown and bridge.)

I hope to work one day in g

rant writing (current and future); continuing historical research and publication

I've lived in Rochester most of my life, and have been immersed in its rich history, particularly it's nineteenth-century history as the abolition and women's rights movements were gaining strength, since I was a child. I love the sense of community and progressiveness that has always existed here, advanced by each generation, in spite of notable tensions and systemic problems. Rochester is living proof that communities working together can survive, create change, and thrive in the face of all types of adversity.

I have written and coached for grant proposals that have been awarded over $5.5 million dollars to date, primarily for education, scholarship, and non-profit programs that serve students and communities nationwide. The research, writing, and analytical skills developed in the history program have made it possible for me to be effective and successful in this role. I also mentor other writers in the grant writing process.