Behind the Test Tube: Q&A
Yu Gu—Graduate Student, Fasan Group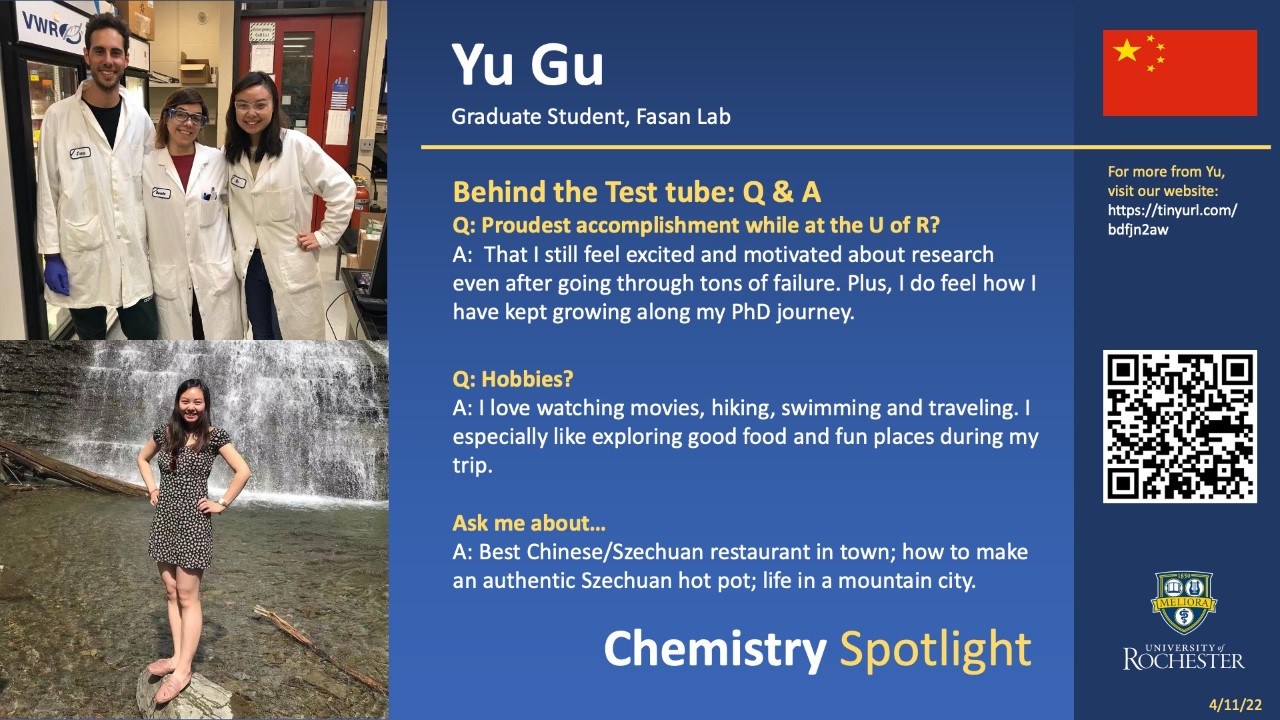 ---
Where is home/Where did you grow up?
I grew up in Chongqing, China. It is a big, beautiful, historical city adjacent to Szechuan Province.
Why did you choose chemistry as a career?
For me, chemistry is a central science, which connects other sciences to each other. It helps better understand the world around us.
Proudest accomplishment while at the University of Rochester?
That I still feel excited and motivated about research even after going through tons of failure. Plus, I do feel how I have kept growing along my PhD journey.
What do you like to do when not in the department?
I love watching movies, hiking, swimming and traveling. I especially like exploring good food and fun places during my trip.
A Rochester must?
The Lilac Festival.
Feast/meal of the times? Details, please!
Szechuan hot pot, the most popular dish of my hometown. It takes 30 min for food prep and 2-4 h for eating.
An inspiring book/movie/show? We are really curious as to why!
I like the movie Life of Pi directed by Ang Lee since the ending is really thought-provoking.
Care to share about a special tradition in your family/town/country?
Most of family in my region eat smoked meat instead of dumplings for Chinese New Year.
Fun fact or quote:
I love the smell of yeast extract!
Ask me about…
Best Chinese/Szechuan restaurant in town; how to make an authentic Szechuan hot pot; life in a mountain city.
---
The goal of this initiative is to highlight the diversity of backgrounds and perspectives in the Department of Chemistry and help our community develop stronger connections and synergies. You can think of these spotlights as the beginning of a conversation that we very much hope you will continue in the corridors of Hutch and beyond.
If you wish to contribute to this initiative, please complete our questionnaire.