Overview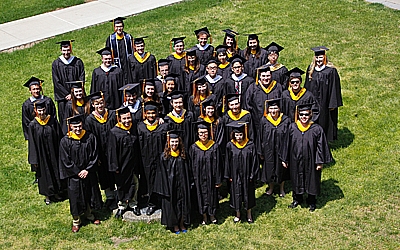 Chemistry is the study of the composition, structure, properties, and reactions of matter and substances, especially of atomic and molecular systems. It is an inspiring and diverse field of study—the science of change.
As the American Chemical Society notes, "Anything that can be touched, tasted, smelled, seen or felt is made of chemicals and chemists are the people who transform the everyday materials around us into amazing things."
Undergraduate students in our program:
Have the opportunity to conduct research in state-of-the-art instrumentation facilities
Receive individual attention by faculty who are committed to teaching
Study in a friendly, relaxed atmosphere and enjoy a supportive environment in which to pursue their interests
To learn more about our undergraduate program see our insider brochure (PDF).
Deciding Between a BS or BA Degree in Chemistry
Many students are concerned about the relative advantages of the bachelor of science and bachelor of arts degrees. To make this decision you should think about your career and educational goals.
If your ambition is to attend medical, dental or law school, the BA degree will offer more flexibility in choosing other premedical/pre-dental courses. The BA can also be supplemented with senior research and perhaps a graduate course in chemistry and can adequately prepare one for a career in chemistry. The BA is also flexible enough to allow students to have a double major.
If you desire to get a job or attend a graduate program in chemistry immediately after college in the chemical industry, a BS degree will suit your needs. Our BS degree program has additional requirements in chemistry and supporting sciences. It is also an American Chemical Society (ACS) approved program, which may provide some advantage in terms of employment.
Students normally declare their major sometime in their sophomore year. 
Whatever your choice, you will discover that your University of Rochester degree is recognized and highly regarded in the scientific community. Our graduates have gone on to study at distinguished research, medical or dental institutions, or have gone directly into private industry.
Careers
Whether it is through technologies for energy conversion, approaches to curing cancer, chemistry for the synthesis of pharmaceuticals, textiles to be used in the latest fashions, or a new direction to environmental protection, chemistry affects modern life in countless and important ways.
An undergraduate degree in chemistry is a doorway to many career pathways, including:
Agriculture
Organic or inorganic chemistry
Sales
Teaching
Physical, analytical, or polymer chemistry
Pharmaceuticals
Patent law
Food technology
Forensics
Environmental quality regulation
Looking to get some hands-on experience in chemistry? Check out our teaching and employment opportunities page to learn more about current openings for undergraduates in our department.