Behind the Test Tube: Q&A
Todd Krauss—Professor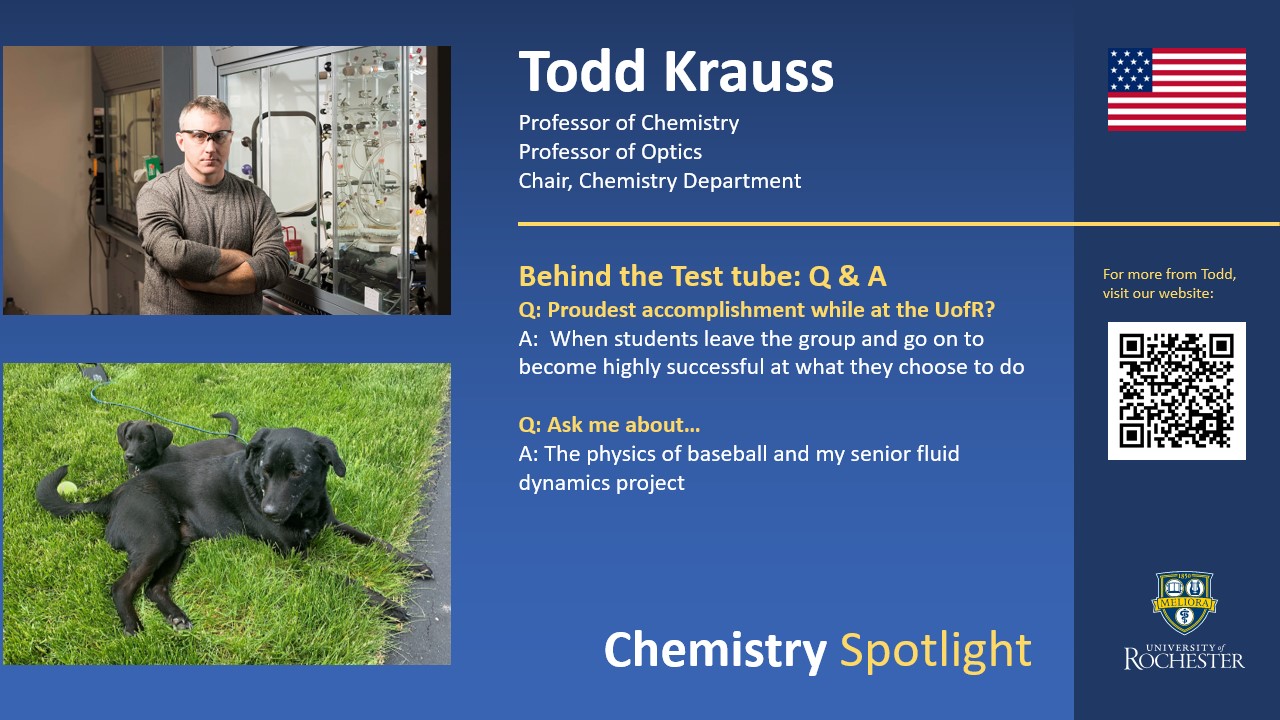 ---
Where is home/Where did you grow up?
I have never left New York State (except for a few months after college). I grew up on Long Island, NY and spent my college/PD years in Ithaca, NY and Manhattan (NYC) before settling in Rochester.
Why did you choose chemistry as a career?
I always liked chemistry and physics as a kid but as I was formally trained in applied and engineering physics… So, perhaps chemistry chose me? When I started looking for faculty positions it was clear that for working in colloidal nanoscience one had to be in a Chemistry department to make a long term impact.
Proudest accomplishment while at the University of Rochester?
When students leave the group and go on to become highly successful at what they choose to do.
What do you like to do when not in the department?
Walk the dogs, play and coach ice hockey, travel with family.
A Rochester must?
Do something on the canal - walk, eat, boat, etc.
Feast/meal of the times? Details, please!
Anything but a garbage plate. Suum cuique.
An inspiring book/movie /show? We are really curious as to why!
The Matrix. Quantum superposition of science fiction and philosophy.
Fun fact or quote:
"There may be people who have more talent than you, but there's no excuse for anyone to work harder than you do - and I believe that." Derek Jeter

"Make hay wile the sun shines, especially when the EDX is up" Todd Krauss
Ask me about…
The physics of baseball and my senior fluid dynamics project.
---
The goal of this initiative is to highlight the diversity of backgrounds and perspectives in the Department of Chemistry and help our community develop stronger connections and synergies. You can think of these spotlights as the beginning of a conversation that we very much hope you will continue in the corridors of Hutch and beyond.
If you wish to contribute to this initiative, please complete our questionnaire.