Behind the Test Tube: Q&A
Sue Cardinal—STEM Librarian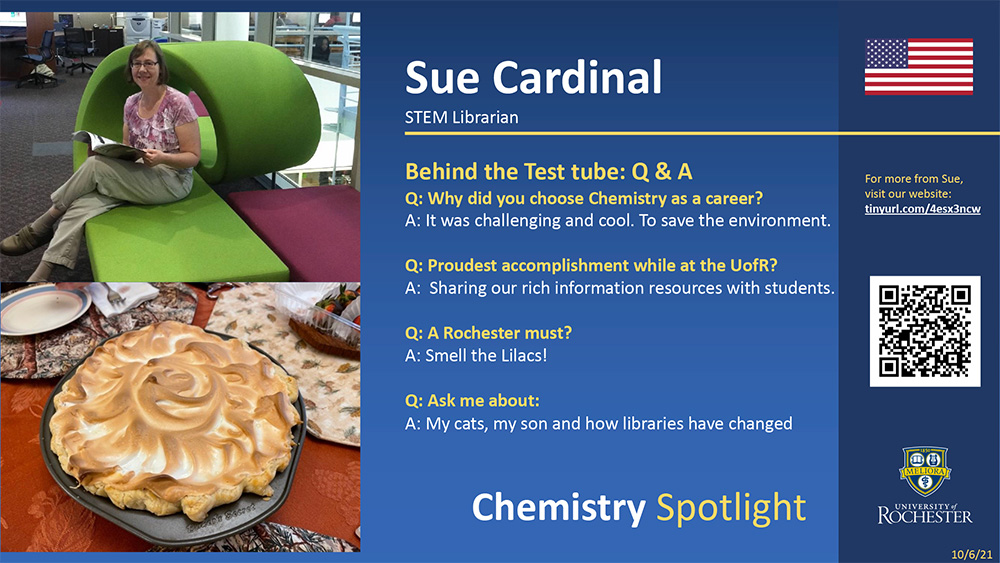 ---
Where is home/Where did you grow up?
Southwest Chicago suburb, New Lenox, IL
Why did you choose chemistry as a career?
It was challenging and cool. To save the environment.
Proudest accomplishment while at the University of Rochester?
Sharing our rich information resources with students.
What do you like to do when not in the department?
Read, bake, watch movies, play hand bells
A Rochester must?
Smell the lilacs.
Feast/meal of the times? Details, please!
Noodles with veggies and peanut sauce.
An inspiring book/movie /show? We are really curious as to why! 
Monsters University—Finding your niche and believing in yourself.
A holiday that rocks? Care to tell us why?
Thanksgiving—When we really think about our blessings.
Care to share about a special tradition in your family/town/country?
Make jokes when times are hard.
Fun fact or quote:
I marched in the Rose Bowl and the Orange Bowl parades. 
Ask me about…
My cats, my son and how libraries have changed.  
---
The goal of this initiative is to highlight the diversity of backgrounds and perspectives in the Department of Chemistry and help our community develop stronger connections and synergies. You can think of these spotlights as the beginning of a conversation that we very much hope you will continue in the corridors of Hutch and beyond.
If you wish to contribute to this initiative, please complete our questionnaire.