Behind the Test Tube: Q&A
Shauna Paradine—Assistant Professor of Chemistry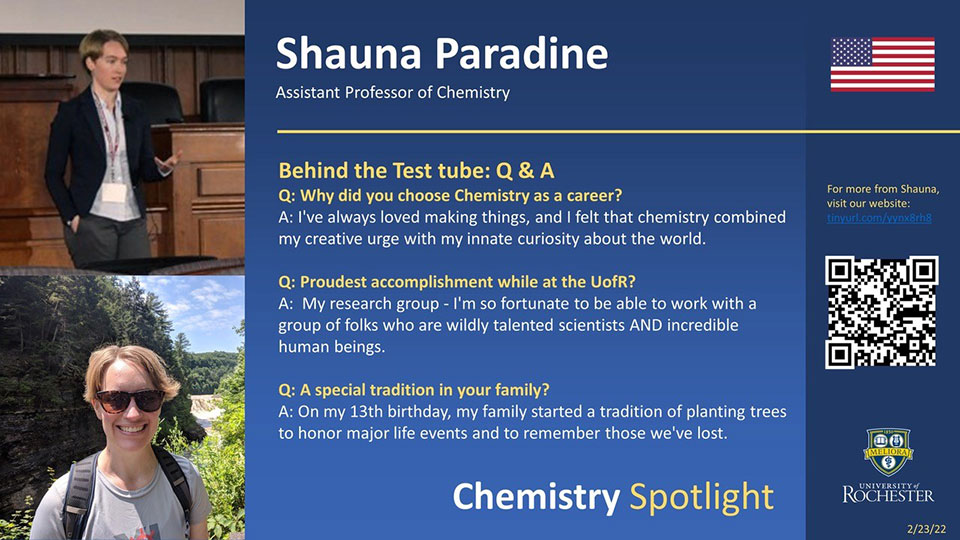 ---
Where is home/Where did you grow up?
I grew up in rural southwest Michigan, USA, 5 miles (8 km) outside of a small town of 1,500 called Schoolcraft.
Why did you choose chemistry as a career?
I've always loved making things (I had considered careers as a novelist and architect growing up), and I felt that chemistry combined my creative urge with my innate curiosity about the world. Manipulating matter at the molecular level and creating something that has never previously existed is pure joy.
Proudest accomplishment while at the University of Rochester?
My research group (though I'm not sure how much credit I get for that!) - I'm so fortunate to be able to work with a group of folks who are wildly talented scientists AND incredible human beings.
What do you like to do when not in the department?
I love running, hiking, gardening, baking, and spending quality time with my spouse, young child, and two cats.
A Rochester must?
Hiking the gorge trail at Letchworth State Park!
Care to share about a special tradition in your family/town/country?
On my 13th birthday, my grandparents gifted me a flowering crabapple tree that was planted on my parents' property, which started a family tradition of planting trees to honor major life events (milestone birthdays, marriages, children, etc.) and to remember those we've lost.
Fun fact or quote:
I ran cross-country and track in college (NCAA DIII) and was a team captain in both sports.
Ask me about…
Running, gender diversity, or growing up in a barn (really!).
---
The goal of this initiative is to highlight the diversity of backgrounds and perspectives in the Department of Chemistry and help our community develop stronger connections and synergies. You can think of these spotlights as the beginning of a conversation that we very much hope you will continue in the corridors of Hutch and beyond.
If you wish to contribute to this initiative, please complete our questionnaire.