Behind the Test Tube: Q&A
Robin Clark—Graduate Coordinator, Course Administrator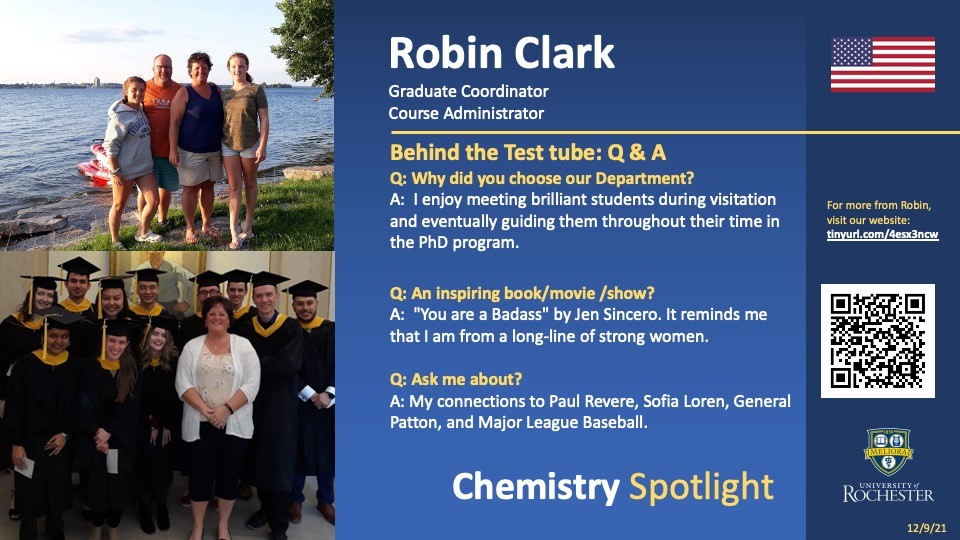 ---
Where is home/where did you grow up?
I have lived in the Rochester area my entire life; born in Batavia, NY and raised in Fairport, NY. I moved a few short miles to Penfield, NY where I live with my husband of 17 years, our two daughters, Lynnette, 16 and Megan, 14, and our loveable fox hound, Bentley.
Why did you choose the chemistry department?
Upon the recommendation from a former supervisor, I took a promotion as the graduate coordinator for the chemistry department. We both knew that working with young adults was where my talent would shine. I enjoy meeting brilliant students during visitation and eventually guiding them throughout their time as PhD students.
Proudest accomplishment while at the University of Rochester?
2020 was the most challenging year of my UR career. Working remotely meant that I lost in-person time with the students. Being partially furloughed meant that I crammed that in-person time into 16 hours of Zooming and phone calls, not to mention the thousands of emails to sort. Honestly, I thought I was failing them.  But after all the inconveniences caused by the pandemic, "my" students put together a video of how I helped them and what I mean to them and the department. Nothing in 22 years has compared.
What do you like to do when not in the department?
I love watching my girls play sports. Both play softball and volleyball for club and school. Lynnette's primary sport is softball. She is a "south-paw" or left-handed pitcher. Megan's primary sport is volleyball. She is a strong defensive libero and is learning left side hitting. The power and athleticism that they both have amazes me.
I love to bake cookies and decorate cakes. I find it very relaxing to mix up something that looks and tastes scrumptious. I am an avid live music/concert goer. Dancing and singing louder than the band makes me happy.
Camping in the 1000 Islands is a week I look forward to every year. Oh, and I can't forget to share that I am a Walt Disney World and Universal Studios fanatic.
A Rochester must?
Nick Tahoe's garbage plates, the Lilac, Corn Hill, Park Ave, and Fringe Festivals, the Strong National Museum of Play, the Rundel Library, the Jack Rabbit at Seabreeze Amusement Park, Parkside's Whispering Pines Minigolf, the Renaissance Festival, and the Fairport Music Festival to benefit Golisano Children's Hospital at Strong.
Feast/meal of the times? Details, please!
Chicken French—a New York specialty.
An inspiring book/movie /show? We are really curious as to why!
"You are a Badass" by Jen Sincero. My sister-in-law gave me this book when I began treatment for breast cancer. It reminded me that I am from a long-line of strong women.
A holiday that rocks? Care to tell us why?
Christmas is my favorite sparkly holiday. The colors, decorations, and the smells of sweet treats, along with visiting family and friends makes the holiday special. Halloween, though, is my most favorite day. I don't have a reason, really—it just is.
Care to share about a special tradition in your family/town/country?
When I was young, my mom would take my brother and I fruit picking. Starting in June we would pick strawberries for jam, cherries in July for pie, apples in September/October for apple sauce, pie, and cobbler. I take my kids (groaning) to do the same.
Ask me about…
My connections to Paul Revere, Sofia Loren, General Patton, and Major League Baseball.
---
The goal of this initiative is to highlight the diversity of backgrounds and perspectives in the Department of Chemistry and help our community develop stronger connections and synergies. You can think of these spotlights as the beginning of a conversation that we very much hope you will continue in the corridors of Hutch and beyond.
If you wish to contribute to this initiative, please complete our questionnaire.