Behind the Test Tube: Q&A
Karla Rosalía Sánchez Liévanos—Graduate Student, Knowles Group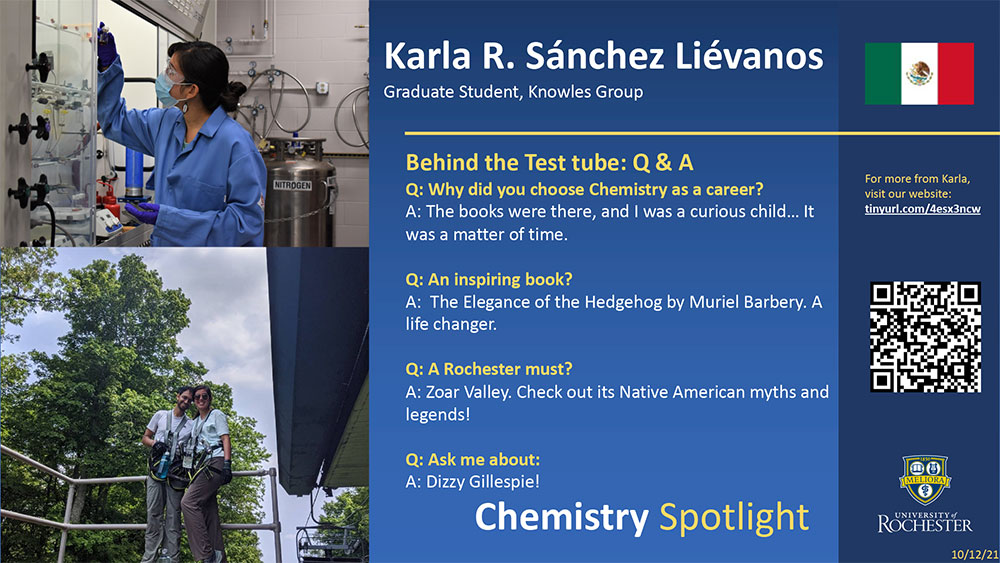 ---
Where is home/Where did you grow up?
Oaxtepec, Mexico
Why did you choose chemistry as a career?
My grandfather (from my dad side) passed away before I was born. He was a Metallurgical Engineer and he left plenty of books on the subject, most of them on materials and metals chemistry. The books were there and I was a curious child... It was a matter of time.
Proudest accomplishment while at the University of Rochester?
The opportunity to collaborate and mix with a bunch of talented people from all parts of the world. Learning about them and their cultures has been quite an eye opening experience. Being friends with them, well, that's a rain of flowers.
What do you like to do when not in the department?
Explore NYS Parks with my soulmate! 52/215... yeah, still many more to see.
A Rochester must?
Zoar Valley. Check out the Native American myths and legends on that place. It can get spooky!
An inspiring book/movie /show? We are really curious as to why!
The Elegance of the Hedgehog by Muriel Barbery. I don't want to spoil it, so go and give it a read. For me, it was a life changer.
A holiday that rocks? Care to tell us why?
Obviously ''The day of the dead''!
Fun fact or quote:
''The bad news is time flies. The good news is you are the pilot'' Michael Altshuler.
Ask me about…
Dizzy Gillespie!
---
The goal of this initiative is to highlight the diversity of backgrounds and perspectives in the Department of Chemistry and help our community develop stronger connections and synergies. You can think of these spotlights as the beginning of a conversation that we very much hope you will continue in the corridors of Hutch and beyond.
If you wish to contribute to this initiative, please complete our questionnaire.