Behind the Test Tube: Q&A
Kara Bren—Richard S. Eisenberg Professor in Chemistry, Chair-elect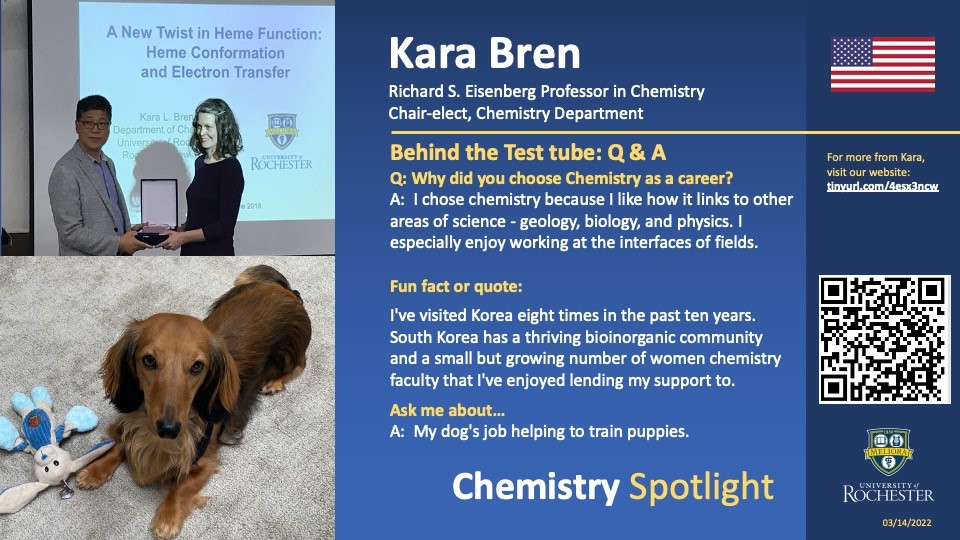 ---
Where is home/Where did you grow up?
I grew up near Minneapolis, Minnesota, but I've been happy to make Rochester my home.
Why did you choose chemistry as a career?
I chose chemistry because I like how it links to other areas of science—geology, biology, and physics. I especially enjoy working at the interfaces of fields.
What is your proudest accomplishment while at the University of Rochester?
Seeing my group graduates use their training to do all sorts of interesting and wonderful things.
What do you like to do when taking a break from chemistry?
Yoga, gardening, sci-fi-movie nights with friends, entertaining my dog.
A Rochester must?
Visiting the beautiful Finger Lakes region.
Feast/meal of the times? Details, please!
I like pretty much everything. I especially enjoy trying new dishes when traveling.
An inspiring book/movie /show? We are really curious as to why!
"The Chair" on Netflix was excellent but more ominous than inspiring.
A holiday that rocks? Care to tell us why?
My dream is to someday spend Christmas and Krampusnacht in a mountain village in the Alps.
Care to share about a special tradition in your family/town/country?
My Dad grew up on a raspberry farm and my first job was picking raspberries for him and my grandfather. My hometown has a raspberry festival celebrating the excellent berries from the area, with the Bren family farms playing a big role!
Fun fact or quote:
I've visited Korea eight times in the past ten years. South Korea has a thriving bioinorganic community and a small but growing number of women chemistry faculty that I've enjoyed lending my support to.
Ask me about…
My dog's job helping to train puppies.
---
The goal of this initiative is to highlight the diversity of backgrounds and perspectives in the Department of Chemistry and help our community develop stronger connections and synergies. You can think of these spotlights as the beginning of a conversation that we very much hope you will continue in the corridors of Hutch and beyond.
If you wish to contribute to this initiative, please complete our questionnaire.