Behind the Test Tube: Q&A
José L. Alvarez-Hernández—Graduate Student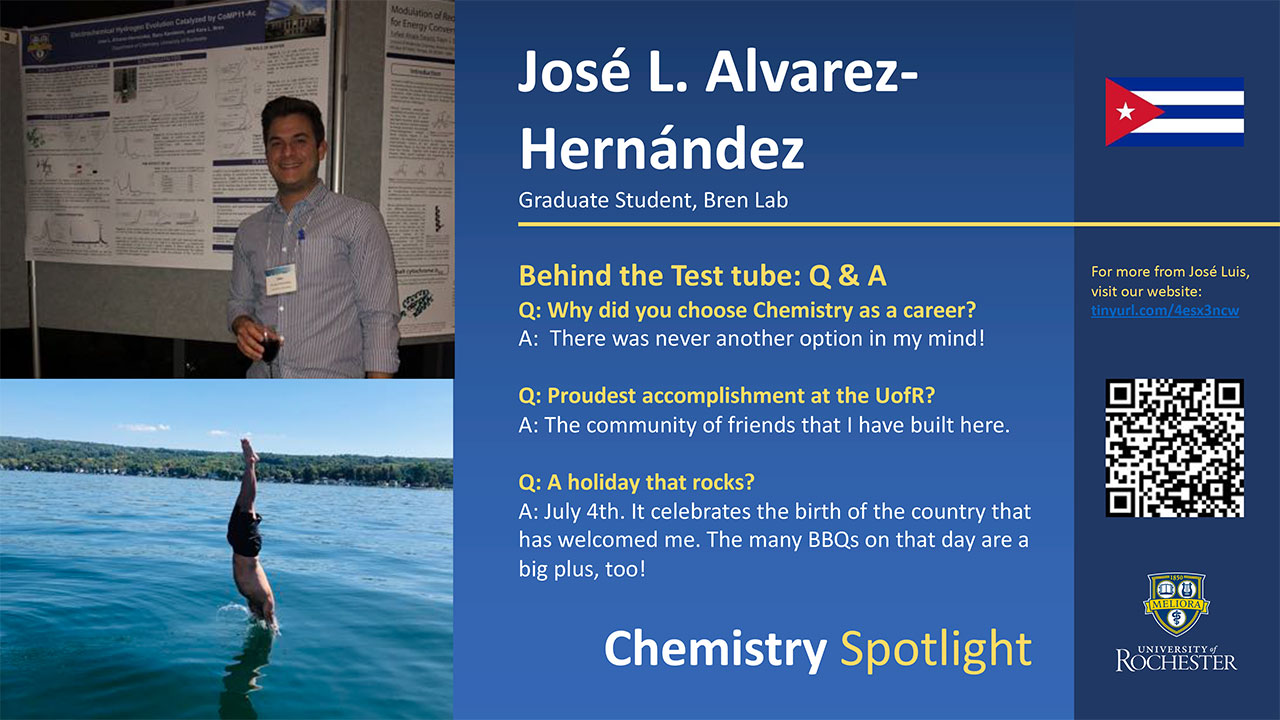 ---
Where is home/Where did you grow up?
I was born and grew up in Colón (Columbus), a small city not too far from Havana, Cuba.
Why did you choose chemistry as a career?
There was never another option in my mind! I decided that I was going to be a chemist during the first few weeks of my 8th grade chemistry class.
Proudest accomplishment while at the University of Rochester?
The community of friends that I have helped build here.
What do you like to do when not in the department?
For over two years I was the president of ALAS (Association of Latin-American Students) at the UofR. We play volleyball and get together every week. I also love spending time with my dog and taking care of my aquariums.
A Rochester must?
Gather a group of friends and rent a boat on Lake Ontario or any of the Finger Lakes.
Feast/meal of the times? Details, please!
A weekend brunch with my wife and friends at Magnolia's.
A holiday that rocks? Care to tell us why?
July 4th. It celebrates the birth of the country that has welcomed me.  Also, the many BBQs around that day are a big plus!
Care to share about a special tradition in your family/town/country?
A biiiiig meal with friends and family on New Year's Eve.
Fun fact or quote:
I was the first student at the UofR coming from Cuba.
I make the best coffee and flan in all of Rochester. :)
"Patria y Vida" That's the motto of the movement that calls for freedom in Cuba.
Ask me about…
Aquariums and fishkeeping
Cuba
Good cocktails
---
The goal of this initiative is to highlight the diversity of backgrounds and perspectives in the Department of Chemistry and help our community develop stronger connections and synergies. You can think of these spotlights as the beginning of a conversation that we very much hope you will continue in the corridors of Hutch and beyond.
If you wish to contribute to this initiative, please complete our questionnaire.