Behind the Test Tube: Q&A
Jordan Butt—Graduate Student, Miller Lab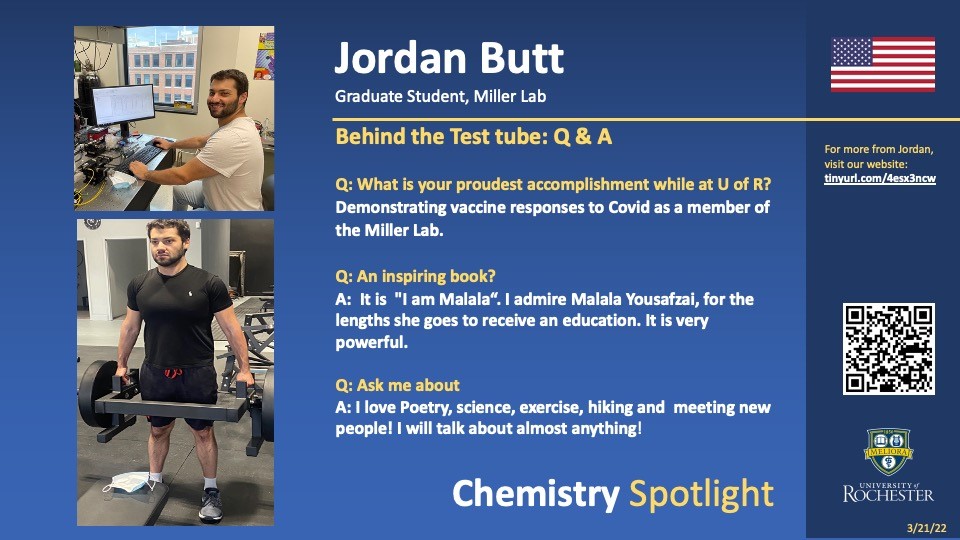 ---
Where is home/Where did you grow up?
Home is in Wilmington Delaware. I've also lived in the Philadelphia area.
Why did you choose chemistry as a career?
It was the logical next step for my research interests.
Proudest accomplishment while at the University of Rochester?
Demonstrating vaccine responses to Covid as a member of the Miller lab.
What do you like to do when not in the department?
 I like to write poetry, hike, exercise, and meet new people!
A Rochester must?
Check out Letchworth State Park! Such a great time!
Feast/meal of the times? Details, please!
 For me it is grilled chicken. I follow a strict high protein diet.
An inspiring book/movie /show? We are really curious as to why! 
It is "I am Malala". I love Malala Yousafzai for the lengths she goes to receive an education. It is very powerful.
A holiday that rocks? Care to tell us why?
Thanksgiving is generally my favorite, specifically because I get to see my family. 
Care to share about a special tradition in your family/town/country?
I make an effort to write my sisters birthday poems every year!
Fun fact or quote:
"The reason we feel pain
The reason that we suffer
Is the same reason that it rains
The same reason we hear thunder"
Ask me about…
Poetry, science, exercise, hiking, creative ways to annoy my sisters... I love to meet people and make new friends and will talk about almost anything!
---
The goal of this initiative is to highlight the diversity of backgrounds and perspectives in the Department of Chemistry and help our community develop stronger connections and synergies. You can think of these spotlights as the beginning of a conversation that we very much hope you will continue in the corridors of Hutch and beyond.
If you wish to contribute to this initiative, please complete our questionnaire.