Behind the Test Tube: Q&A
Jackson Hernandez—Graduate Student, Frontier Group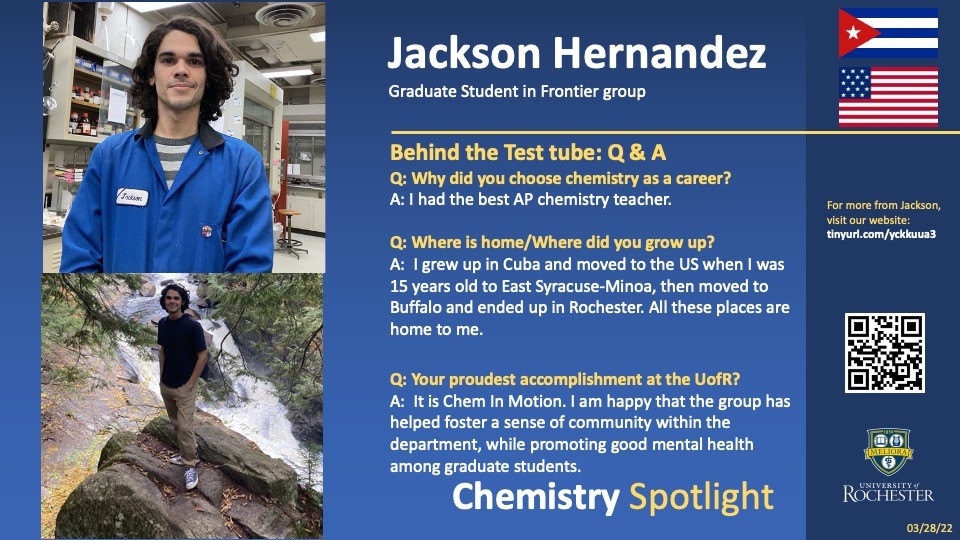 ---
Where is home/Where did you grow up?
I grew up in Cuba and moved to the US when I was 15 years old. Finished up high school in East Syracuse-Minoa, then moved to Buffalo for undergrad, and ended up in Rochester for grad school. All these places are home to me.
Why did you choose chemistry as a career?
I had the best AP chemistry teacher. Mrs. Mitchell helped me get my first internship opportunity at Syracuse University when I was only a high school junior and, since then, I knew there was no other path for me.
Proudest accomplishment while at the University of Rochester?
My proudest accomplishment so far is Chem In Motion. I am happy that the group has helped foster a sense of community within the department, while promoting good mental health among graduate students.
What do you like to do when not in the department?
Outside of the department I love to run, read, bake, watch TV, and hang out with friends.
A Rochester must?
Lux
Feast/meal of the times? Details, please!
I make the best cauliflower wings :P
An inspiring book/movie/show? We are really curious as to why! 
Real Housewives of Atlanta—this show kept me going during quarantine, for real. A group of strong women trying to make it in the world.
A holiday that rocks? Care to tell us why?
New Year's Eve has always been the most important holiday in my family. It's all about new beginnings, leaving the past behind, and being hopeful about the future.
Care to share about a special tradition in your family/town/country?
On New Year's Eve my family spends all night eating lots of good food, drinking, and dancing.
Fun fact or quote:
"Stop trifling and pass the wine" - Jackson
Ask me about…
Random Italian pop singers
---
The goal of this initiative is to highlight the diversity of backgrounds and perspectives in the Department of Chemistry and help our community develop stronger connections and synergies. You can think of these spotlights as the beginning of a conversation that we very much hope you will continue in the corridors of Hutch and beyond.
If you wish to contribute to this initiative, please complete our questionnaire.