Behind the Test Tube: Q&A
Geemi Wellawatte—PhD student, White Lab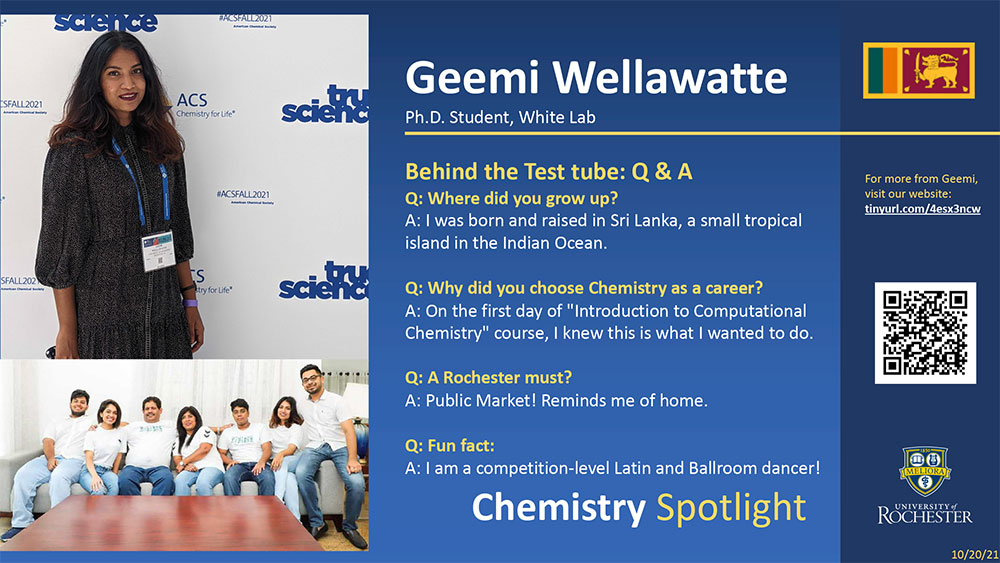 ---
Where is home/Where did you grow up?
I was born and raised in Sri Lanka, a small tropical island in the Indian Ocean. It was a beautiful place to grow up! 
Why did you choose chemistry as a career?
On the first day of "Introduction to Computational Chemistry" course, I knew this is what I wanted to do for the rest of my life.
Proudest accomplishment while at the University of Rochester?
My continuous growth as a researcher.
What do you like to do when not in the department?
I am a dedicated cross-fitter. Also, I love to bake and make desserts in general.
A Rochester must?
Public Market! Reminds me of home.
Feast/meal of the times? Details, please!
Sri Lankan food definitely! Bagels are my new found favorite food in the USA.
An inspiring book/movie /show? We are really curious as to why!
The Book Thief (book and movie both). I think it would strike a chord in anyone that loves to read.
A holiday that rocks? Care to tell us why?
Christmas has been the best holiday where our families get together. I am truly fond of those memories. Now I look forward to Christmas because that is when I visit my parents and siblings.
Fun fact or quote:
Believe it or not I learned Latin and Ballroom dancing for years. I have taken part in competitions as well!
Ask me about…
Sri Lanka! I would try my best to convince anyone to visit Sri Lanka.
---
The goal of this initiative is to highlight the diversity of backgrounds and perspectives in the Department of Chemistry and help our community develop stronger connections and synergies. You can think of these spotlights as the beginning of a conversation that we very much hope you will continue in the corridors of Hutch and beyond.
If you wish to contribute to this initiative, please complete our questionnaire.