Behind the Test Tube: Q&A
Donna J. Dolan—Purchaser/Receptionist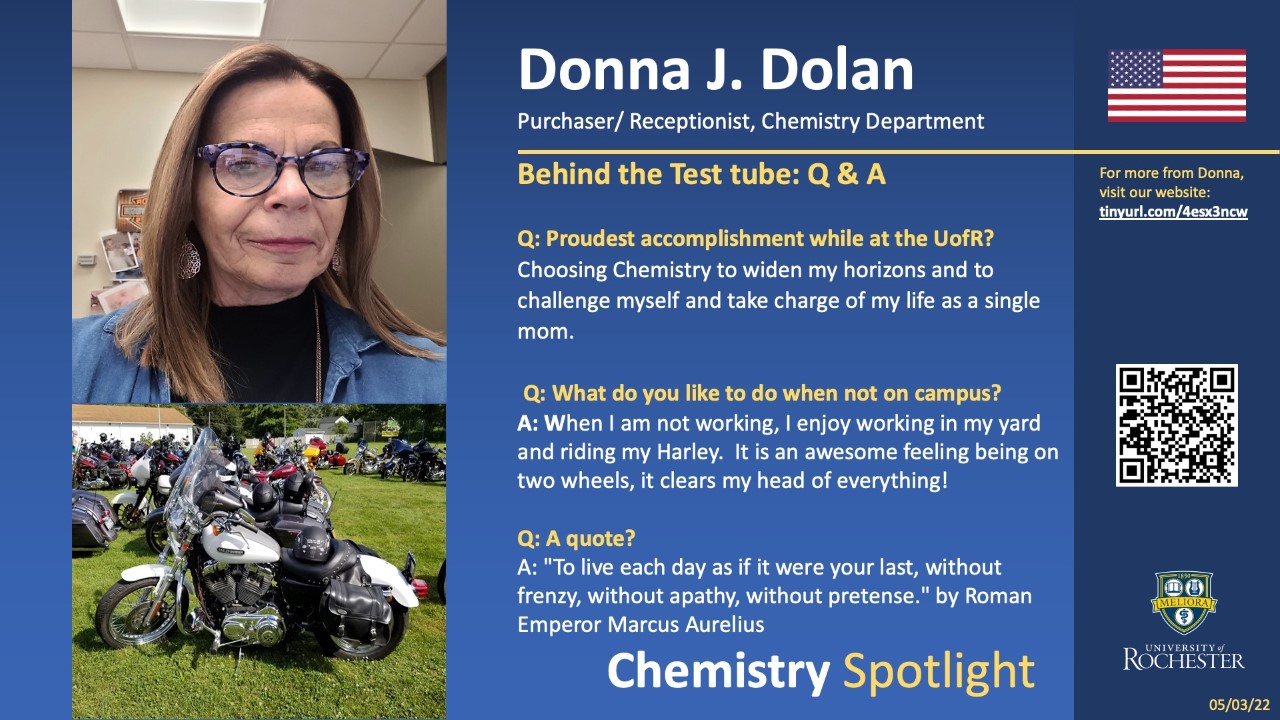 ---
Where is home/Where did you grow up?
I grew up in Sodus, NY and now my home is in Scottsville, NY.
Proudest accomplishment while at the University of Rochester?
Choosing chemistry to widen my horizons and to challenge myself and take charge of my life as a single Mom (when I started over 30 years ago)! I have accomplished a lot, learned a lot, made wonderful new friends when I started and still making new friends here in chemistry.
What do you like to do when not in the department?
Well, when I am not working, I enjoy working in my yard and riding my Harley. It is an awesome feeling being on two wheels, and it clears my head of everything. I also volunteer at the Lakeroad Ferret Farm in Naples NY, where I do all the yard work in the summer and in winter, I get to play with the fur babies, clean, check their water and food in each room.
A Rochester must?
Red Wings game!! Rochester Amerks!!
Fun fact or quote:
"To live each day as if it were your last, without frenzy, without apathy, without pretense." by Roman Emperor Marcus Aurelius
---
The goal of this initiative is to highlight the diversity of backgrounds and perspectives in the Department of Chemistry and help our community develop stronger connections and synergies. You can think of these spotlights as the beginning of a conversation that we very much hope you will continue in the corridors of Hutch and beyond.
If you wish to contribute to this initiative, please complete our questionnaire.