Behind the Test Tube: Q&A
Donggeon (Albert) Nam—Graduate Student, Fasan Group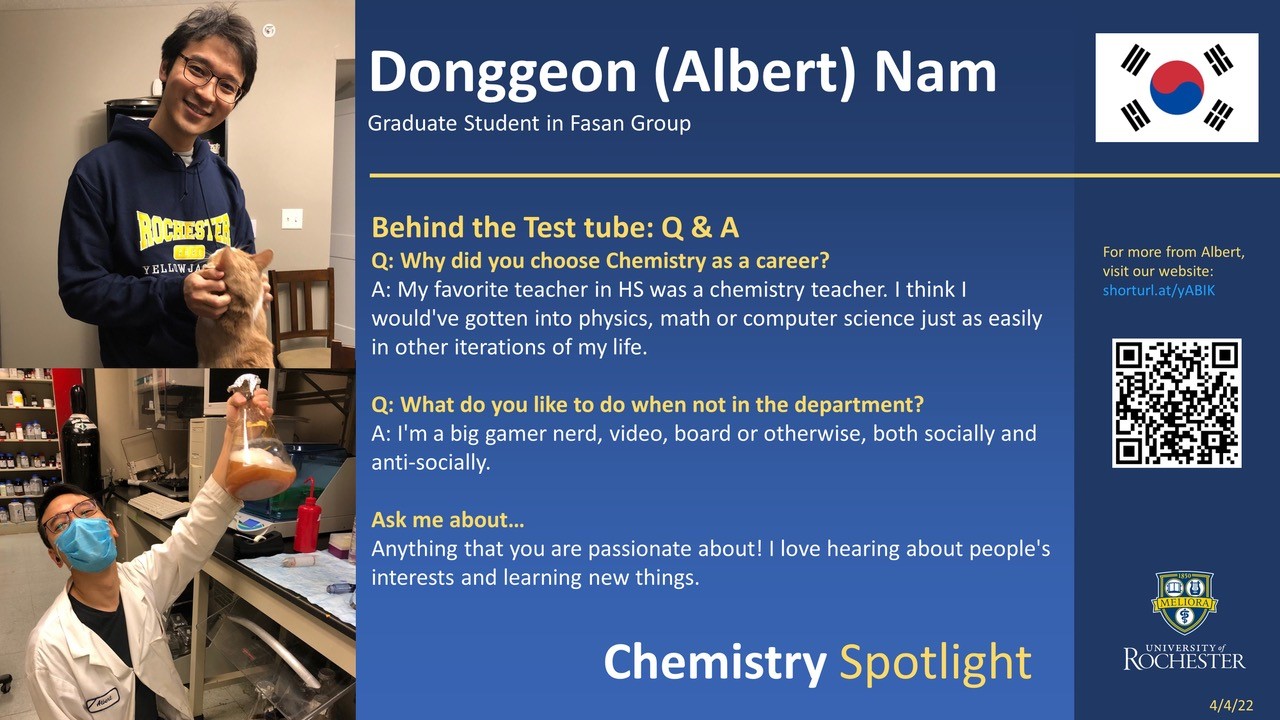 ---
Where is home/Where did you grow up?
I was born in Seoul, South Korea, raised in Daejeon, South Korea, grew up in Austin, Texas and live in Rochester, New York. My home is wherever I'm eating good food with the people I love.
Why did you choose chemistry as a career?
My favorite teacher in high school was a chemistry teacher. I think I would've gotten into physics, math or computer science just as easily in other iterations of my life.
Proudest accomplishment while at the University of Rochester?
Come hear about them at my defense! (Coming soon... hopefully)
What do you like to do when not in the department?
I'm a big gamer nerd, video, board or otherwise, both socially and anti-socially.
A Rochester must?
Snow, whether you like it or not.
Feast/meal of the times? Details, please!
BBQ, both Korean and Texan. I cannot easily describe the heavenly perfection that melts into exquisite harmony in your mouth, but I would love to show you if we are ever in the right town together.
An inspiring book/movie/show? We are really curious as to why!
The Pursuit of Happiness, I rarely cry.
Fun fact or quote:
"Only humans and armadillos can catch the awful disease leprosy" James Acaster
Ask me about…
Anything that you are passionate about! I love hearing about people's interests and learning new things; trivia nights, favorite football teams, photography, Japanese whiskey, CrossFit....etc.
---
The goal of this initiative is to highlight the diversity of backgrounds and perspectives in the Department of Chemistry and help our community develop stronger connections and synergies. You can think of these spotlights as the beginning of a conversation that we very much hope you will continue in the corridors of Hutch and beyond.
If you wish to contribute to this initiative, please complete our questionnaire.