Behind the Test Tube: Q&A
Courtney Stanford—Assistant Professor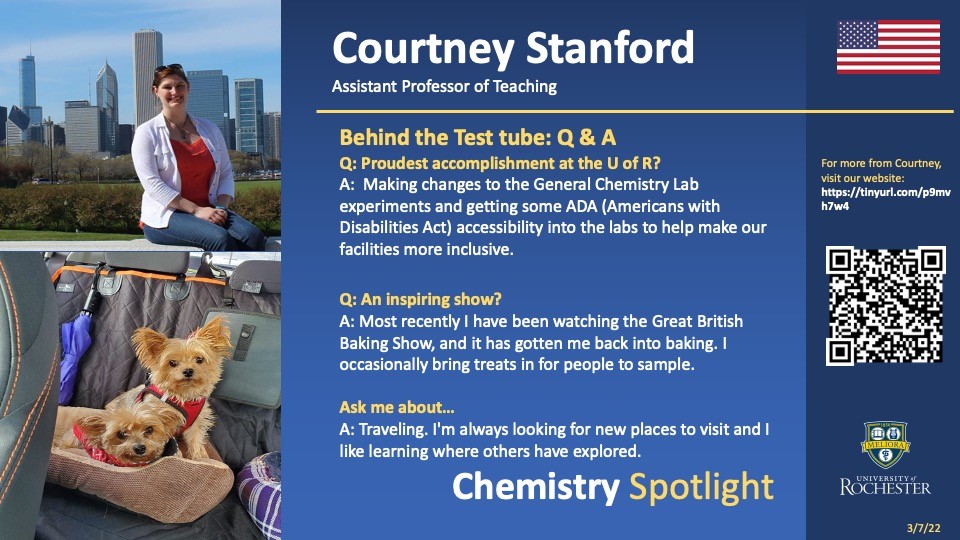 ---
Where is home/Where did you grow up?
I've lived the longest in MA and TX, but I have moved around.  I have also lived in IN, IA, VA, and now NY.
Why did you choose chemistry as a career?
Because it's just like cooking and baking, you just can't lick the spoon.
Proudest accomplishment while at the University of Rochester?
Making changes to the General Chemistry Lab experiments and getting some ADA accessibility into the labs to help make our facilities more inclusive.
What do you like to do when not in the department?
I enjoy spending my free time traveling to national parks, hiking with my dogs, Boo and Lexi, and baking.
A Rochester must?
I just discovered Caramel Bakery and Bar—they have the best Sunday brunch.
An inspiring book/movie/show? We are really curious as to why! 
Most recently I have been watching the Great British Baking Show, and it's gotten me back into baking. I occasionally bring treats in for people to sample.
Ask me about…
Traveling. I'm always looking for new places to visit and I like learning where others have explored.
---
The goal of this initiative is to highlight the diversity of backgrounds and perspectives in the Department of Chemistry and help our community develop stronger connections and synergies. You can think of these spotlights as the beginning of a conversation that we very much hope you will continue in the corridors of Hutch and beyond.
If you wish to contribute to this initiative, please complete our questionnaire.