Spotlight on Courses
Discover Just Some of the Theatre Program's Exciting Classes!
The Theatre Program offers classes across theatrical disciplines and, indeed, multidisciplinary courses, too.  Below are just some of the courses we're spotlighting this upcoming semester.  (For a complete list of Theatre Program courses, go here.)  Looking for a class?  Look no further!  All these courses count towards a Humanities cluster in English!  Need further information?  Just ask!
ENGL 124: Intro to Stage Lighting
4 credits |
Theatre engages all the senses, and what we see onstage and how it is lit defines much of how we feel about what is happening in a production.  This course introduces students to the mechanics, materials, and aesthetics of lighting for the theatre.  Students gain a thorough understanding of lighting equipment, procedures, safety, and how these fascinating elements contribute to creating theatrical storytelling.  Students work actively with these technologies on productions, getting valuable practical experience. There is a required lab component that will be scheduled with the instructor.
ENGL 154: Intro to Design for the Stage
2 credits (1st half of each semester) | more info
Space and how it is conceived and explored is fundamental to the telling of stories—onstage and elsewhere.  This introductory course aims at giving students skills to create, translate and communicate a visual design/environment for performance. The class will focus on design fundamentals, materials, research and visual storytelling through class discussion, script analysis and practical work. Students will read a play, devise a concept for that play, research possible environments, and begin to produce drawings and other visual ideas for their design.  Student's work will be presented and discussed in each class.
and
ENGL 178: Design for the Stage: Lighting
2 credits (2nd half of each semester) | more info
Students will be taught the skills to observe, describe, analyze, and critique lighting as it relates to performance.  Students will gain an understanding of and an ability to use lighting elements to compose a stage picture; the collaborative skills necessary to flourish in a creative atmosphere; and an understanding of the theatrical lighting design process from script to light plot to technical rehearsal to performance.   Pre-requisites: ENGL 154 or 155


ENGL 156: From Scratch: Creating Devised Theatre
4 credits | more  info
Contemporary Theatre is constantly evolving and includes many forms beyond naturalistic drama.  Devised Theatre is a highly collaborative and experimental way of making theatre including Dance Theatre, Multimedia/Mixed Media, Physical Theatre, Immersive and Site-Specific Theatre and many others! Devised Theatre through ensemble work is both immediate and contemporary and as old as time. Long before the emergence of the director, artists collaborated and created together. Devising is widely used by contemporary theatre groups of different scales and styles all over the world. In this course students will work together to create a performance, on a theme of their choice, by making use of various starting materials including photos, objects, songs, news articles, maps, letters, poems, creative writings, movement and architectural space. Students will become creative performers who will create, edit, design and perform a short piece of original theatre work. No experience necessary and all are welcome!
ENGL 164: Improvisation
4 credits | offered in the Fallonly | more  info
Think on your feet!  Create on the go!  This course allows students to move progressively toward a stronger understanding of long form improvisation acting theory and skills related to listening, supporting others, heightening, and taking risks. By the end of this course students will be able to work within a cast to create full length, fully improvised plays that incorporate spontaneous monologues and scenes with recurring characters and themes. Performers will develop skills that enable them to write, direct, edit, and act in pieces that are made up on the spot using a single audience suggestion. Particular focus will be paid to scene work and narrative improvisation.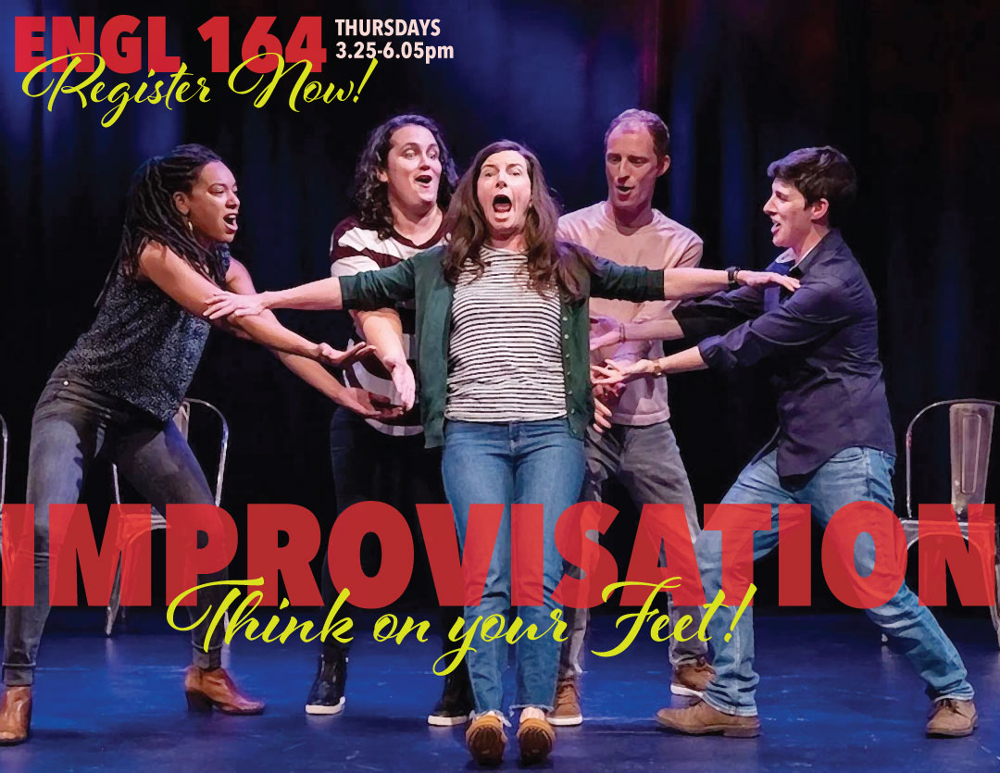 ENGL 172: Intro to Sound for the Stage
4 credits | more info
Ever wonder and admire how sound designers create awesome aural environments in live performance? This course investigates the tools, tricks, skills, and equipment of realizing sound design for the theater. You'll learn how Sound Designers shape sound and music and collaborate with other artists to achieve a specific creative vision. You'll see and experience how sound systems are put together, getting hands-on time with different equipment, and learning just what each piece does. We will build on the fundamentals of sound systems that can start as small as your computer and go as large as filling a 1,000-seat theater or larger. As you learn these trades and skills, you'll then apply them in the Theatre Program's productions, working with peers and industry professionals to put on a full-scale production. Whatever your experience level, you are welcome here. All you need is a passion for hearing the world around you, and the desire to bring your own creative world to life on whatever stage you find. There is a required lab component that will be scheduled with the instructor.
ENGL 182: Staging Revolution: Creating Theatre for Social Change
4 credits | offered in the Fall only | more info
What is the relationship between theatre and protest? How, in a world that is chaotic and unjust, can we create work that foments social justice and galvanizes artists and audiences around a shared cause? In this course, we will study protest theatre movements both in the United States and around the world, and apply those tenets to creating work that speaks to our current sociopolitical moment and the challenges we collectively face.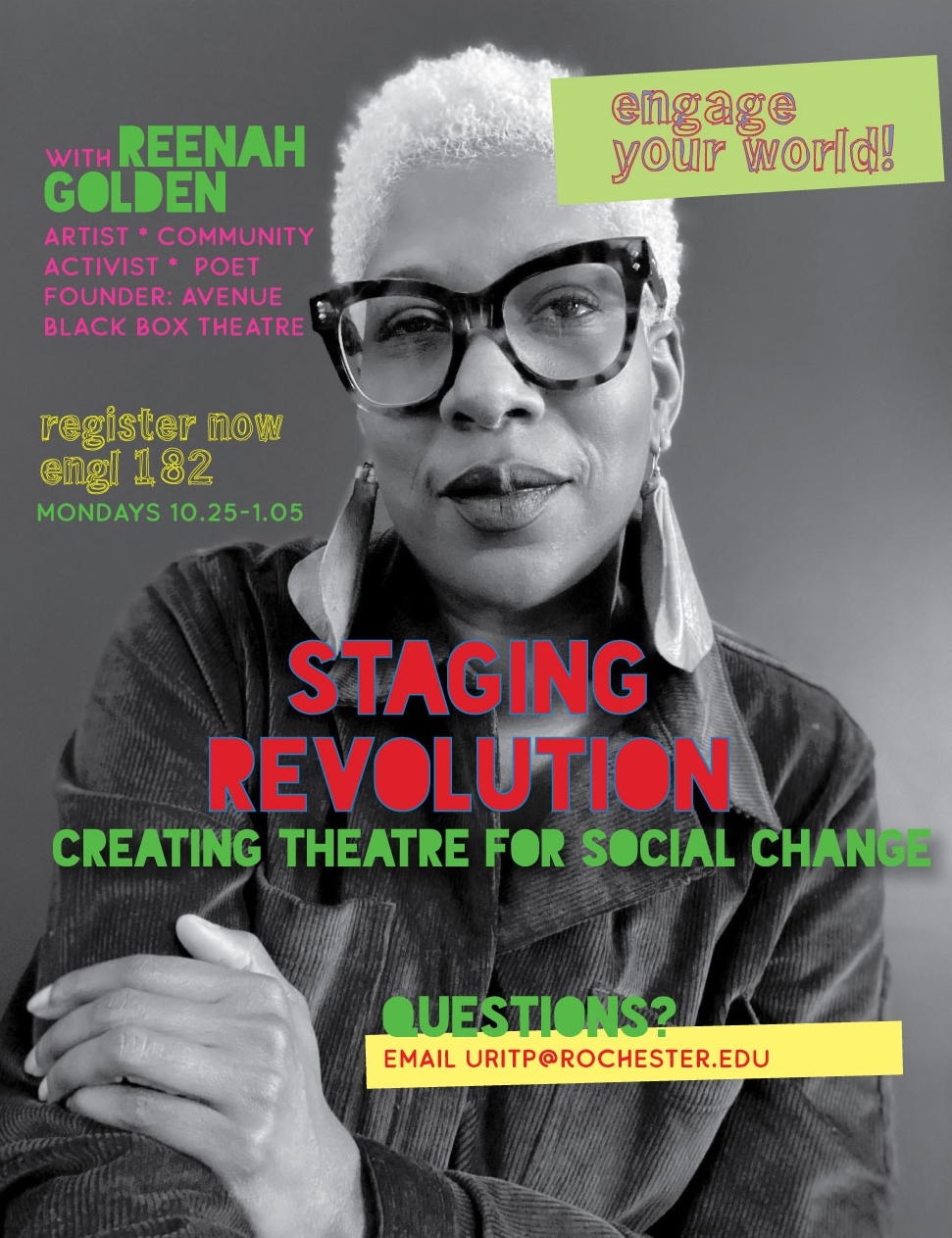 ENGL 273: Performing as Patients:

Using Acting Techniques to Help Train Behavioral Health Professions
4 credits | offered in the Fall only | more info
Diagnosing and talking to patients effectively, safely, and with empathy is a key skill for doctors and all behavioral health care providers. "Standardized Patients" (SPs) are carefully trained actors who realistically and accurately present as a patient with psychiatric symptoms in devised, structured encounters. Using skills including improvisation, and character analysis and development, in conjunction with medical insights into psychiatric behaviors and conditions, students will not only develop unusual, sustainable, and highly valued skillsets, but actively work to give feedback to trainees while putting their own performance objectives and learning into real world practice. A collaboration with the Department of Psychiatry's Laboratory for Behavioral Health Skills, Performing as Patients is a rare and unique opportunity to build important, marketable, real-world skills with creative, targeted and valuable theatrical techniques. Auditions/interviews are required.