People
URSO Advisory Committee
The Symphony Orchestra Advisory Committee is comprised of several elected orchestra members (usually three to four students and three community members) and the concertmaster as an ex officio member. Re-elections are held each year. Committee members assist and advise the music director in the ongoing operation of the ensemble in areas such as concerts and run-outs, touring, advertising and publicity, repertoire selection, conflict resolution, and attendance.
Orchestra Staff
David Harman, Music Director
Jimmy Warlick , Manager of Music Performance Programs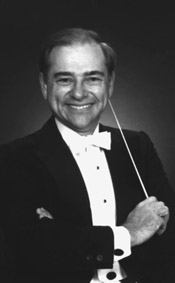 A native of northern California, David Harman began his serious musical studies as a clarinetist. He was the assistant conductor of the University Orchestra while earning a B.A. and M.A. in Woodwind Performance from California State University at Sacramento. In 1971 he was awarded a scholarship as a Boursier de l'Etat français by the Fulbright Foundation for advanced study in France at the Paris Conservatory. He also attended master classes given by Erich Leinsdorf, Daniel Lewis and Jorge Mester at the Aspen Music Festival as an orchestral conducting scholarship student. Harman earned a Doctor of Musical Arts degree from the Eastman School of Music of the University of Rochester in 1974 at age 25.
Following graduation from Eastman, he assumed the position of coordinator of woodwind instruction, and conductor of the chamber orchestra and opera program at Colorado State University in Ft. Collins. He left that position for a similar post at the University of Connecticut in Storrs in 1981. During that time, Dr. Harman also enjoyed an active solo career as a clarinetist with three solo recordings, recital appearances at Carnegie Recital Hall, and London's Wigmore Hall and Purcell Room. Other performances included national concert tours and recorded broadcasts for the B.B.C. Radio Three, France's O.R.T.F., WGBH in Boston, WQXR in New York City, and National Public Radio. The New York Times review of his 1981 Carnegie Hall debut recital mentioned that "Everything he touched turned to music."
In 1986, Harman assumed the post of Director of Orchestras at the University of Louisville in Kentucky, a professorship that he held until returning to Rochester in 1993. At U of L he was conductor of the University's Symphony Orchestra, and Opera Theater. As Executive Director of the Grawemeyer Award for Music Composition, he collaborated closely with composers Harrison Birtwistle, John Corigliano, György Ligeti, Witold Lutoslawski, Krzysztof Penderecki, Joan Tower and Chinary Ung. He also served as Music Director of The Louisville Civic Orchestra and as assistant conductor of the Louisville Orchestra.
He continues to appear both as a guest conductor of professional orchestras and as a music educator at university and high school levels. Professional appearances include return engagements with the Louisville Orchestra, the Cincinnati Symphony, the Tucson Symphony, the Rochester Philharmonic Orchestra, the Lake Placid Sinfonietta, and Opera Theater of Rochester. Harman was also conductor of the Orchestra of the Spring Festival of Contemporary Music in Ljubljana, Slovenia under the sponsorship of Arts America. He also served as guest conductor of the Shanghai Conservatory Symphony (China), the Jamaica Orchestra for Youth (JOY) in Kingston, Jamaica, the Grand Cayman International Music Camp, the New York All-State String Orchestra and, recently, as guest conductor at the University of Wisconsin, Madison.
In 2005, he was named by the Monroe Country School Music Association as recipient of the Richard H. Snook Award for his contributions to music education in the greater Rochester area, and was named Musician of the Year for 2008 by the Rochester Chapter of Mu Phi Epsilon.
Since 1993, Dr. Harman has held the posts of Professor of Music and Director of Orchestral Activities at the University of Rochester River Campus where he conducts the Symphony and Chamber Orchestras. For the past eighteen years he has also served as Conductor and Music Director of the Rochester Philharmonic Youth Orchestra, and has conducted the RPYO in concerts in England, France, Germany, Hungary, Italy, Poland, Qu é bec, and Slovakia. In addition, for the past ten seasons he has served as the Music Director of the Penfield Symphony Orchestra. He also conducts the Doctor's Orchestra at the UR Medical Center and Sinfonietta CordAncia.