Major Requirements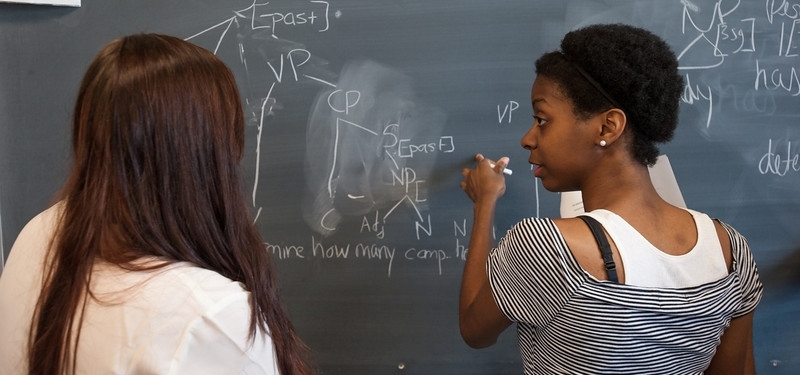 The linguistics major explores the structure of human language, including formal tools for collecting, describing, and analyzing linguistic data. The major also draws on courses offered by other departments and programs within the college, cutting across the humanities, social sciences, and natural sciences.
Required Courses
The linguistics major requires a total of ten courses. All majors must take the basic five core courses. Students must also take five additional electives, at least three of which must be at the 200-level or above. Four of these electives must fit into either a pre-approved track or a specialized track arranged with the undergraduate advisor.
Core Courses
LIN 110/ANT 110: Introduction to Linguistic Analysis
LIN 210/410: Introduction to Language Sound Systems
LIN 220/420: Introduction to Grammatical Systems
LIN 225/425: Introduction to Semantic Analysis
LIN 389: Senior Seminar
Suggested Tracks
Students can either choose one of the suggested tracks below or create their own track with the consultation and approval of the undergraduate advisor.
Linguistic Theory
LIN 227/427: Topics in Phonetics and Phonology
Choose one of the following:
LIN 260/460: Syntactic Theory
LIN 261/461: Phrase Structure Grammars
LIN 262/462: Topics in Experimental Syntax
Choose one of the following:
LIN 266/466: Formal Pragmatics
LIN 265/465: Formal Semantics
Choose one:
LIN 102: Language and Social Identity in the U.S.
LIN 103: Language and Sexuality
LIN 105: Language and Advertising
LIN 106: Language and Law
Psycholinguistics
LIN 217/BCS 152/PSY 152/ASL 260: Language and Psycholinguistics
LIN 208/BCS 259/PSY 259: Language Development
Choose three:
LIN 227/427: Topics in Phonology and Phonetics
LIN 260/460: Syntactic Theory
LIN 262/462: Topics in Experimental Syntax or LIN 261/461: Phrase Structure Grammars
LIN 265/465: Formal Semantics or LIN 266/466: Formal Pragmatics
Recommended elective:
BCS 200: Experimental Design and Analysis
Language and Computation
LIN 265/465: Formal Semantics
LIN 260/460: Syntactic Theory
LIN 247/447/CSC 247/447/BCS 235/534: Natural Language Processing
Choose one:
LIN 261/461: Phrase Structure Grammars or LIN 262/462: Topics in Experimental Syntax
LIN 266/466: Formal Pragmatics
Speech
LIN 217/BCS 152/PSY 152/ASL 260: Language and Psycholinguistics
LIN 227/427: Topics in Phonetics and Phonology
BCS 110/PSY 110/CVS 110: Neural Foundations of Behavior
BCS 151/PSY 151/CVS 151: Perception and Action
Other relevant electives:
BCS 221/PSY 221/NSC 221: Audition
BCS 245/CVS 245/NSC 245: Sensory Systems
Language and the Mind
LIN 217/BCS 152/PSY 152/ASL 260: Language and Psycholinguistics
LIN 265/465: Formal Semantics
LIN 266/466: Formal Pragmatics
PHL 244/444: Philosophy of Mind
PHL 247/447: Philosophy of Language
BCS 111: Foundations of Cognitive Science