Research Opportunities
Our department encourages a balance of theoretical and empirical work that gives our undergraduate students the opportunity to investigate several types of linguistic phenomena in a variety of linguistic subfields, focusing on hands-on data collection and analysis, good writing skills, and use of empirical evidence in theoretical constructions.
Research opportunities can include:
Independent studies on topics of interest to a student
Special topic reading groups
Working in the labs in the department, Lattimore Eye-Tracking Lab, the Phonetics Lab or the Quantitiatve Semantics Lab
Working with faculty on current research projects, or projects of mutual interest
Getting Started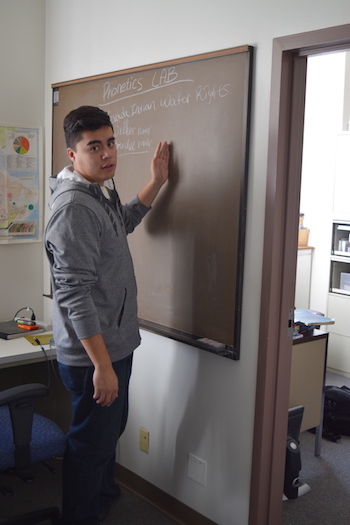 Students who are interested in getting involved in research with faculty are advised to take linguistics classes and talk to their professors. Let us know you are interested. There are lots of ways to get involved depending on the interests of students and faculty.
Undergraduates who participate in linguistics research are usually linguistics majors or minors who have taken LING 110: Intro to Linguistic Analysis and at least one 200-level (or higher) course in syntax, semantics or phonetics.
Opportunities for Students
All our classes involve hands-on approaches to learning linguistics. Often students undertake and complete research projects in our classes. These class projects are one of the best ways to get to know your professors and become involved in research.
The following are some of the opportunities that undergraduate linguistics students have taken:
Summer positions
TA and RA positions
Workshop Peer Leaders program
Independent studies
Cooperatives with other programs
Linguistics Undergraduate Council

The Linguistics Undergraduate Council (LUC) is a student run organization for undergraduates interested in any aspect of natural language. The LUC mission statement: To raise awareness of linguistics as an academic area of study on campus, as well as provide a community where people who are involved in the field as a major, minor, cluster, or hobby can meet people who have similar interests, as well as interact with the faculty.
Undergraduate Working Papers in Linguistics
The Undergraduate Working Papers in Linguistics is an annual publication produced by the Linguistics Undergraduate Council (LUC) which showcases student work in linguistics. LUC Working Papers mission is to create an annual publication of undergraduate work as well as to give the students additional experience writing in-depth linguistics research papers and/or squibs and descriptive fieldwork data sets. All works included in the Working Papers must follow the format outlined in this style guide and be submitted following these steps. For more information, please address the current LUC executive board through the email address above.