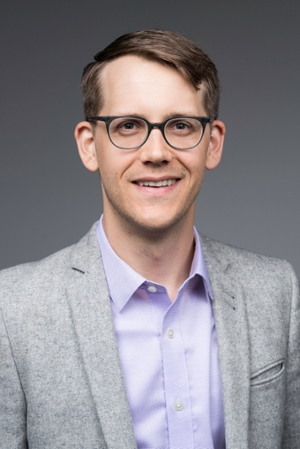 ---
Research Overview
Matthew Omelsky works and teaches in the field of global black cultural studies. His current book project, Fugitive Time: African Diasporic Utopian Aesthetics, presents a theory of time-consciousness—the perception and experience of time—in literature, visual culture, and music from across the diaspora, including Zimbabwe, Britain, Martinique, Senegal, and the US. The project charts the intersection of black fugitivity and utopian desire in a range of works, from Olaudah Equiano's 18th century slave narrative, to Sun Ra's avant-garde poetry and music, to NoViolet Bulawayo's contemporary fiction. Most of his published work to date investigates questions of power, ontology, and temporality in African fiction and cinema, speculative fiction, black studies critical theory, and climate change thought and aesthetics. Before coming to Rochester, Omelsky was the postdoctoral fellow for the Mellon Sawyer Seminar on "Racial Disposability and Cultures of Resistance" in Penn State's Department of African American Studies.
Selected Publications
Journal Articles
"African Fugitivities," The Black Scholar, vol. 50, no. 1, forthcoming Spring 2020
"The Creaturely Modernism of Amos Tutuola," Cultural Critique, vol. 99, Spring 2018: 66-96
With Ian Baucom, "Knowledge in the Age of Climate Change," editors' introduction, South Atlantic Quarterly, vol. 116, no. 1, Winter 2017: 1-18.
"'After the End Times': Postcrisis African Science Fiction," Cambridge Journal of Postcolonial Literary Inquiry vol. 1, no. 1, Spring 2014: 33-49.
"Jean-Pierre Bekolo's African Cyborgian Thought," Nka: Journal of Contemporary African Art, vol. 31, Fall 2012: 6-21.
"Chris Abani and the Politics of Ambivalence," Research in African Literatures, vol. 42, no. 4, Winter 2011: 84-96.
Edited Collection
"Climate Change and the Production of Knowledge," special issue of the South Atlantic Quarterly, vol. 116, no. 1, Winter 2017, co-edited with Ian Baucom. 
Teaching
Internet Aesthetics: Viral Forms from the Global South
Contemporary African Film and Fiction
Caribbean Gothic
African Literatures of Migration
Reimagining the Human: Global Black Speculative Fiction
Bright Lights, African Cities
Black Film Collectives
Honors
Mellon Foundation Postdoctoral Fellowship, African American Studies, Penn State University, 2018-19
Mellon/ACLS Dissertation Completion Fellowship, 2017-18
Graduate School Fellowship, English, Duke University, 2012-14
Graduate Student Best Essay Award, African Literature Association, 2011
Foreign Language and Area Studies Fellowship, African Studies, UC Berkeley, 2011
Sage Graduate Fellowship, Africana Studies, Cornell University, 2009-11