Graduate Program News
March 27, 2017
---
January 31, 2017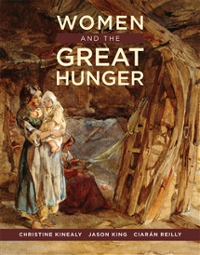 Congratulations to MA student Matt Skwiat, whose work (originally a conference paper) will be featured in Women and the Great Hunger, a collection of essays forthcoming from Cork University Press. Matt's essay re-evaluates the poetry of Jane Elgee (later Jane Wilde, mother of Oscar Wilde), putting her verse into dialogue with the English Romantic poets, and arguing for its influential role in shaping the poetry both of William Butler Yeats and of Oscar Wilde himself. 
---
January 27, 2017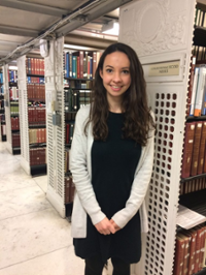 Congratulations to PhD student Anastasia Nikolis, who is spending the 2016-17 academic year as an intern for the Library of Congress's Poetry and Literature Center, while also undertaking research for her dissertation.  Anastasia was recently invited to write a guest blog post about her scholarly work, and the ways in which it is supported by the LoC's resources: http://blogs.loc.gov/catbird/.
---
January 25, 2017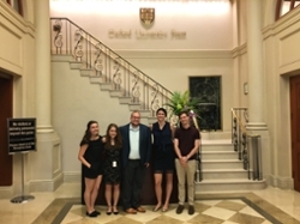 MA student Matt Skwiat spent the summer interning at the Oxford University Press's New York City offices, where the work ranged from finding appropriate reviewers for manuscripts, to seeking copyright approvals for images, to gathering the relevant materials for marketing, production, and distribution. Interns also interacted with editors in Oxford's trade and reference divisions. Congratulations, Matt, on being awarded -- and making the most of -- this wonderful opportunity!
---
December 15, 2016

Third-year PhD student Jarrod Ingles' freshman writing course has been singled out for acclaim by one of the Admissions Office's group of student bloggers. "The hour-long, bi-weekly lectures and discussions in Morey 502 were the highlight of my semester as I hung onto every word that emerged from one of the smartest men I have ever met," writes Adit Ganguly of the experience. To read the full blog entry (and see a photo of Jarrod intrepidly leading 15 freshmen on a hike in Mendon Ponds Park), click here: https://enrollment.rochester.edu/blog/a-review-of-the-mandatory-freshman-writing-course/
---
September 9, 2016
Erin Palombi (Selznick MA 2016) has been hired by the National Audio-Visual Conservation Center - part of the Library of Congress, and home to the world's leading collection of films, television programs, and radio broadcasts. In her role as a Library Processing Technician, Erin will work with moving-image artifacts as they move through the Center's detailed inventorying and inspection process. Congratulations to Erin as she begins her new career! 

---
September 9, 2016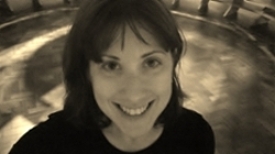 Congratulations to Jenny Boyar, who has been selected to serve as a postdoctoral fellow in the UR's Writing, Speaking, and Argument Program. Starting this fall, Jenny will be teaching two sections of a composition course of her own design, entitled "Narratives of and as Medicine," to first-year students. 
---
June 13, 2016
Congratulations to Matt Bayne! Matt is the winner of this year's William H. Gilman Memorial Prize, awarded annually by the department to an "outstanding PhD candidate in English or American Literature." 
---
June 6, 2016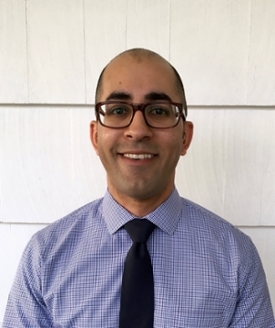 Congratulations to Hardeep Sidhu, who will enter a tenure-track position at Worcester State University this fall. Last month, Hardeep defended his dissertation, entitled Pulp Historiography: American Historical Fiction in the Twenty-First Century. The dissertation examines the work of Michael Chabon, Junot Diaz, and Mat Johnson, as well as a group of recent war films that the project identifies as "Orientalist Westerns."
---
May 19, 2016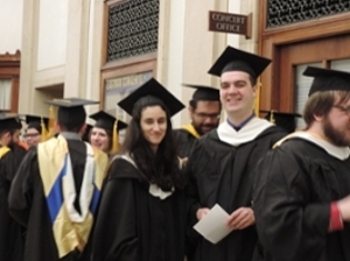 May 14th marked a festive day full of graduate-student commencement ceremonies:  at 9am our newly-minted PhDs -- Carly Chasin, Ali McGhee, and Nikolaus Wasmoen -- collected their diplomas on the stage of Kodak Hall, followed, at noon, by the five MA students who chose to walk this year (three in English Literature and two in the Selznick program): Rachel Betts, Spencer Churchill, Andrew Goter, Erin Miller, and Claire Muggia. Congratulations to all!
---
May 13, 2016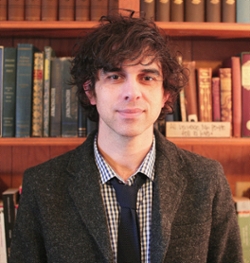 ---
April 26, 2016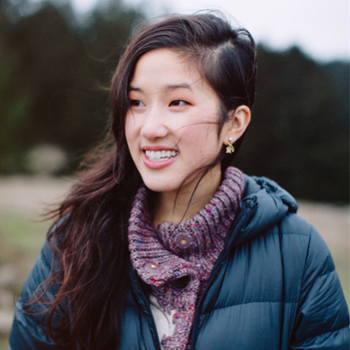 Michelle Dinh (MA 2015) is delighted to report that she will be entering the University of Washington's PhD program in English this fall. Michelle writes that UW was her "dream school," not least because of its rich resources in science-fiction studies -- an interest she was able to foster here at Rochester while taking Rosemary Kegl's graduate seminar on Utopian literature. Congratulations, Michelle!
---
April 15, 2016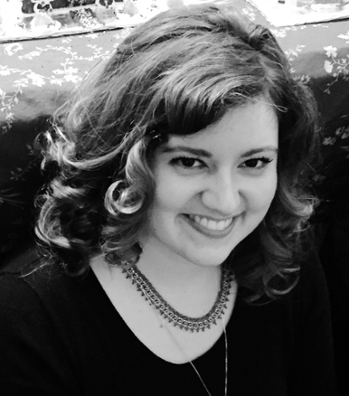 Congratulations to Emily Kohlhase, who, in winning this year's Julietta Wolf-Foster Award, has been recognized as an outstanding Writing Consultant within the college's Writing, Teaching, and Argument Program. Recipients of the award are chosen based on student nominations.
---
April 15, 2016
The University Dean of Graduate Studies has named Anastasia Nikolis as one of this year's recipients of the Edward Peck Curtis Award for Excellence in Teaching by a Graduate Student. The award honors her exceptional work with students in the Writing, Speaking, and Argument Program. Congratulations, Anastasia!
---
March 15, 2016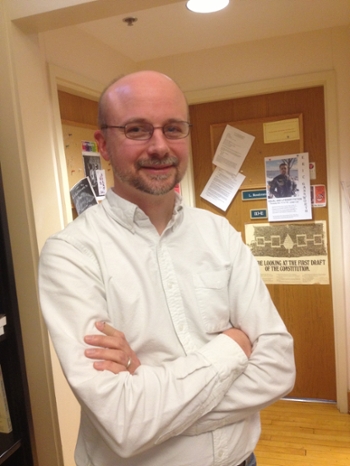 After serving for the past year as a Visiting Assistant Professor in the English Department at SUNY Cortland, Geoffrey Bender (PhD 2012) will be joining the tenure-track faculty in the fall.
---
March 4, 2016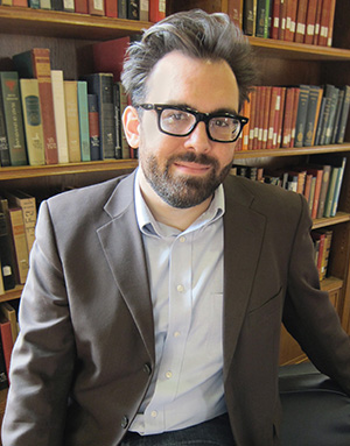 ---
March 1, 2016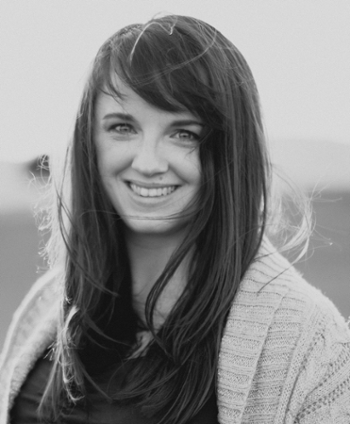 Congratulations to Kate Norako (PhD 2012), who will enter a tenure-track position in the University of Washington's English Department this fall. For the past two years, Kate has held a post-doctoral fellowship at Stanford University, teaching in their "Thinking Matters" program. She is currently at work on a book entitled Imagining the Crusades in Late Medieval England, as well as a forthcoming critical edition of the Old Norse Magnussona Saga. 
---
February 18, 2016
Joe Vogel (PhD 2014), Assistant Professor of English at Merrimack College, appears as a featured commentator in Spike Lee's new Showtime documentary, Michael Jackson's Journey from Motown to Off the Wall. The film examines the creation and lasting impact of Jackson's first adult solo album. A teaser (in which Joe is speaking!) can be viewed here: http://www.sho.com/sho/video/titles/43917/iconic-yell-michael-jacksons-off-the-wall-spot.
---
December 1, 2015
A number of students received summer funds this year from the Department, enabling them to visit archives, attend international conferences, and enroll at special institutes. Here are condensed versions of their dispatches back to us:
---
November 4, 2015
Please join the Department in congratulating Geoff Bender (PhD 2012) on his appointment to Visiting Assistant Professor at SUNY Cortland, where he teaches courses in (among other topics) film, literature for adolescents, and also writing pedagogy.
---
November 4, 2015
Registration opened November 2, 2015. Registration is on-line and is a process you need to do each semester, even if you have completed your credit requirement (30 for master's; 90 for Ph.D.).
---
October 28, 2015
The English Department is delighted to announce that an essay by Joseph Lamperez, entitled "The Aztecs and Urban Form in Bataille, Rivera, and JG Posada," has been accepted for publication in Mosaic: A Journal for the Interdisciplinary Study of Literature. Examining the representation of the Aztec in the work of Georges Bataille, Diego Rivera, and Jose Guadalupe Posada, the essay argues that this figure serves to critique various aspects of modernization.
---
May 28, 2015
Felicitations to John Chandler (PhD 2012), who will be teaching at Merrimack College next year as a Visiting Assistant Professor of Medieval and Digital Studies. John has been serving as an adjunct at Merrimack for the past few semesters.
---
May 21, 2015
A hearty congratulations to Joe Vogel (PhD 2014), who has recently accepted a tenure-track job as Assistant Professor of Contemporary American Literature and Film at Merrimack College. In addition, Joe has three new articles appearing this year: in the F. Scott Fitzgerald Review, the Journal of Popular Culture, and the Journal of Popular Music Studies.
---
May 14, 2015
The Department congratulates Kristi Castleberry on her new role as Assistant Professor (tenure-track) of Early British Literature at Lyndon State College (VT). For the past year, Kristi has held a postdoctoral fellowship in the Writing, Speaking, and Argument Program.
---
March 27, 2015
The English Department extends its warm congratulations to Leah Haught (PhD '11), who has just accepted a tenure-track medievalist position at the University of West Georgia. Leah joins UWG's English Department from Georgia Tech, where she has been serving as a Marion L. Brittain Postdoctoral Fellow for the past three years; prior to that, she held a postdoctoral fellowship in the U of R's Writing, Speaking, and Argument Program.
---
March 16, 2015
PhD candidate and Blake-Archive contributor Nikolaus Wasmoen has been appointed Project Manager for the recently-launched ModNets (short for "Modernist Networks"). The latest addition to the consortium of scholarly digital projects that includes the well-known NINES and 18thConnect, ModNets intends to offer peer review of digital modernist projects, to aggregate scholarly resources in the field, and to render easily searchable the full range of digital publications that traditional libraries tend to omit from their indices and collections.
---
March 11, 2015
Dan Hutchins (PhD '13) will begin a new tenure-track position at Texas Tech University this fall. Dan joins Texas Tech from North Dakota State University, where he has been serving as a Visiting Assistant Professor, and where he has specialized in early American literature, Latin American studies, and critical theory.
---
March 10, 2015
Kara McShane (PhD '14) has recently accepted a tenure-track position in the English Department of Ursinus College, outside Philadelphia, where her teaching and scholarship will focus on Medieval Literature. Kara has held a Postdoctoral Fellowship in the Writing, Speaking, and Argument Program here at the U of R for the past year. She will begin her new position as of August 1st.
---
August 18, 2014
Esther Arnold (PhD '13) has accepted a full-time position in the Rare Books, Special Collections & Preservation Department of Rush Rhees Library, where she will be serving in the capacity of Archives Assistant. Esther brings with her a wealth of experience garnered both from her work as a Project Assistant at the William Blake Archive (2008-13) as well as from her Curatorial Fellowship at George Eastman House (2010-12). Congratulations!
---
June 24, 2014
Congratulations to Martha Johnson-Olin (PhD '14), who has recently accepted a full-time, tenure-track faculty position at Potomac State College (a division of West Virginia University). Johnson-Olin's dissertation, in which she places Middle English Romance in dialogue with early folklore and fairy-tale traditions, was completed under the direction of Professor Russell Peck.
---
June 1, 2014
Fall 2014 registration will begin on April 7, 2014.  Registration is a process you need to do each semester, even if you have completed your credit requirement (30 for master's; 90 for Ph.D.).  It is important for you to be in touch with Carrie Morriss regarding your registration if you are unsure how to register. carrie.morriss@rochester.edu
---
May 12, 2014
Congratulations to Esther Arnold and Peter Zogas,  recipients of the 2014 William H. Gilman Memorial Prize. The Gilman is awarded annually by the English Department to a graduating PhD candidate whose work in English or American literature has been deemed truly outstanding.
---
May 6, 2014
Congratulations to Kate Norako (PhD '12), who will embark this fall on a three-year postdoctoral fellowship at Stanford University, teaching sections of the college's required freshman-seminar program, "Thinking Matters"
---
May 2, 2014
The English Department congratulates Esther Arnold, one of two graduating PhD students in the Humanities this year whose dissertations received official Commendations for excellence from the University's College of Arts and Sciences. Arnold's dissertation, "Entertaining Reformers: Social Reform and Recreation in American Literature and Silent Film, 1840-1915," was written under the direction of Professor John Michael.
---
April 22, 2014
Sixth-year PhD student Nikolaus Wasmoen has been awarded the University's 2014 Edward Peck Curtis Prize for Excellence in Teaching by a Graduate Student. Currently serving as a Dean's Teaching Fellow in two of Professor Morris Eaves' courses on the concept of "The Digital Page," while also assisting in a course taught by Professor Bette London on the Twentieth-Century British Novel, Wasmoen has continually found dynamic and eye-opening ways of sharing with students a set of unique skills garnered while writing his ambitious, highly interdisciplinary dissertation on the role of the author-editor in the construction of literary modernism.
---
January 1, 2014
When you register for graduate courses, note that all 500-level courses in the English Department carry 5 credits. In order to receive 5 credits for a 400-level course in the English Department, you will need to register for the 4-credit 400-level course AND for the proper 1-credit 400M course. You will be able to locate the proper 1-credit 400M easily: the 400M number will be identical to the 400 number for your 4-credit course (i.e., ENG 410 and ENG 410M). The instructor will explain the requirements for obtaining this extra one credit.
---
December 2, 2013
PhD students from any department or program who are traveling to conferences may apply to the University Dean of Graduate Studies for reimbursement of airfare and conference registration costs up to $800. Priority will be given to Sproull and Provost Fellows, and to students who are the main or sole author of the work to be presented.
---
November 1, 2013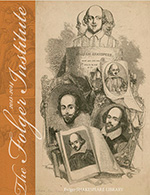 The University of Rochester is a member of the Folger Institute Consortium; our faculty and students receive preference in admissions, and are eligible to receive grants-in-aid to support their travel and lodging while attending Folger Institute events. The Institute's interdisciplinary programming immerses participants in the Folger Library's holdings, most famous for their Shakespeare-related materials but which include hundreds of thousands of books, manuscripts, and visual objects pertaining to early modern Western culture most broadly conceived (British, Continental, American, and Transatlantic).
---
October 1, 2013
Congratulations to our PhD recipients on these recent accomplishments in their careers:
---
August 30, 2013
We're proud to announce that these students defended their dissertations and were awarded the PhD in English in summer 2013.