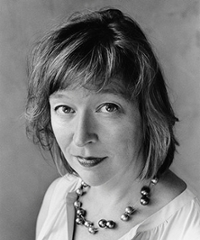 ---
Research Overview
Jennifer Grotz's most recent book of poems examines how we can become strange to ourselves through escape, isolation, desire--and by leaving the window open. With poems full of the sensory pleasures of the natural world and a slowed-down concept of time, Window Left Open records the wonders of travel, a sojourn at a French monastery, and the translation of thoughts into words, words into another language, language into poetry.
The Needle, Grotz's second book of poetry, explores both Polish and American twentieth-century poetry and its traditions. According to a Washington Post review (4/20/11), "Where many writers look inward and mine their private landscapes, Grotz sees the objects and scenes around her. . . . Attentiveness brings her poems—and the world—alive. . . . Grotz's perspective makes her work feel objective and insightful, even when she writes about family tragedies. Her ability to balance artistry and emotion results in buoyant poetry." The Needle was named as one of the best five books of poetry published in 2011 by NPR; it was also named the 2012 Best Book of Poetry by the Texas Institute of Letters.
Her first collection, Cusp, is informed by the phrase entre chien et loup, between dog and wolf, a French colloquialism for twilight. It signifies a brief instant in the blue light of dusk when the dog, who roams during the day, is about to retreat and when the wolf, who roams at night, just begins to come out. Cusp is a book about being in a kind of middleness, and it is also a book that aims to locate itself in terms of a literary tradition. The longest poem in the book, "Arrival in Rome," for instance, is an imitation of Keats's "Ode to a Nightingale" and grapples with the anxiety of influence of a young woman poet. While the poems in Cusp portray the world as divided, the poetic project of the book is to locate a cusp, a "now" moment between past and future, between domestic and foreign, between the random and the inevitable.
Her most recent translation work is Rochester Knockings, a novel by Hubert Haddad that explores the life and times of the Fox Sisters and the birth of American spiritualism. She is also the translator of The Psalms of All My Days, poems of Patrice de La Tour du Pin.
Selected Publication Covers
Selected Publications
Window Left Open, Graywolf Press, February 2016
Rochester Knockings (translated from the French of Hubert Haddad), Open Letter Books, 2015
Psalms of All My Days (translated from the French of Patrice de La Tour du Pin), Carnegie Mellon 2013
The Needle, Houghton Mifflin 2011
Cusp, Houghton Mifflin 2003
Not Body (letterpress chapbook), Urban Editions 2001
Poems published in journals and anthologies such as The New Yorker, New England Review, Kenyon Review, Ploughshares, Tri-Quarterly, American Poetry Review, Poetry Daily, and Best American Poetry 2000, 2009, and 2011 (Scribner's)
Essays and reviews published in journals and newspapers such as Virginia Quarterly Review, Boston Review, Gulf Coast, Indiana Review, and The Washington Post
Translations from the French and Polish published in journals and anthologies such as Ploughshares, Poetry International, Tri-Quarterly, Antioch Review, Agni Online, Circumference, and New European Poets (Graywolf Press 2008)
Teaching
Courses in poetry writing, modern and contemporary American and European poetry, and the art of translation
Honors
NEA Fellowship in Translation, 2015
Director of the Bread Loaf Translators' Conference
Cavafy Prize, Poetry International, 2014
Eugene Paul Nasser Poetry Prize, Utica College, 2013
Lillian Fairchild Award, 2012
Helen C. Smith Best Book of Poetry Award, Texas Institute of Letters, 2012
Assistant Director of the Bread Loaf Writers' Conference
Faculty, Warren Wilson MFA Program
Contributing Editor, Born Magazine (www.bornmagazine.org)
Rona Jaffe Foundation Writers' Award
Writing Fellowship, Camargo Foundation, Cassis, France
Residency Fellowship, Vermont Studio Center
New Writing Award, Fellowship of Southern Writers
Administrative Director, Krakow Poetry Seminar, 2001-2007
Natalie Ornish Poetry Prize for Best First Book, Texas Institute of Arts and Letters
Individual Artist Grant, Cultural Arts Council of Houston
Translation Award, American Translators Association
Katherine Bakeless Nason Poetry Prize for Cusp, chosen by Yusef Komunyakaa
Prague Summer Program Fellowship in Poetry
Individual Artist Fellowship, Oregon Arts Commission
Pushcart Prize, 2011
Poems included in Best American Poetry anthologies for 2000, 2009, and 2011