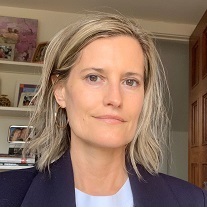 Gretchen Helmke
Professor of Political Science

Meet over Zoom
585-275-4291
---
Office Hours:
Wed 12:00pm - 1:00pm
---
Profile:
PhD, Chicago, 2000. Democratic political institutions, rule of law, and Latin American politics. Professor Helmke's research focuses on democratic political institutions, rule of law, and Latin American politics. Her most recent book, Institutions on the Edge: The Origins and Consequences of Institutional Instability in Latin America (Cambridge University Press, 2017), shows that concentrating power in the presidency triggers political crises across all three branches of government. Helmke has published three additional books, Courts in Latin America, co-edited with Julio Rios-Figueroa (Cambridge University Press, 2011), Courts Under Constraints: Judges, Generals, and Presidents in Argentina (Cambridge University Press, 2005), and Informal Institutions and Democracy: Lessons from Latin America (Johns Hopkins University Press, 2006), co-edited with Steven Levitsky. Her articles have appeared in American Political Science Review, Journal of Politics, Comparative Politics, Desarollo Economico, Annual Review of Political Science, Electoral Studies, Perspectives on Politics, American Journal of Political Science, and Quarterly Journal of Political Science. Her research has been funded by the NSF, the SSRC, Democracy Fund, and the Hewlett Foundation. She is one of the co-founders of Bright Line Watch, a non-profit organization that brings together leading political scientists to monitor democratic practices in the United States from a comparative perspective.

She received her Ph.D. in Political Science from the University of Chicago in 2000, and holds a B.A. (1993) and an M.A. (1994) in Political Science, both from the University of California at Berkeley. In the past, Helmke was a Visiting Fellow at the Kellogg Institute for International Studies at the University of Notre Dame, a Harvard Academy Scholar at the Weatherhead Center for International and Area Studies at Harvard University, and a Visiting Scholar at the Woodrow Wilson International Center for Scholars. She arrived at the University of Rochester in 2002, and served as the Chair of the Political Science Department from 2011 to 2016.
---