Hopeman Memorial Carillon
Concerts and Events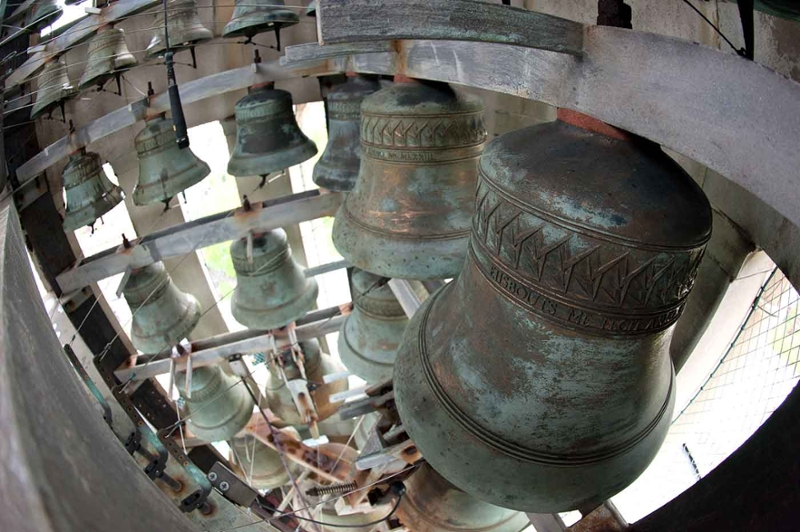 ---
Events are subject to change. 
Follow us on facebook: https://www.facebook.com/HopemanCarillon
UR In Loving Memory Concert
https://www.youtube.com/watch?v=6qLsWd2qS_Q&t=1520s
---

Summer Recital Series Returns!
Carillon, My Wayward Son(s & Daughters!)
We are happy to announce the 2021 Carillon Concert Series - Wednesdays, 6:30 PM- 7:30 PM, July 7 - August 4.
Schedule as follows:
July 7 - Tom Gurin
July 14 - Lisa Lonie
July 21 -  Frank Della Penna
July 28 - Julie Zhu
August 4 - Claire Janezic (UR Take 5 student)
Click on the image for Official Program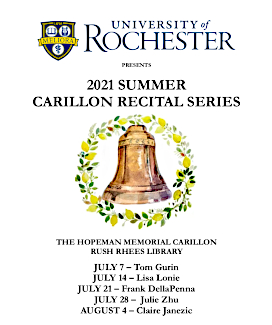 ---
Charles Zettek Carillon Composition Competition Winner for 2019!

Judges were united in their decision with agreement from donor Charles Zettek to declare "Butterfly Fantasia" by Alex Johnson the 2019 award winner. Plans are being made to add "Butterfly Fantasia" to Farewell Concert Friday 5/17/19 1:30-3:30 pm and Commencement 2019 at 7:45am. We hope you may have opportunity to hear Senior Alex Johnson '19 playing this piece in duet with Sara MacNally, UR alumna. Mr. Johnson has been studying under Geert D'Hollander at Bok Tower during Spring 2019
Find a recording of the 2019 Award winning "Butterfly Fantasia" here:  https://www.facebook.com/URcarillon/videos/butterfly-fantasia-2019/724973177917307/
The Charles Zettek Carillon Composition Competition was created to foster new arrangements or compositions for playing on the Hopeman Carillon that are original and musical.
For more information, see the Annual Charles Zettek Carillon Competition PDF.