Hopeman Memorial Carillon
Giving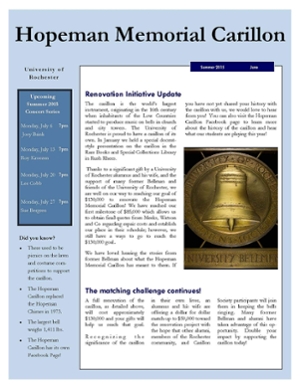 After 40 years of use and exposure to Rochester weather, our carillon is in serious need of maintenance and renovation. Bolts are rusting, leather attachments are cracked, and clappers need replacing. The bells can no longer be played at temperatures below freezing.
Repair costs are estimated at $130,000. The Hopeman Carillon Fund has been established to cover these costs. A generous donor is offering to match up to $50,000—any help you can provide will be doubled.
Donate online (on the form, denote the gift as "other" and enter "Hopeman Carillon Fund")
Or mail your check to:
Alumni and Advancement Center 
c/o Hopeman Carillon Fund
300 East River Road 
P.O. Box 278701
Rochester, NY 14627-8701
The Carillon Society and the University thank you for your support!

Carillon expert Rick Watson discusses the impact of weathering on the Hopeman Memorial Carillon.