Love in a Village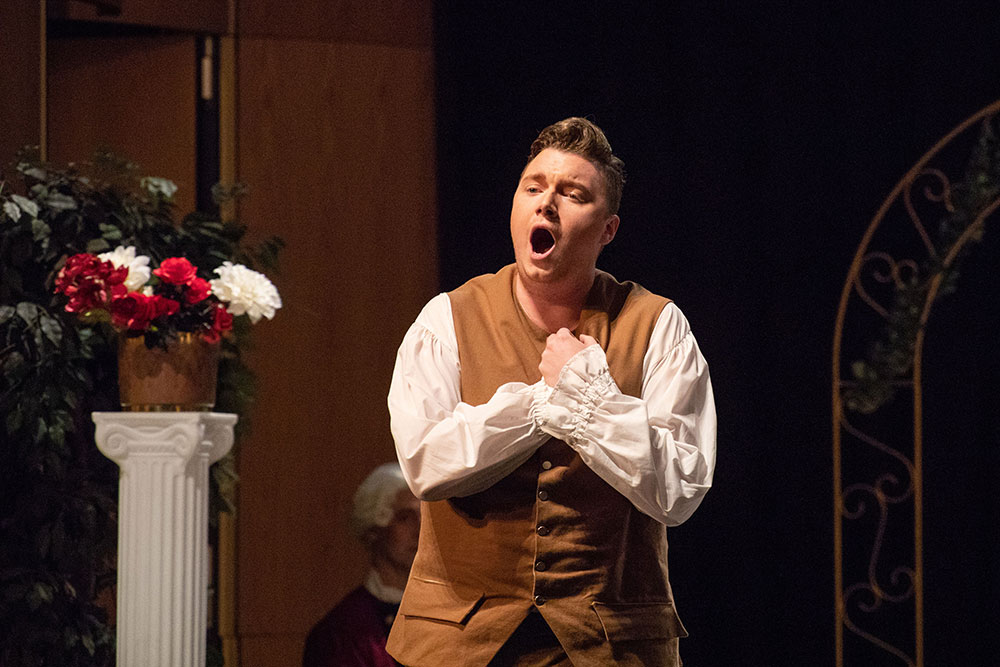 ---
Project Overview
In October 2018, thanks in large part to a generous grant from the Humanities Project, the University of Rochester staged and professionally recorded a historic musical-theatrical event: the first modern production of the 18th-century comic opera Love in a Village performed to its original score.
About the Opera
A forerunner of 20th-century musical theater, Love in a Village was the first comic opera in England to combine vernacular songs with composed music.
It was a smash hit in its day, racking up 368 performances between 1762 and 1800—more than any single Shakespeare play in the same period (Hamlet was performed 252 times, and Macbeth 218 times). By the early 19th century, it had been staged as far away as America, Jamaica, Russia, and India.
The opera follows a pair of genteel young lovers who disguise themselves as servants in order to avoid the marriages their parents have arranged for them. The work reflected many of the middle-class values slowly overtaking 18th-century British culture, and which were increasingly being explored in the "new" genre of the novel. (Indeed, Jane Austen is known to have attended Love in a Village multiple times.)
Love in a Village is often seen as the sentimental counterpart to John Gay's famous ballad-opera, The Beggar's Opera (1728).
Staging an Authentic Production Today
The full orchestration for Love in a Village, by Thomas Arne and Isaac Bickerstaff, was long believed to be lost. In fact, the handful of performances mounted after the 18th century had to make do with a keyboard-only version.
Then, by happy accident, the original score was found in the early 2000s in an uncatalogued archive, which enabled a truly accurate, authentic production to be staged for the first time in the modern era.
This University's production took place in Strong Auditorium on October 12, 2018, complete with period instruments, historically based choreography, and professional musicians brought in from around North America.
Watch Recordings
Special thanks to the Northeast American Society for Eighteenth-Century Studies for its support.
Read more about the project and the premiere.
To learn more about Love in the Village, check out:
Gallery
Photos by Brian Reisinger.