Looking Like the Enemy: The WWII Japanese-American Experience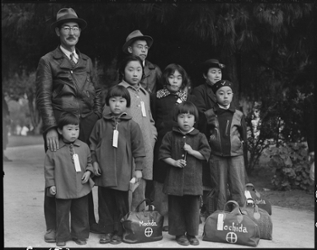 Two months after Japan attacked Pearl Harbor, 120,000 people of Japanese ancestry living on the west coast were forcibly removed from their homes and amassed in remote "relocation" camps. Almost two-thirds were second or third generation Japanese-American citizens born in the U.S. In the rush to comply with President Franklin D. Roosevelt's order, many families were forced to sell homes and businesses, often at a fraction of their value. Throughout the war they lived in tarpaper barracks surrounded by barbed wire and guard towers. Seventy years after the last camp closed, Notch and Margaret Miyake travelled to these sites to document the remains of this dark hour in U.S. history. A lecture by Notch Miyake on the Japanese-American wartime experience and Margaret Miyake's contemporary photographs of the campsites today draw their inspiration from this journey. Margaret's photographs (with captions by Notch) will be exhibited in the Hartnett Gallery in Wilson Commons, contextualized with WWII anti-Japanese propaganda from the Re-Envisioning Japan digital humanities project led by Joanne Bernardi, Associate Professor of Japanese, Department of Modern Languages and Cultures.
 
This wartime incarceration of Japanese-Americans is especially relevant today as we confront complex responses to terrorism, the refugee crisis, and controversy over illegal immigration. Greater awareness can defuse the racial prejudices and fear mongering that led to the violation of the rights of so many. Both events complement "Atomic Creatures: Godzilla," an MLC course on US-Japan cultural attitudes toward nuclear armament and nuclear imagery in popular culture after Hiroshima-Nagasaki. This project is also sponsored by: the departments of Modern Languages and Cultures, English, History; the American Studies and Film and Media Studies programs; the River Campus Libraries Digital Humanities Center and the Hartnett Gallery,
EVENTS:
11/16 "A Pilgrimage to World War II Japanese-American Internment Camps." Lecture by Notch Miyake, 5-6 pm in the Gowen Room, Wilson Commons (Information: 585-275-4251)
 
11/17-12/11 Exhibit in The Hartnett Gallery, Wilson Commons (Opening reception 11/17 5-7 pm) "Internment: The Japanese-American Experience in World War II — A pilgrimage to WWII Japanese-American internment camps." Photographs by Margaret Miyake and historical ephemera from Joanne Bernardi's Re-Envisioning Japan Collection. (Information: 585-275-4188)
All events are free and open to the public.