News Archive
Chemistry Welcomes New Faculty Member, Dr. Michael Ruggiero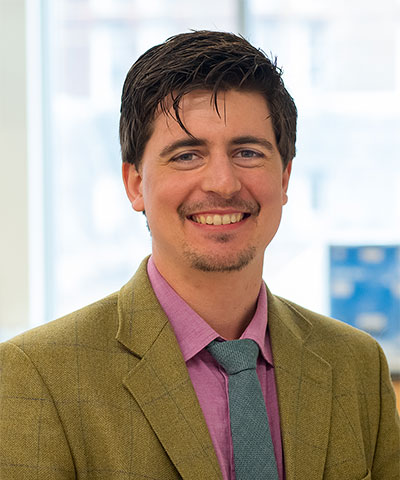 The Department of Chemistry warmly welcomes Dr. Michael Ruggiero as an associate professor of chemistry. His first day is July 3, and while the weather forecast is dreary and calls for rain, we are certain that his future in the department is bright! 
Dr. Ruggiero joins us from the University of Vermont, where he served as both an assistant professor of chemistry and as an associate professor of chemistry. He received his PhD in physical chemistry from Syracuse University, and we are very happy to see him return to New York State! He has performed his research in a variety of locations, including at the University of Cambridge in the UK and at the University of Torino in Italy.  
Dr. Ruggiero has won a number of awards, including the NSF CAREER Grant, the Emerging Investigator Award from both ChemComm and Crystal Growth & Design, and was even listed in Forbes's "30 under 30." 
At the University, Dr. Ruggiero's group will research the structure-dynamics relationship of molecular solids, i.e. how molecules are arranged and the nature of the molecular motions present. Specifically, they will use low-frequency vibrational spectroscopies, including terahertz time-domain spectroscopy and low-frequency Raman spectroscopy, which are extensions of more well-known mid-infrared vibrational spectroscopies to lower-energies (0.3-30 THz, 10-1000 cm-1). These techniques are similar in concept to FTIR and traditional Raman spectroscopies, however the motions that are sampled often involve dynamics of entire molecules, instead of localized functional groups. 
Once again, welcome, Dr. Ruggeiro! We are thrilled to have you here.