Department News
Ellen Matson Wins G. Graydon Curtis '58 and Jane W. Curtis Award for Nontenured Faculty Teaching Excellence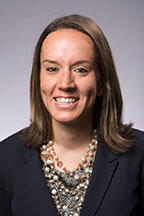 Professor Ellen Matson, Wilmot Assistant Professor of Chemistry, will be awarded the G. Graydon Curtis '58 and Jane W. Curtis Award for Nontenured Faculty Teaching at this year's commencement in May 2021.
The award was established in honor of Professor Ralph Helmkamp '11, Professor of Chemistry, and recognizes teaching excellence by a non-tenured member of the faculty.  To quote the donor: "Recognizing that many tenured faculty members excel in both teaching and research, it is my expectation that this annual award, directed exclusively to the non-tenured faculty, will encourage both interest and excellence in instruction at the undergraduate and graduate levels." The faculty recipient is honored with a citation at commencement and receives a monetary award. 

Prof. Matson has firmly established herself as an outstanding and innovative young educator and researcher since beginning of her tenure-track position in the Department of Chemistry in July 2015. 

"By all measures, Prof. Matson's teaching at both the graduate and undergraduate level has been comprehensive and impactful. Prof. Matson approaches all teaching assignments with the same bravado she engages with challenging research problems; she assesses the current model and develops testable hypotheses designed to improve the student learning experience. Prof. Matson's commitment to and impact in teaching and mentoring places her in extremely rare company with respect to non-tenured faculty at a primarily research focused institution."
       - Professor Todd Krauss, Chair of the Department of Chemistry

Ellen Matson attended Boston University, where she participated in the BUCOP program, pursuing simultaneous degrees in Science Education (B.S.) and Chemistry (B.A.). Following graduation, she journeyed out west to begin her graduate work at Purdue University, where she became a founding member of the research group of Suzanne C. Bart. Her thesis was centered around the synthesis and reactivity of low-valent, organouranium complexes. In 2013, she completed her Ph. D. work and began a postdoctoral position in the Fout Laboratory at UIUC, where she studied the development of bioinorganic systems for functional models of nitrite reduction. Professor Matson joined the faculty in July 2015 as an Assistant Professor, and was named Wilmot Assistant Professor of Chemistry in July 2019.

Research in the Matson Group focuses on using a synthetic inorganic chemistry perspective to address current global issues related to Energy Storage and Production. Additionally, the Matson Group is developing earth-abundant, metal-oxide cluster complexes to serve as electrolytes for redox-flow batteries.
---
Related Links...