Department News
Rudi Fasan Receives 2020 Goergen Award for Excellence in Undergraduate Teaching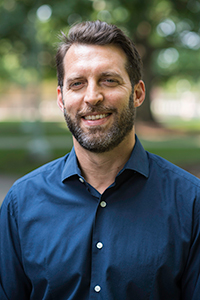 Professor Rudi Fasan, Andrew S. Kende Professor of Chemistry, has been honored with the 2020 Goergen Award for Excellence in Undergraduate Teaching. Established in 1997 by University Trustee Robert Goergen and his wife, Pamela, the award aims to acknowledge the full scope of work that contributes to excellence in undergraduate education, and recognizes the distinctive teaching accomplishments and skills of faculty in the College of Arts, Sciences and Engineering. Professors are nominated by undergraduates, graduate students, faculty, staff members, and administrators.
The award recognizes Professor Fasan for his excellence in undergraduate teaching and training both in the classroom and in the research laboratory. Professor Fasan has taught a number of undergraduate level courses including First-Year Organic Chemistry I (CHM 171), Biological Chemistry (CHM 262), and Advanced Laboratory Techniques (CHM 234), in which he has introduced innovative components that are aimed at promoting student engagement and creating an intellectually stimulating and interactive classroom environment.
Prof. Fasan's exceptional contributions to undergraduate research were also noted by the selection committee. Since his start at the University of Rochester, he has supervised over fifty undergraduate students as research assistants in his laboratory, which focuses on the development and application of novel chemo-biosynthetic strategies for the discovery of biologically active molecules. Through these experiences, undergraduate students have received a rigorous and highly interdisciplinary training at the interface of chemistry and biology, working on relevant and challenging problems related to the discovery of chemical agents for modulating cellular processes implicated in cancer and other diseases and the development of novel biocatalytic methods for asymmetric synthesis and sustainable chemistry.
"For me, what makes Rudi's nomination unique is his commitment to and success in training undergraduates to perform biological/organic chemistry research in laboratory. Providing such rich (in quality and quantity) experiential learning experiences is what in my view sets the University of Rochester apart from almost all other institutions." - Todd Krauss, Chair, Chemistry Department
The award will be presented to Prof. Fasan and the other winners of the 2020 Goergen Award at a virtual ceremony at 2:00 – 3:00 pm on Friday, October 23rd, 2020.
Congratulations Professor Fasan!