Department News
Jisoo Woo & Julian Maceren win Research Initiative Award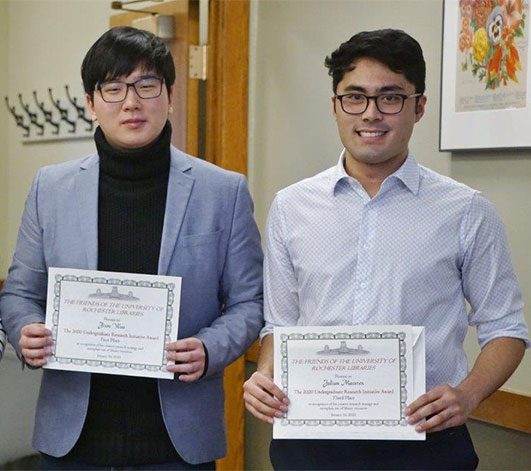 Congratulations to two of our seniors, Jisoo Woo (Paradine Group) and Julian Maceren (Benoit Group) for winning this year's Undergraduate Research Initiative Award, sponsored by FURL (Friends of the University of Rochester Libraries). This annual award recognizes excellence in the early phases of undergraduate research, demonstrated by the initiation and organization of a project leading towards a senior thesis, capstone project, or an independent research project.
Recipients of this award should be able to identify and refine a research topic of their interest, work with faculty and librarians to develop a research strategy, gather materials for the early phases of a research project and establish methods for selecting and evaluating resources.  In January, both students received their award and gave a presentation on their respective projects.
Jisoo Woo won first place with his presentation titled, "Using LED Light to Enable Asymmetric Olefin Difunctionalization with CO2".    
Julian Maceren's project title was, "Metal-Free Azide-Alkyne "Click" Reactions for Conjugating Peptides to Nanoparticle Carriers", and took third place.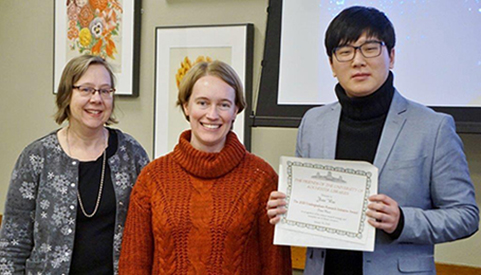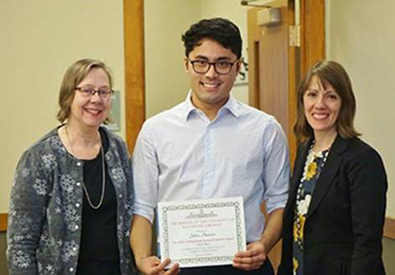 ---
Related Links...