Department News
Rudi Fasan Appointed Andrew S. Kende Professor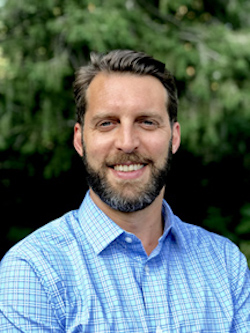 Rudi Fasan, professor of chemistry, has been appointed as the Andrew S. Kende Professor in Synthetic Organic Chemistry.  Fasan's lab focuses on the design, development, and investigation of novel chemobiosynthetic and chemoenzymatic strategies for the synthesis and discovery of biologically active molecules. The group develops novel chemical agents useful for probing cell signaling pathways and controlling biomolecular interactions implicated in cancer and other diseases.
Since the start of his independent career at Rochester, Fasan's work has resulted in over 60 peer-reviewed publications in top-tier chemistry journals, including the Journal of the American Chemical Society, Angewandte Chemie, Nature Chemical Biology, and ACS Catalysis, and has led to the filing of more than 10 patents.
Fasan joined Rochester's Department of Chemistry in 2008 after earning a BS degree from the University of Padua (Italy) and a PhD from the University of Zurich and completing a postdoctoral experience as a Swiss National Science Foundation fellow in the laboratory of 2018 Nobel Laureate Frances Arnold at the California Institute of Technology. He has earned numerous awards, including the 2007 Friedrich-Weygand Outstanding Graduate Research Award and the 2014 Tetrahedron Young Investigator Award in Bioorganic and Medicinal Chemistry, and his research has been supported by grants and awards from the National Institutes of Health, the National Science Foundation, and the Leukemia and Lymphoma Society.
---
Related Links...