Department News
Brittney Petel Selected as Recipient of ACS Women Chemists Committee/Eli Lilly Travel Award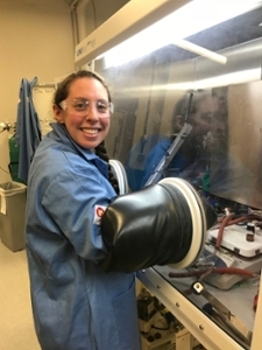 Brittney Petel, graduate student in the Matson Group, was awarded the ACS Women Chemists Committee/Eli Lilly Travel Award for Fall 2018. This is awarded on the basis of scientific merit and financial need and funds registration, travel, and accommodations to meetings within the United States.
In addition to financial support, the award provides networking opportunities for recipients who attend an ACS national meeting. The WCC hosts a poster session and reception for awardees at each national meeting. In addition, awardees are invited to the WCC Luncheon where they receive recognition. The luncheon also provides a valuable networking opportunity as awardees sit at the head tables along with ACS governance and WCC members. Lastly, awardees are invited to a private dinner with WCC members which is generously sponsored by the ACS Executive Director.
Congratulations Brittney Petel!
---
Related Links...