Department News
Humboldt Research Awards support professors' collaborations in Germany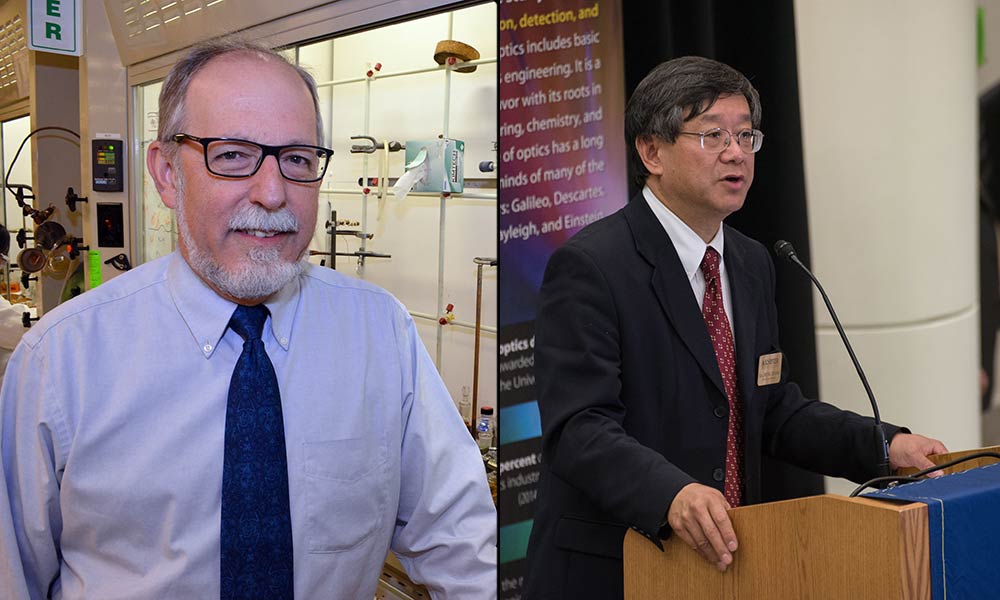 Two University of Rochester faculty members—William Jones of the Department of Chemistry and Xi-Cheng Zhang of the Institute of Optics—have received prestigious Humboldt Research Awards. The awards will enable them to spend up to one year cooperating on a long-term research project with specialist colleagues at a research institution in Germany.
Jones, the Charles F. Houghton Professor of Chemistry, will work with Christian Müller, a professor of chemistry at the Free University of Berlin, for six months beginning in January. Jones is interested in using rigid molecular frameworks to hold a metal atom in a precise conformation to enable specific types of dehydrogenation catalysis. Müller's work in this area will allow the exploration of new classes of pincer chemistry for this purpose.
Zhang, the M. Parker Givens Professor of Optics, will work with Hartmut Roskos, a professor of physics at Johann Wolfgang Goethe University in Frankfurt. Roskos, like Zhang, is an expert in terahertz physics and technology. Zhang plans to visit several other German research groups to discuss topics related to terahertz waves, nonlinear optics, and imaging.
The Alexander von Humboldt Foundation grants up to 100 Humboldt Research Awards annually to academics "whose fundamental discoveries, new theories, or insights have had a significant impact on their own discipline and who are expected to continue producing cutting-edge achievements in the future."
---
From...

Related Links...