Department News
Lauren VanGelder Selected as First Prize Winner in the NY-BEST Future Leaders Poster Contest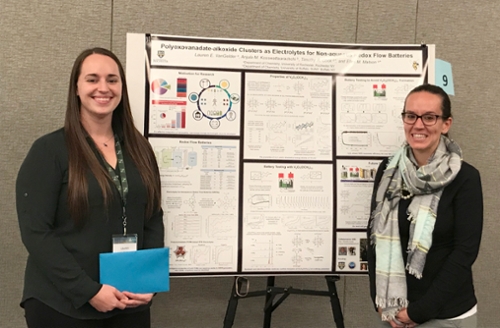 Lauren VanGelder (3rd year graduate student in the Matson Group) was awarded 1st prize in a poster contest at yesterday's "New York Battery and Energy Storage Technology Consortium (NY-BEST) Energy Storage Conference", for her work on Vanadium-oxide Clusters as electrolytes for Redox Flow Batteries.
The "NY-BEST Future Leaders: Student Poster Exhibition 2017", included posters from college and university students, undergraduate and graduate level. Students had to present their work on technological advances in energy storage technologies. These advances could include new battery technologies, battery chemistries, capacitors, thermal storage, mechanical storage, fuel cells or other energy storage devices and/or applications.
The poster exhibition was part of a one-day conference that took place at the Hyatt Regency in Downtown Rochester, NY, on Wednesday, October 11, 2017. It was hosted by the New York Battery and Energy Storage Technology (NY-BEST) Consortium, an organization created in 2010 to position New York State as a global leader in energy storage technology, including applications in transportation, grid storage, and power electronics.
---
Related Links...